Every Celebrity to Endorse Kamala Harris For Vice President
Today the world is reacting to the news that Democratic presidential nominee Joe Biden has chosen Democratic California Senator Kamala Harris as his running mate for the 2020 presidential election—and the decision has sent the celebrity world into a bit of a frenzy.
Celebrities from Taylor Swift to LeBron James have voiced their support for Harris, who if Biden is elected in November, will be the first woman vice president and first vice president of color. Harris is also only the fourth woman in U.S. history to be chosen for one of the presidential tickets.
Such a historic announcement has sparked joyous and incredulous reactions on social media and Harris has received important Twitter endorsements from Barack Obama, former Secretary of State Hillary Clinton, and Senator Bernie Sanders.
Obama said that Harris is "more than prepared for the job" in his ringing endorsement.
The former president tweeted: "I've known Senator @KamalaHarris for a long time. She is more than prepared for the job. She's spent her career defending our Constitution and fighting for folks who need a fair shake. This is a good day for our country. Now let's go win this thing."
While 2016 Democratic nominee Clinton wrote: "I'm thrilled to welcome @KamalaHarris to a historic Democratic ticket. She's already proven herself to be an incredible public servant and leader. And I know she'll be a strong partner to @JoeBiden. Please join me in having her back and getting her elected."
Democratic Vermont Senator Sanders praises Harris who he said "understands how to fight for working people."
He tweeted: "Congratulations to @KamalaHarris, who will make history as our next Vice President. She understands what it takes to stand up for working people, fight for health care for all, and take down the most corrupt administration in history. Let's get to work and win."
Indeed, as this infographic from Statista shows, Harris is hugely popular among registered Democrat voters.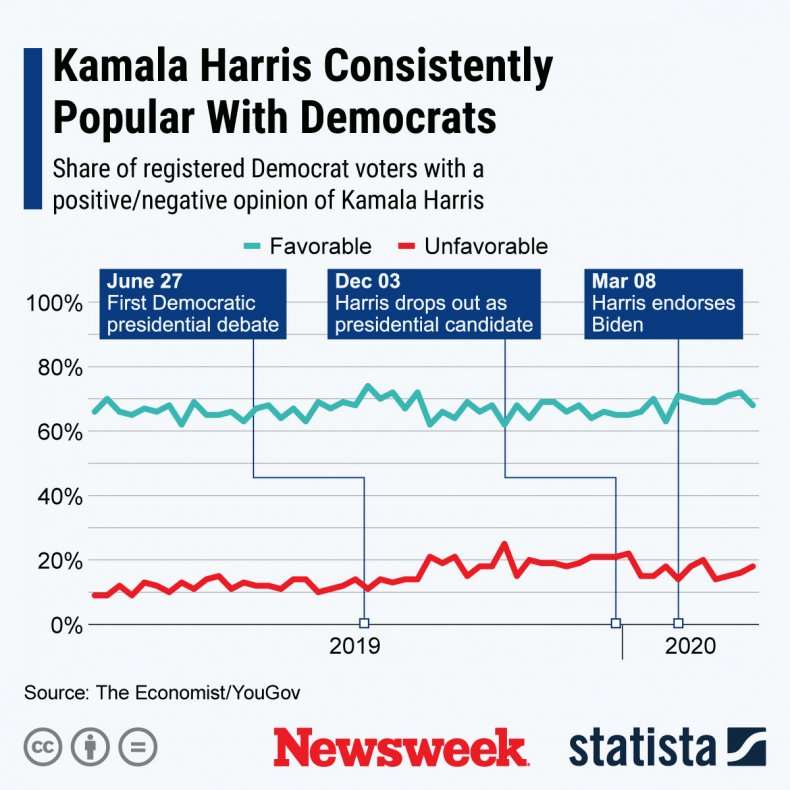 Harris is popular with a number of celebrities as well, who quickly showed their support for Biden's running mate on social media. Scandal star Kerry Washington shared a heartfelt post, saying she was "overwhelmed" by such a historic moment.
She tweeted: "Overwhelmed by this historic moment. @KamalaHarris is the first Black woman & first Asian-American/Indian to be a VP nominee of major party. My heart is soaring for all the kids out there who see themselves in her and will dream bigger because of this. #KamalaHarrisForVP."
Uzo Aduba of Orange Is the New Black fame shared a call to action, tweeting: "Ready. Set. GO. #KamalaHarrisForVP."
While pop star Taylor Swift simply commented "YES" on a retweet sharing news of Harris' appointment.
Here are the celebrities to endorse Kamala Harris For Vice President
Halle Berry
John Legend
Pink
Mandy Moore
Mindy Kaling
Roxane Gay
Chrissy Teigen
Whoopi Goldberg
LeBron James
Sharon Stone
Maya Rudolph
Debra Messing
Julia Louis-Dreyfus
Chadwick Boseman
Jordan Peele
Jessica Chastain