Every Endorsement Donald Trump Has Made for the 2022 Election Cycle
In his farewell address to supporters ahead of Joe Biden's inauguration, Donald Trump hinted at a return to politics.
"I want you to know that the movement we started is only just beginning," the outgoing president said. "There's never been anything like it."
Since then, his political action committee—the Save America PAC—has stepped into the fray in several U.S. Senate, House and statewide races across the country. This week alone, Trump made four endorsements for the 2022 election cycle.
The most recent was issued Friday morning for Senator Marco Rubio of Florida. In a statement, Trump praised Rubio for his support for the Second Amendment, the military and "all of the forgotten men and women of America."
According to reports, the PAC has a $85 million war chest heading into next year's midterms. Filings with the Federal Election Commission show the committee ended 2020 with $31 million in cash on hand.
Republicans are already setting their sights on the 2022 midterm elections to reclaim some power in Congress. The GOP lost control of the House in the 2018 midterms and the Senate in 2020.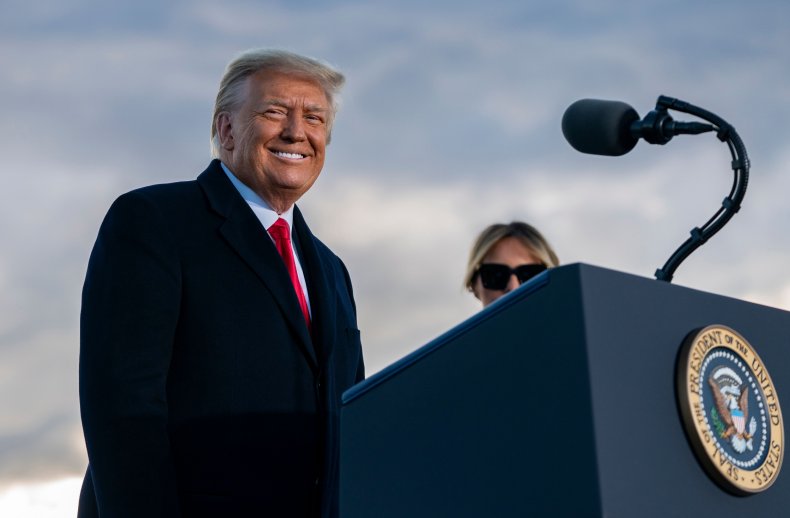 But Trump is not only backing his supporters. He's also made it clear that he will target the 10 House Republicans and seven Senate Republicans who voted to impeach him in January—setting the stage for primary fights between pro-Trump and traditional Republicans.
The former president has already endorsed former White House aide Max Miller in a primary challenge to Representative Anthony Gonzalez of Ohio. Gonzalez pointed to Trump's "lack of response as the United States Capitol was under attack" as the reason for his decision to vote yes on impeachment.
"Current Rep. Anthony Gonzalez should not be representing the people of the 16th District because he does not represent their interest or their heart," Trump said in a statement.
In addition to congressional races, Trump is weighing in on lower-level races. So far, he's backed South Carolina Republican Party Chairman Drew McKissick in his reelection bid and Arkansas Lieutenant Governor Tim Griffin in his run for state attorney general. He's also backed former White House press secretary Sarah Huckabee Sanders in her bid for governor of Arkansas.
Polls have repeatedly shown that Trump continues to be the dominant political force among GOP voters. According to a new Reuters/Ipsos poll, eight in 10 Republicans continuing to hold a favorable impression of him.
"Everybody [running for office] wants the endorsement because if they don't get the endorsement they're not going to win. For the most part, they're not going to win," Trump said earlier this week during an interview with Newsmax.
Here's a list of all the endorsements Trump has made so far for the 2022 election cycle.
John Boozman of Arkansas for U.S. Senate
Mo Brooks of Alabama for U.S. Senate
Mike Crapo of Idaho for U.S. Senate
Tim Griffin of Arkansas for attorney general
Sarah Huckabee Sanders of Arkansas for governor
Jody Hice of Georgia for secretary of state
Ron Johnson of Wisconsin for U.S. Senate
John Kennedy of Louisiana for U.S. Senate
Drew McKissick of South Carolina for GOP chairman
Henry McMaster of South Carolina for governor
Max Miller of Ohio for U.S. House
Jerry Moran of Kansas for U.S. Senate
Rand Paul of Kentucky for U.S. Senate
Marco Rubio of Florida for U.S. Senate
Tim Scott of South Carolina for U.S. Senate
David Shafer of Georgia for GOP chairman