Every Female Senator Signs Letter Urging Biden to Do More to Protect Women in Afghanistan
All 24 female members of the U.S. Senate sent a letter to President Joe Biden on Thursday, urging his administration "to develop an interagency plan to preserve the political, economic, social and basic human rights of Afghan women and girls," in the wake of the U.S. withdrawal from Afghanistan earlier this year.
The letter was signed by the bipartisan group of female senators and led by Senator Joni Ernst, an Iowa Republican, whose office sent it to Newsweek.
In the letter, the senators state that U.S. "disengagement" from Afghanistan risks "hard-won gains for Afghan women and girls." They note that last year, roughly 3.5 million Afghan girls were attending school, and 100,000 women were enrolled in universities. They add that in 2020, women were elected to senior government roles and the Afghanistan Women Chamber of Commerce and Industry "reported over 1,000 female entrepreneurs emerged"
"However, lacking a legitimate Afghan government and military forces to protect them, women and girls are now suffering the predations of a Taliban regime with a track record of brutalizing, isolating, and denying them life and liberty," the senators wrote.
"Taliban leaders who promised that women would be treated well under the new government are not upholding those commitments," the senators added.
They pointed out that under the Taliban government, women have been the targets of beatings, killings and can't leave their homes without a "male guardian."
"You have committed to press the Taliban to uphold the rights of women and girls, and you have stated that America will maintain an enduring partnership with the people of Afghanistan resisting Taliban rule," the letter read.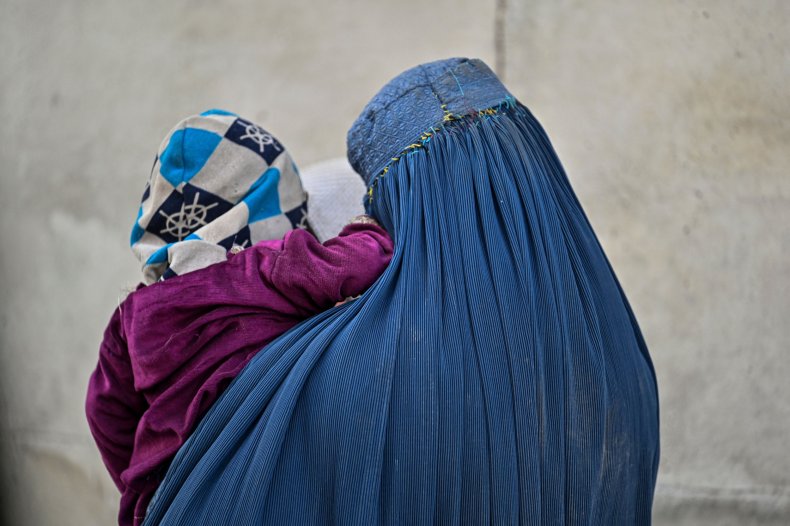 "We will advise, support, and enable those efforts through legislation and engagement with your Administration. Afghan women and girls need our action now," the senators added.
In October, Fawzia Koofi, an ex-Afghan Parliament member, said that the U.S. "has a major responsibility and should be held accountable," for the results of the Afghanistan withdrawal.
"This is not an Afghanistan I fought for. The Afghanistan that I was hoping for was [that] women should not suffer as much as I suffered during my childhood, during the time that I was a teenager, when [the] Taliban took over," Koofi told the Associated Press.
"I wanted other girls to enjoy at least the freedom of choosing which school they should go. But now, their choice is limited to which room in their houses they should spend during the day. This is heartbreaking," she added.
In response to the letter, a National Security Council spokesperson told Newsweek: "We agree this is critically important and have consistently emphasized that any government in Afghanistan must protect human rights  and fundamental freedoms  for all Afghans."
"The United States will continue to support Afghan women and girls. We, along with the world, will make clear that any nation that wants international legitimacy or connection to the rest of the world—and that does not want to be deemed a pariah state—must not interfere with the universal human rights or fundamental freedoms of its people, and should demonstrate respect for and inclusion of women and girls, in all their diversity, including supporting their education and employment opportunities," the spokesperson said in a statement.
"We are closely watching the Taliban's actions across the country, and will work with Congress and with our allies and partners to support women and girls, and promote accountability for the perpetrators of human rights abuses and violations," the spokesperson added.
Updated 11/04/2021, 6:12 p.m. ET: This story has been updated with a statement from the National Security Council.