Every Single Fight Scott Disick Has Ever Had With The Kardashians
All Hail Lord Disick! The The Flip it Like Disick star and father of Kourtney Kardashian's three children has turned 37 today. He is known for his entrepreneurial work on the Talentless brand and the bit of drama he brings to the Kardashian-Jenner clan. Whether it's arguing about coparenting with Kourtney or yelling at Corey Gamble during family dinner, Scott doesn't mess around.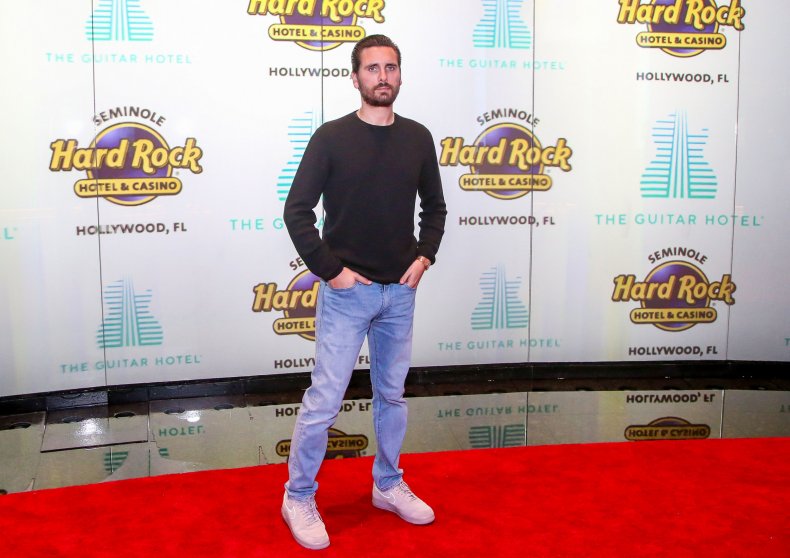 In honor of Scott's special day, here's a list of every fight he's gotten into with the Kardashian-Jenner clan.
Scott vs. Kourtney Kardashian
Newsweek subscription offers >
Throughout the former couple's 9-year-long and tumultuous relationship, Scott and Kourtney got into many heated arguments revolving around many topics. In 2012, Scott walked out on Kourtney after an explosive fight while in the Hamptons, but seemed to patch things up the next day. In a 2013 episode of Keeping Up With The Kardashians, they argued about a carved bear Rob Kardashian made for Scott that he threw out (which angered Kourtney). In 2014 during an episode of Kourtney and Khloe Take the Hamptons, Khloe got in the middle of an argument about Scott's partying as she coached Kourtney through. Even after they called it quits in July 2015, they still butted heads. In 2016, the former couple got into a huge fight over New Year's Eve plans.
They also got into an argument in 2018 when Scott told Kourtney that he wanted their kids to meet Sofia Richie, his most recent girlfriend. She joined them on a family trip to Finland the following year, and Scott was struggling to relax as his former and current girlfriends interacted. It was also Sofia's first time appearing on the KUWTK. Kourtney subsequently called him out for being "negative," and Sofia didn't return to the reality series.
Scott vs. Corey Gamble
In a September 2019 episode of KUWTK, Disick got into an explosive argument with Kris' boyfriend Corey about disciplining Disick's daughter, Penelope. During dinner, Kourtney revealed that Penelope scratched their nanny, which resulted in her quitting. Although tensions were already on high, Corey appeared to make things worse. He said that he would be "whipping her a**" if Penelope were his kid after the incident. "Don't ever talk about a child like that!" Scott screamed across the table, as the rest of the family sat awkwardly.
Newsweek subscription offers >
Scott vs. Sofia Richie
The couple has been rumored to have a rocky relationship since they started dating in 2017. Even though they don't air their dirty laundry, a source told People that "Scott and Sofia are the type of couple that constantly split up and get back together," and that "it's all very dramatic, and then all good again." Recently, the couple has been "on a break" after Scott's most recent rehab stint.
Scott vs. Kim Kardashian and Kris Jenner
In 2017, Scott famously got into a major argument with Kim and momager extraordinaire Kris after he brought a girl on their family vacation without their knowledge. The family was on vacation to film scenes for KUWTK, and Scott secretly kept his lady friend in the same hotel as the reality show's crew.
And, of course, Scott vs. A Mirror
In a 2010 episode of Kourtney and Khloe Take Miami, Scott drunkenly punched a mirror. After getting confronted about smoking marijuana around their young son Mason by Kourtney, Scott lost his temper and slammed the mirror. His hand bled profusely and he ultimately was sent to the hospital for surgery.
Every Single Fight Scott Disick Has Ever Had With The Kardashians | Culture