Every Song on BTS' New Album, 'Map of the Soul: Persona,' Ranked
Globally sensational K-pop group BTS made their 2019 comeback Friday with the release of album Map of the Soul: Persona, and fans are celebrating the group's talent, creativity and strength worldwide. The seven-track album may be exactly what fans expected from the rap and pop group, with a few unexpected twists. Just days before the album release, BTS announced American pop artist Halsey would appear on a collaboration. When the album was released, fans found Halsey wasn't the only surprise guest, with an unexpected appearance from Ed Sheeran.
For collaborations to mixed tempos, here are the seven songs on Map of the Soul: Persona ranked.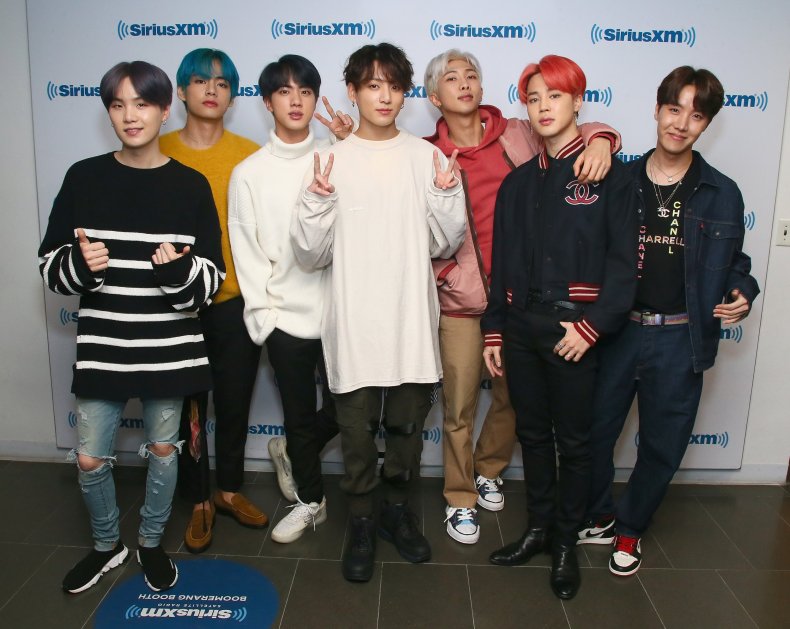 "Boy With Luv" (feat. Halsey)
Fans are flocking to support "Boy With Luv" and it's obvious why. The second track on the album is a bubblegum pop song translated to modern day sound. Its content is sweet, sugary and all about trying out a new love, and the vocals follow suit. From each member's airy vocals, to the bright and uplifting beat, "Boy With Luv" is a celebration of love and of BTS. Halsey's unique vocals are an added bonus to the track, especially for fans of both pop mega-names.
"Mikrokosmos"
From sound to lyrical content, "Mikrokosmos" is a beautiful ode to a strong, star-like love. The track has a calming, yet powerful sound, one that in the first verse, takes listeners deeper into the story. It may be the best example of storytelling on Map of the Soul: Persona, which is why it takes second place on the Newsweek list. "Mikrokomos" is an example of a song with endless potential, all of which seems to have been reached.
"Jamais Vu"
Though it's natural to praise "Make It Right" ahead of "Jamais Vu", there's something special about the later, a reflective heartbreak track. "Jamais Vu", a phrase which means a feeling or place that seems familiar, but is not, is a fitting title to the song, which takes listeners into the heart of unbearable pain. Instrumentally, the track does just enough to support the emotional message, as well as transport listeners into the feeling of falling apart, with just a bit of hope left, when someone the love decides to leave.
"Make It Right"
Taking a step back into radio-style pop, not entirely different from "Boy With Luv", "Make It Right" has a dance club-like feel. The song dives into a relationship that's seen hard times and added support between the couple. Despite the heavy concept, the song feels light, with a prominent base. The track's added bonus for pop fans falls in the writing and production, in which Ed Sheeran had a hand.
"Intro: Persona"
The album's intro track is a fitting opener, a powerful explanation of the album's concept. Released as the first single in an album teaser, "Intro: Persona" walks a line between serving as a statement and as a full song. It examines self-explanation and self-discovery, two concepts that, on the rest of the album, seem to be largely connected to love. The track is bold and confident, which frames how BTS is viewed in a global market.
HOME
With an instrumental throwback to 2000s hip-hop, "HOME" is a reflective track on where "home" really is. In it, BTS speaks of their success, and how far they've traveled from home to make their dreams a reality. The home they've successfully found, though, is with a love who can make the world home, the lyrics explain. Sonically, the track is an interesting mix between rap and slow pop, which, surprisingly, works to create a well-rounded track.
Dionysus
"Dionysus", which opens with a powerhouse sound of strength, is an ode to getting drunk, and its name implies it. Dionysus is the Greek god of wine and grapes, both of which are mentioned directly in the party track. The intimidating song drifts far from the romanticism found throughout the rest of the album, as what could be seen as a necessary break, or as a total departure from the threaded concept holding the album together.
This article has been updated to include Ed Sheeran's writing and production involvement in "Make It Right."