Every State's Most Iconic Rock Venue
Whether it was the greatest rock band on the planet or the most epic solo artist, the very first concert or the most recent, a girl's night out, or a date with a significant other, people love the thrill of a great show. Some recall what they wore, who they were with, and what decade it was. The details always include the setting, from intimate dive bars to indoor arenas to outdoor pavilions.
Stacker compiled 50 iconic rock venues from every state using travel sites and other databases to bring you the most complete and diverse list.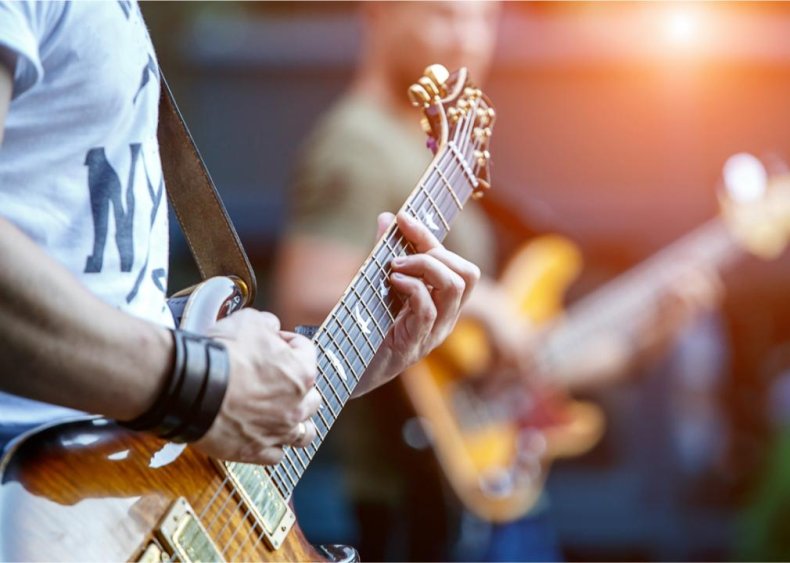 These concert venues included renovated theaters, many of which were once movie palaces that fell into disrepair and came back to life, like a phoenix rising from the ashes to be reborn as the next great rock venue. Others had past lives as old churches or historic mansions. They are in major cities, in remote areas, blasted from rock, and nestled among evergreens. These
You may also like: Best New Artist winner the year you graduated high school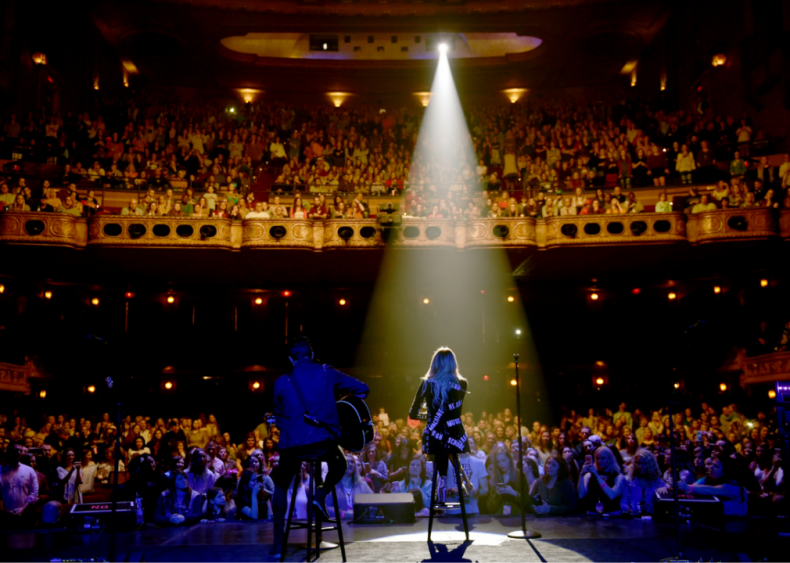 Alabama: Alabama Theatre
Located in downtown Birmingham, the Alabama Theatre first opened its doors in 1927 and was built by Paramount Studios as a showcase for their films. The venue continues to show classic movies and features an outdoor marquee and a Wurlitzer organ. The theater has hosted Three Dog Night, Alice Cooper, and Kings of Leon.
[Pictured: Kelsea Ballerini performs onstage for opening night of The Unapologetically Tour at The Alabama Theatre on February 8, 2018, in Birmingham, Alabama.]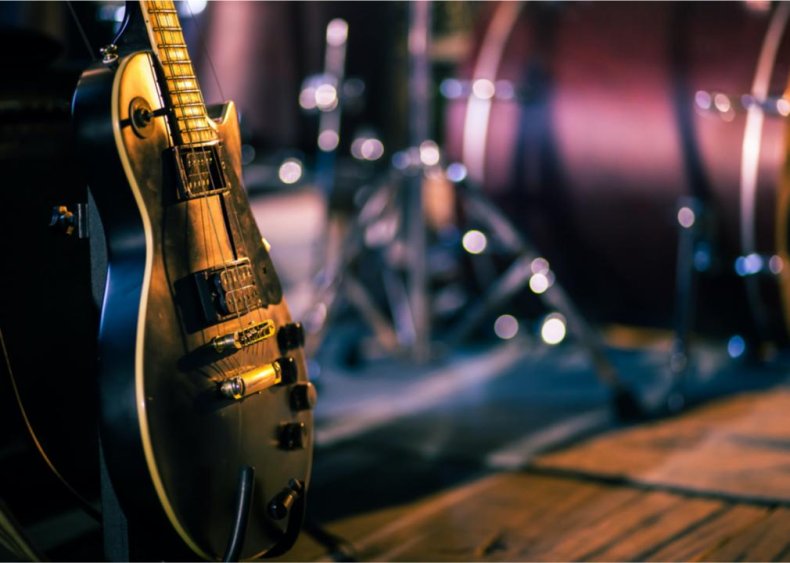 Alaska: Chilkoot Charlie's
Playboy magazine named Chilkoot Charlie's the No. 1 Bar in America in 2000. The bar opened its doors in 1970 and the list of bands who have played there is a who's who of musicians including Metallica, Quiet Riot, White Zombie, Bon Jovi, Lynyrd Skynyrd, Journey, Ozzy Osbourne, Aerosmith, Green Day, and Crosby, Stills & Nash. Located in Spenard, just outside of Anchorage, much of Chilkoot Charlie's charm comes from its atmosphere, which features sawdust-covered floors, seats made of beer kegs and padded tree stumps, and multiple stages and bars.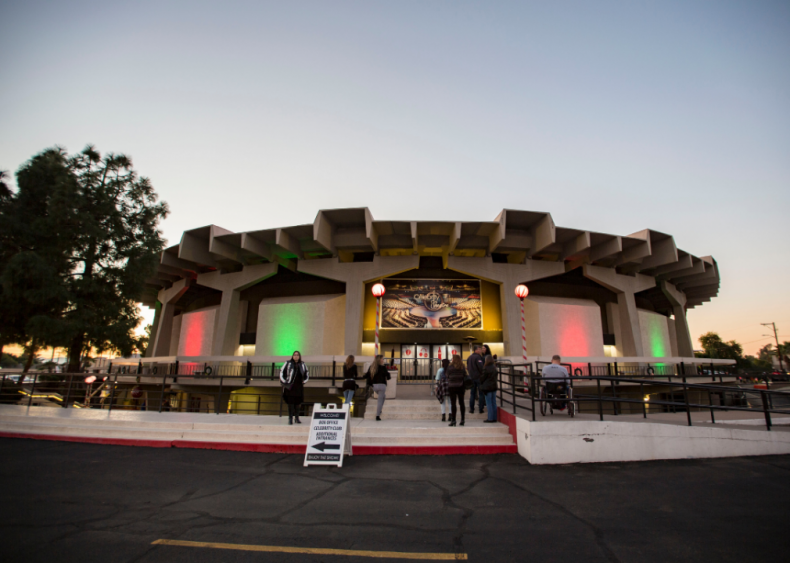 Arizona: Celebrity Theatre
Known for its revolving circular stage, the Celebrity Theatre in Phoenix, Arizona, also claims no seat is more than 70 feet from the stage. Open since 1964, the relatively intimate venue can seat up to 2,650 people and has featured many major music acts including David Bowie, Fleetwood Mac, Diana Ross, and Duran Duran.
Arkansas: Simmons Bank Arena
Elton John, the Rolling Stones, and Bruce Springsteen have all performed at this arena, which has the capacity to seat 18,000 concertgoers. The venue, first opened as Alltel Arena in 1999, is located in North Little Rock and has become a major entertainment venue for concerts and sporting events.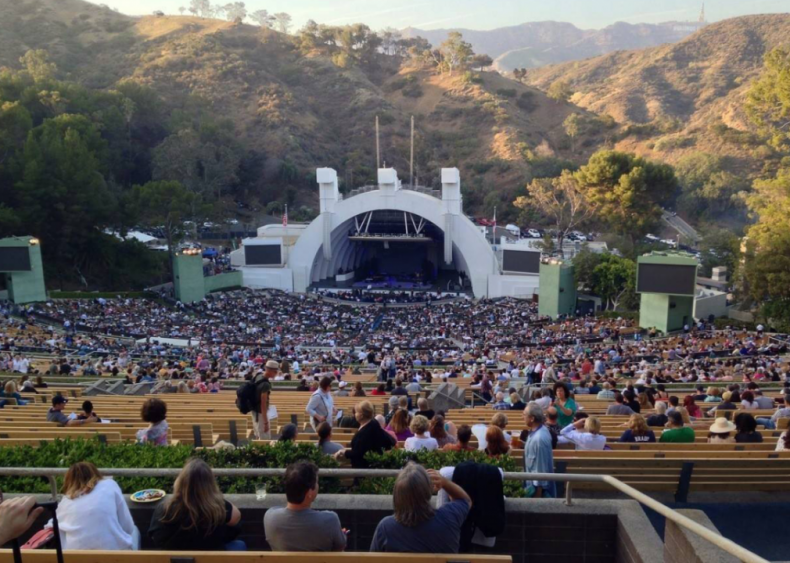 California: The Hollywood Bowl
One of the most well-known, recognizable concert venues, the Hollywood Bowl is an amphitheater set in the Hollywood Hills with a history dating back to the 1910s, though the first official season kicked off in 1922. Its appealing and unique arched bandshell has hosted some of the greatest musical acts throughout history including Jimi Hendrix, Elton John, and Deep Purple. The latter act became the first rock band to perform with the Los Angeles Philharmonic at Hollywood Bowl. There was once an actual pool in front of the stage, but it was drained in 1972, and the area now boasts premium box seats.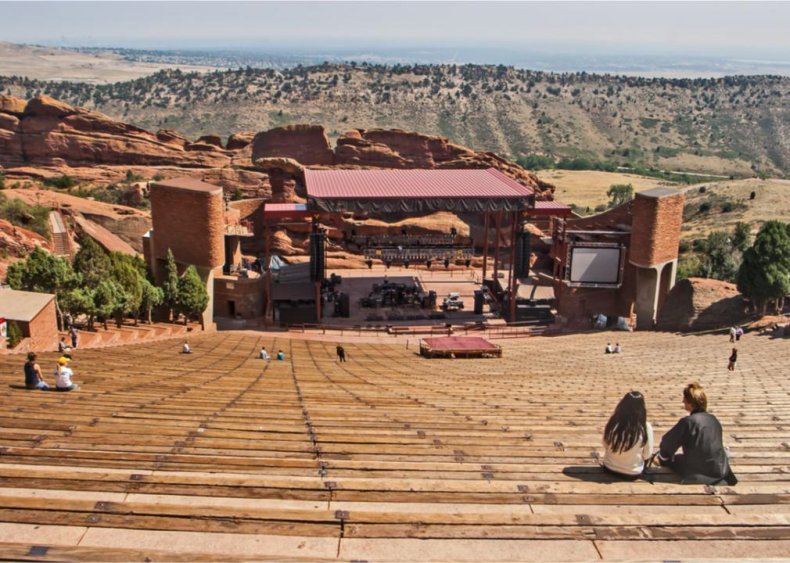 Colorado: Red Rocks Amphitheatre
Red Rocks Amphitheatre's incredible acoustics is due to its location. Built into a rock structure just outside of Denver, the venue offers concertgoers a literal rock concert. Red Rocks has hosted legendary bands such as the Beatles, U2, and Rush. The amphitheater was opened in 1941 and created by architect Burnham Hoyt, who said in a report about the national historic landmark, "Aside from the spectacular scenery, its acoustic properties are amazing — a whisper carries to the top of the seating area. Music was particularly successful and the wish of those familiar with the weird beauty of the spot had always been for a fitting theater here."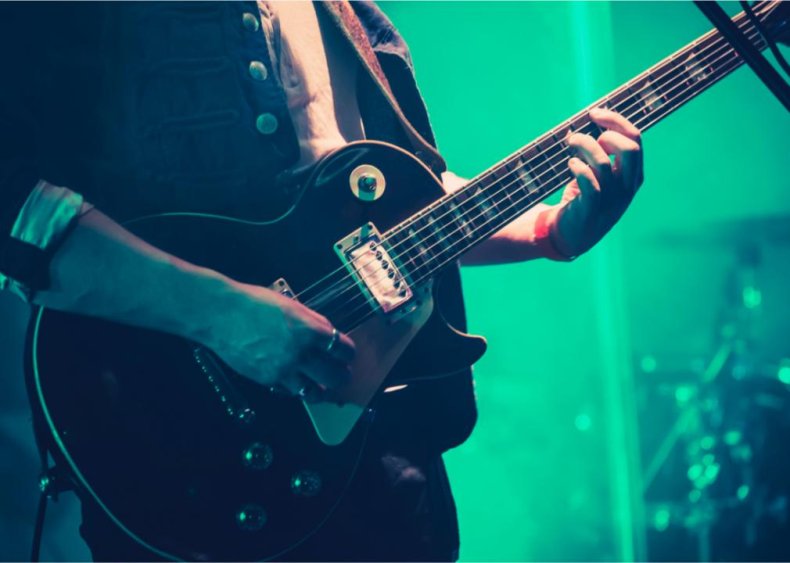 Connecticut: Toad's Place
Established in 1976 and located in New Haven, close to Yale University, Toad's Place has a rich music history. Though it only holds 750 patrons, Toad's is no stranger to big-name bands and the celebrities who pop over from New York City to see them. This dingy venue has hosted Bob Dylan, Radiohead, and U2.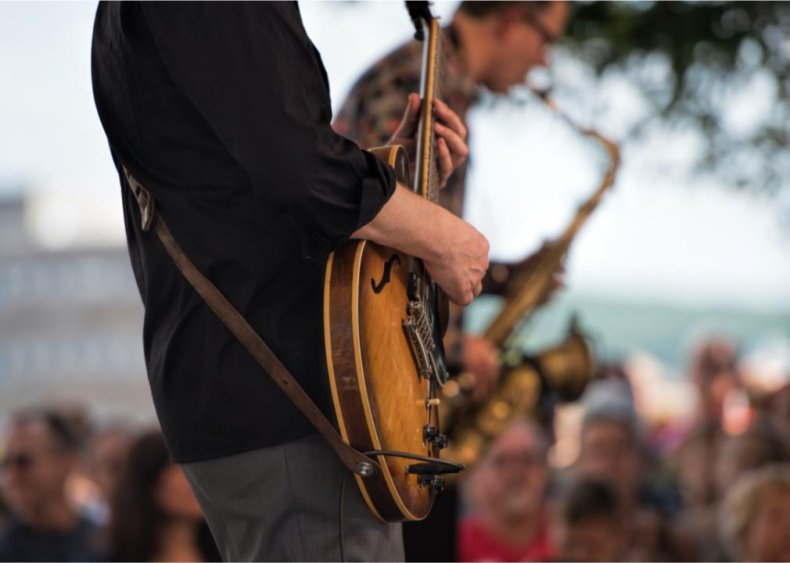 Delaware: Freeman Arts Pavilion
This outdoor venue is located in Selbyville, Delaware, and presents over 60 performances each year. Originally known as The Freeman Stage, 2021 brought the venue a new name and a larger space with performances by Train, Foreigner, Melissa Etheridge, Lynyrd Skynyrd, and Big Bad Voodoo Daddy.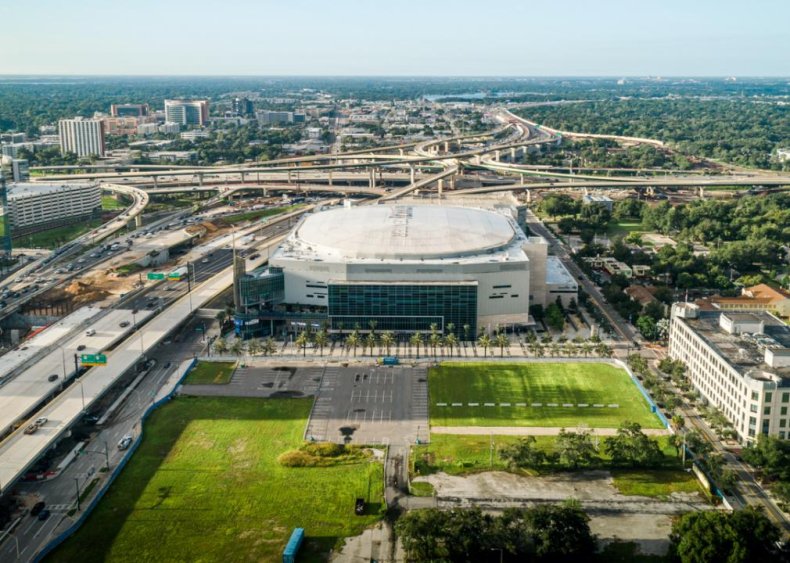 Florida: Amway Center
This 20,000-seat indoor arena has hosted some major acts including Billy Joel, Tom Petty, Fleetwood Mac, Kiss, Elton John, Guns N' Roses, and the Who. It is also home to major sports teams including the Orlando Magic, and hosted the pay-per-view professional wrestling event, the 2016 Royal Rumble.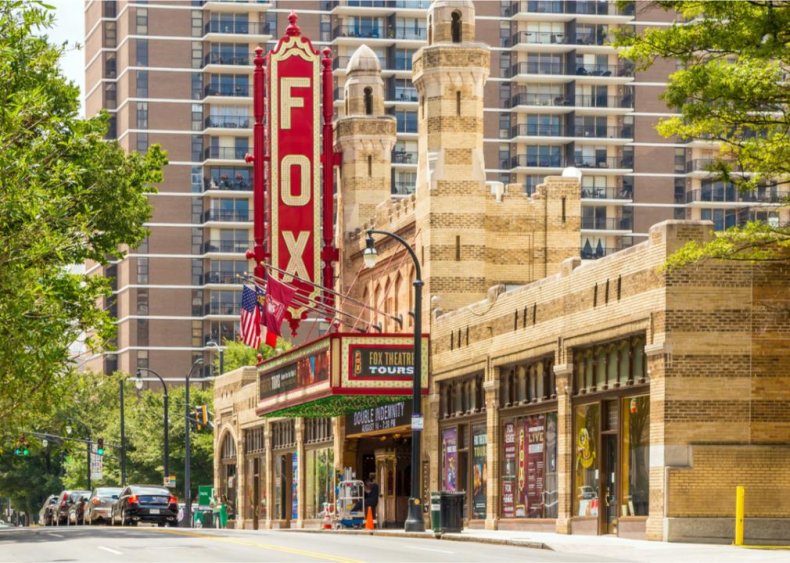 Georgia: Fox Theatre
With its iconic marquee and its history as a movie palace in the 1920s, the Fox boasts architecture inspired by the Far East and has become a legendary concert venue. Elvis Presley played there in 1956; the Rolling Stones played as the Cockroaches to test an album in 1978; and in 2016, Prince performed at the Fox Theatre in what would be his final performance. After opening on Christmas in 1929, the impressive theater has withstood fire, near closure, and bankruptcy yet continues to impress audiences with its grandeur and musical acts.
You may also like: The 35 Best Beers of Every Type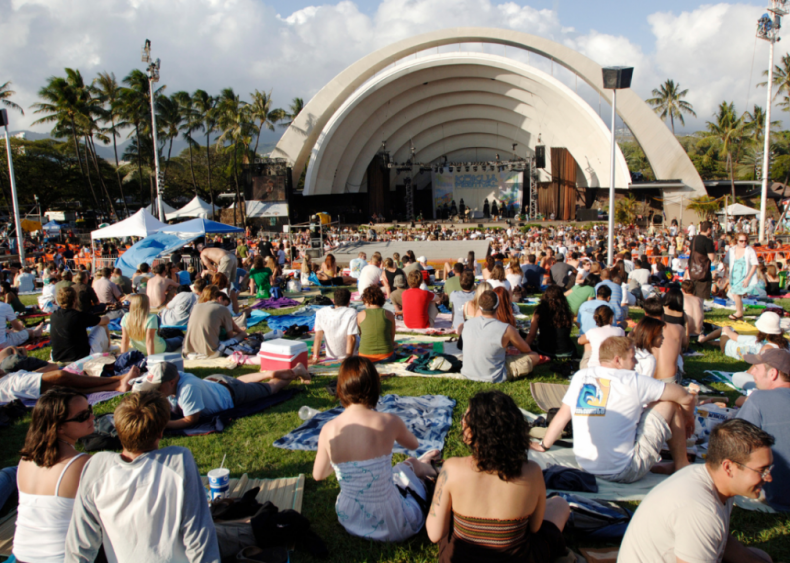 Hawaii: Tom Moffatt Waikiki Shell
From its Diamond Head background to its location just across from Waikiki Beach, the Tom Moffatt Waikiki Shell is not only iconic but stunning. It features sophisticated acoustics and has played host to some of the best music acts to ever hit Honolulu including Jimi Hendrix, Lana Del Rey, and Jefferson Airplane.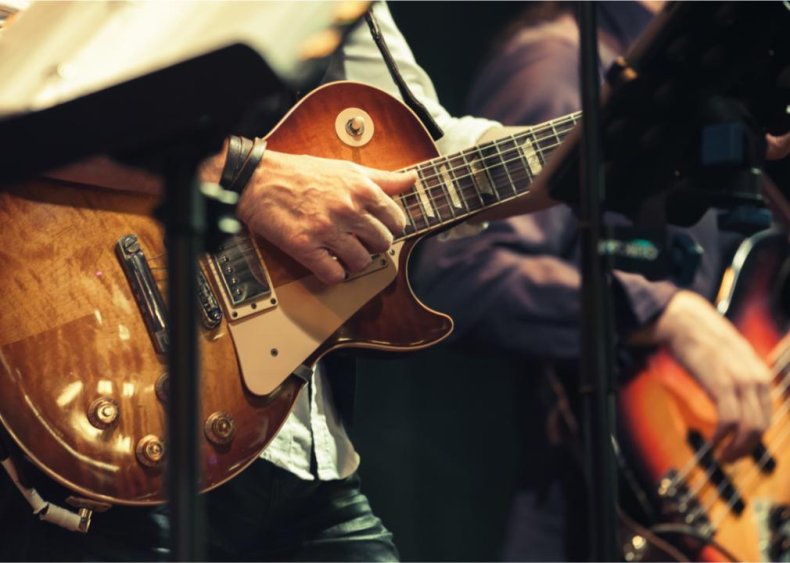 Idaho: Neurolux Lounge
This Boise fixture has been many things — including a pizza parlor and a blacksmith shop — but in 1993, Allen Ireland turned it into the Neurolux Lounge. Set up next to Record Exchange, an independent record store, the music venue hosts local bands and major acts like Modest Mouse. Late musician Elliott Smith also played at the Neurolux, which does not have a green room or closed sound checks, offering patrons an intimate experience with bands.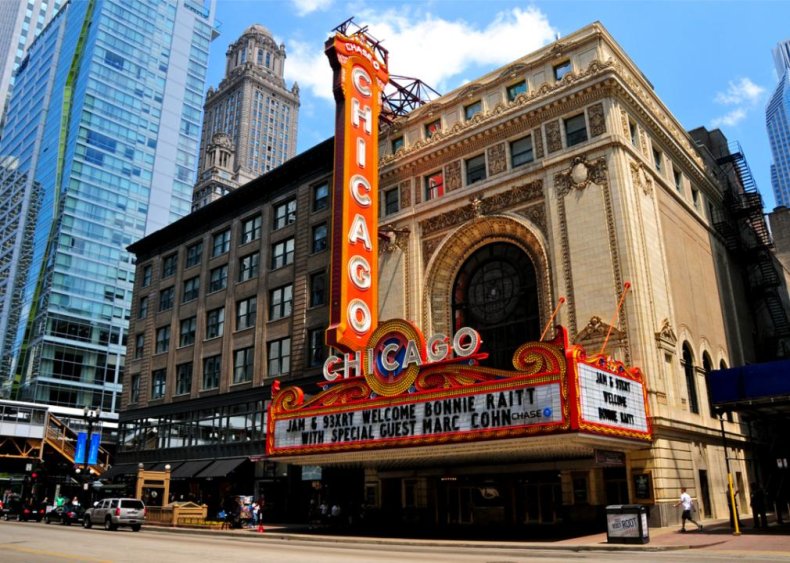 Illinois: Chicago Theatre
The ornate French Baroque style can be seen in the Chicago Theatre, which opened its doors on October 26, 1921, and became the prototype for the American movie theaters that cropped up in the early days of film. The venue has hosted music artists Prince, the Allman Brothers Band, and Van Morrison. When the theater fell into disrepair and demolition seemed imminent, Chicago Theatre Restoration Associates and the City of Chicago saved it. Frank Sinatra performed in the newly renovated space in 1986.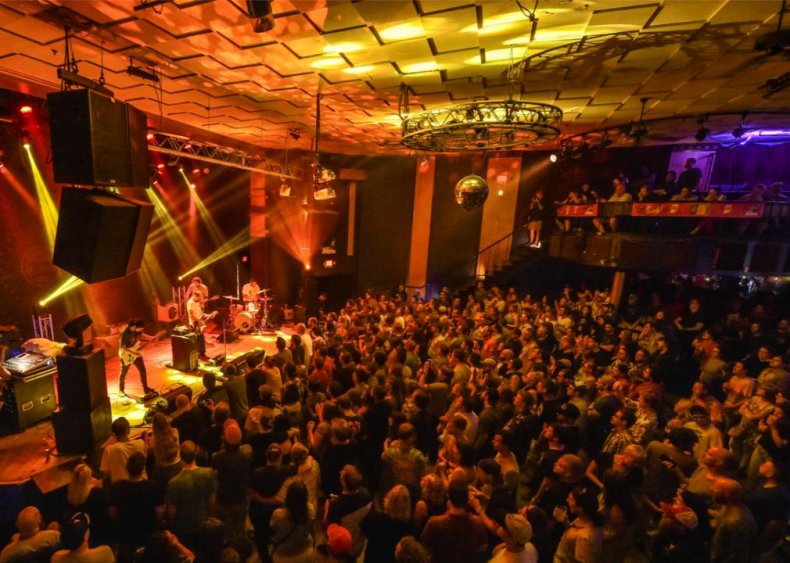 Indiana: The Vogue
Located in the Broad Ripple neighborhood of Indianapolis, The Vogue was originally an 800-seat movie theater when it opened its doors in 1938. In the early 1970s, The Vogue spent a few years as an X-rated theater before becoming a nightclub in 1977. Artists who have played here include Red Hot Chili Peppers, Johnny Cash, Cheap Trick, and Blind Melon.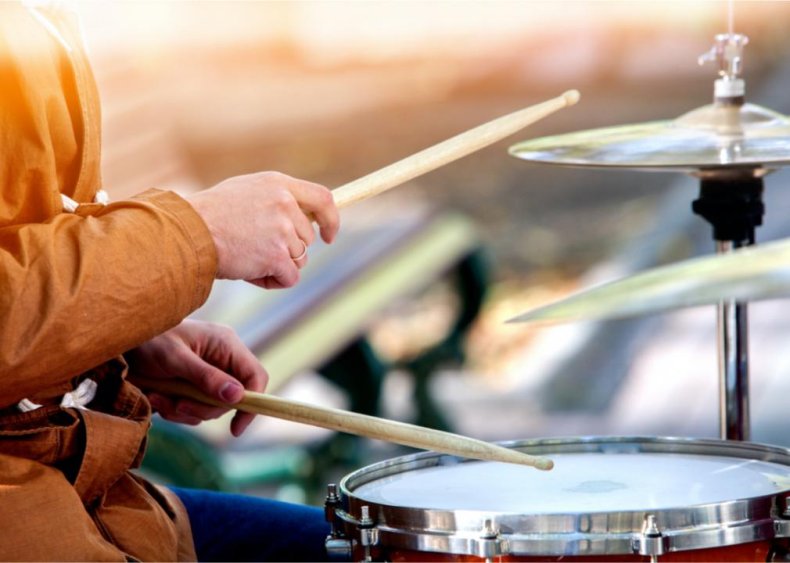 Iowa: McGrath Amphitheatre
This outdoor amphitheater is located in Cedar Rapids and is within walking distance to downtown. On the west bank of the Cedar River, McGrath Amphitheatre has featured national touring acts, including Violent Femmes, Primus, and Three Dog Night.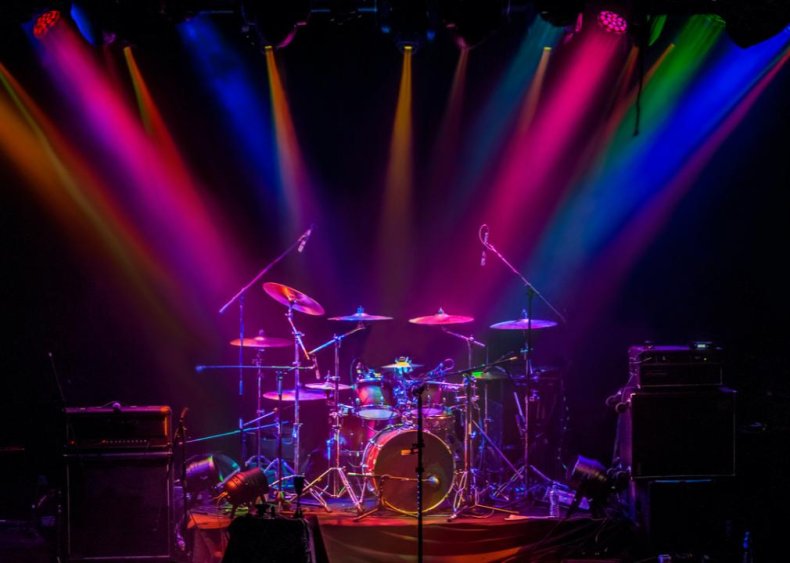 Kansas: The Bottleneck
Major bands from the Smashing Pumpkins to Radiohead have played at this Lawrence rock and roll landmark. While The Bottleneck has been home to a roller rink and a paper warehouse before it became a club, its current name came in 1985 as a tribute to the many beers that had been sold at the venue over the years. It also serves as a cool hangout for college students at the University of Kansas.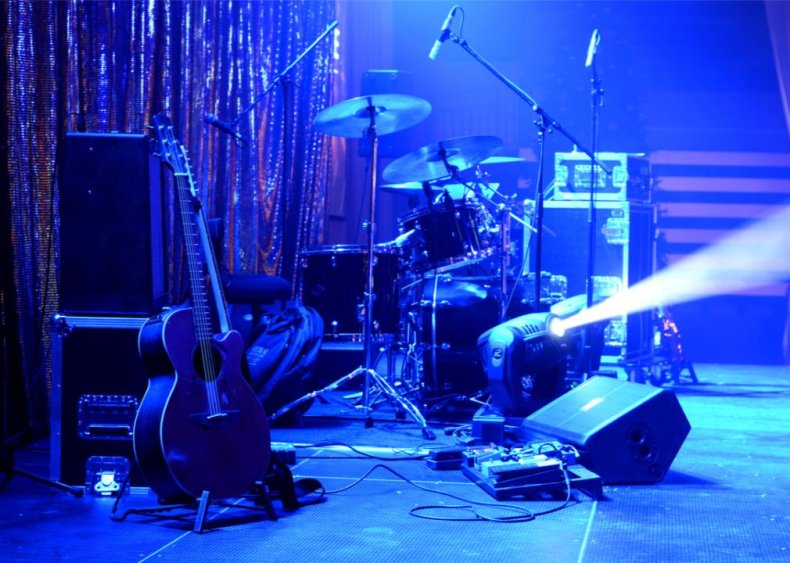 Kentucky: The Thompson House
The Thompson House is an 1820s-era mansion that features concert events and an art gallery. The first floor offers a bar and billiard rooms; the second floor features a stage for intimate concerts; and the third floor is an art gallery. Located in Newport, Kentucky, this unique venue has played host to both local and national music acts.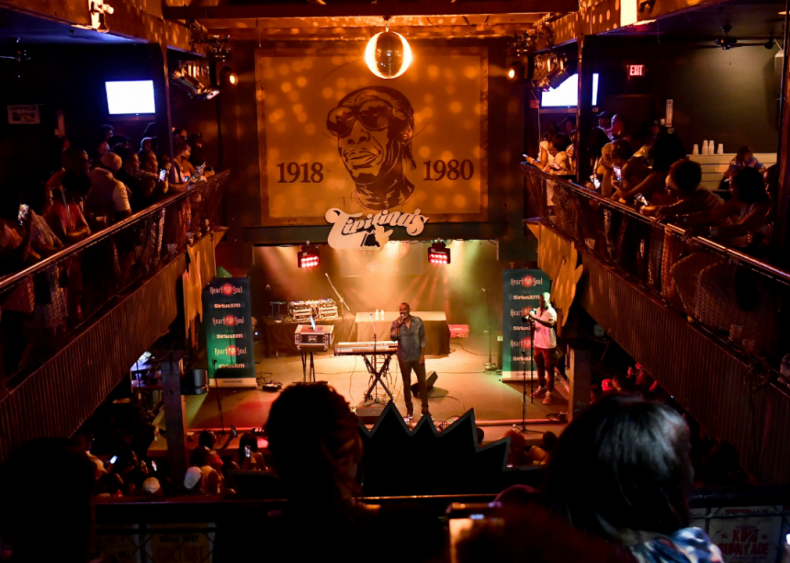 Louisiana: Tipitina's
Opened in Uptown New Orleans in 1977, Tipitina's hosted Nine Inch Nails in the 1990s and featured Fats Domino in 2007 in his final public performance. Tipitina's takes its name from a song by Professor Longhair, who performed at the club until his death in 1980. The standing-room-only venue's max capacity is 800.
[Pictured: Singer Brian McKnight performs onstage during SiriusXM presents Heart & Soul's 'A Night In N'Awlins' at Tipitina's on July 04, 2019, in New Orleans, Louisiana.]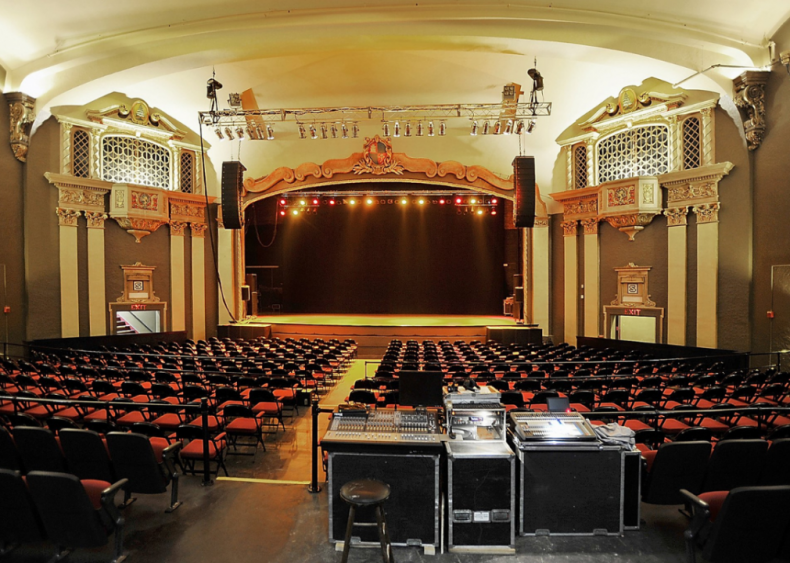 Maine: State Theatre
Located in Portland, Maine, the State Theatre's history dates back to 1929, when it opened its doors and featured popular films. The intricate design featured a Wurlitzer organ, multiple balconies, and bronze doors. Like many other once-grand theaters, the State fell into disrepair, though in 2010, it was restored and turned into a first-rate concert venue that has hosted acts like Bright Eyes, Pixies, Elvis Costello, and the Flaming Lips.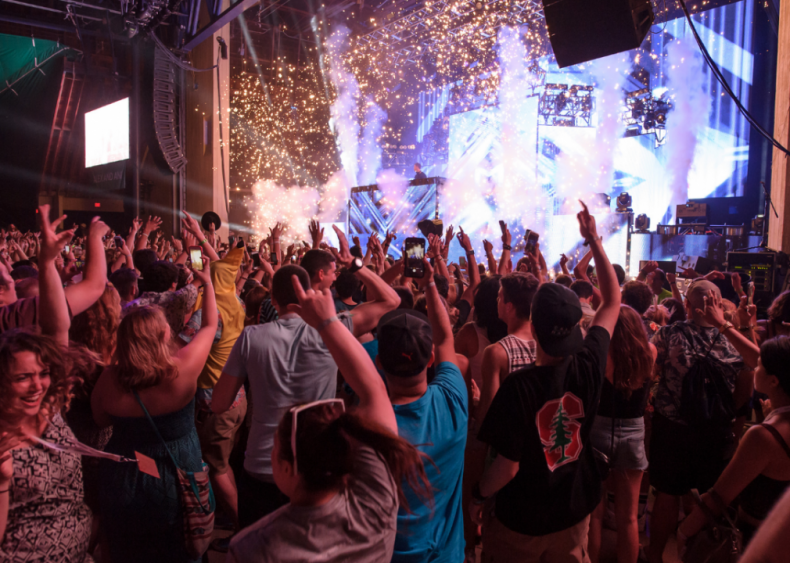 Maryland: Merriweather Post Pavilion
The Merriweather Post Pavilion opened in 1967 on 40 acres of wooded land in Columbia, Maryland. Not only has the Merriweather hosted artists like The Doors and the Grateful Dead but the venue has been witness to historic moments in music history. Jimi Hendrix debuted his rendition of "The Star-Spangled Banner" there and, in May 1969, the Merriweather hosted Led Zeppelin and the Who in the only show the legendary bands ever played together.
[Pictured: DJ Calvin Harris closes out day two at the 2015 Sweetlife Festival at Merriweather Post Pavilion in Columbia, MD.]
You may also like: The Best Place to Live in Every State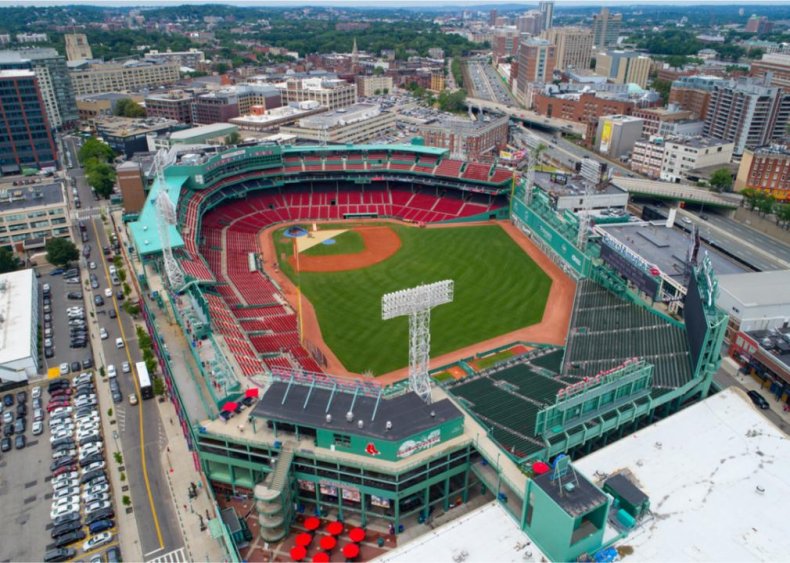 Massachusetts: Fenway Park
Known as the oldest baseball stadium in America, Fenway opened in 1912, though the Fenway Concert Series didn't begin until 2003. Since its inception, the series has hosted over 80 concerts, featuring Pearl Jam, the Rolling Stones, and Bruce Springsteen. The concerts have generated a significant amount of revenue and artists like Paul McCartney and Billy Joel have commented on how much they enjoy playing there.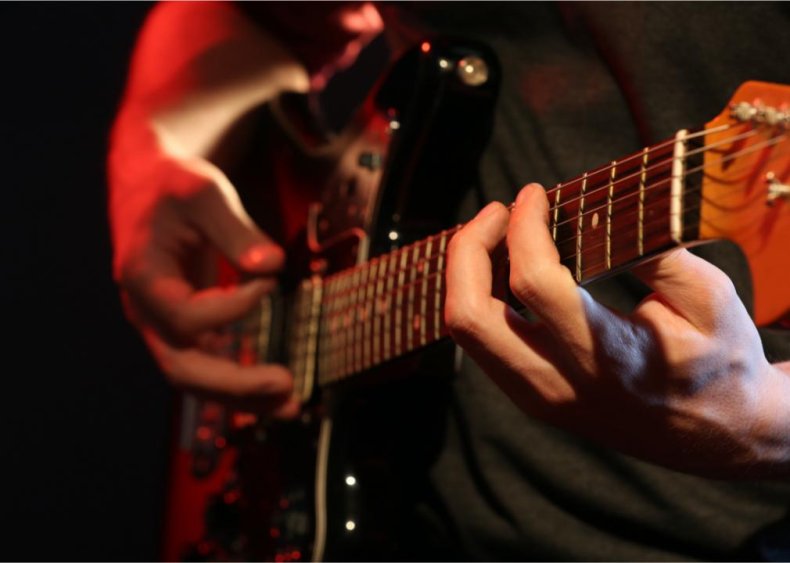 Michigan: El Club
In 2016, The New York Times called El Club "a promising new spot in Mexicantown" and Rolling Stone named it one of the 10 Best Live Music Venues in America. Seating 300 people, the rock venue has become a destination for both indie rock artists as well as those supported by major record labels. It has welcomed the Melvins, Waxahatchee, and Billie Eilish among others.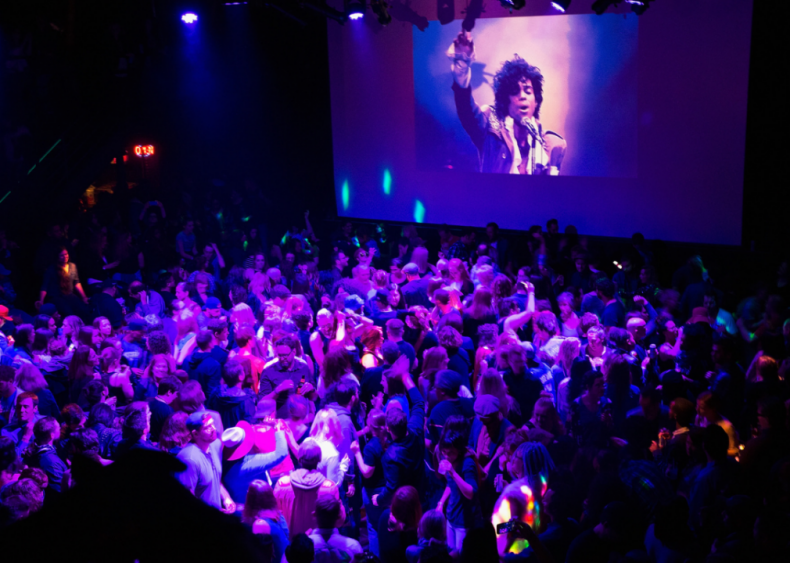 Minnesota: First Avenue
Located in Minneapolis and originally the Northland-Greyhound Bus Depot, First Avenue came to life as a music venue in 1970 when the curved wall of the bus depot became the backdrop for the club's stage, which has hosted acts like David Byrne, R.E.M., Joe Cocker, and Minneapolis native, Prince. Prince made the club his home base for all music matters and filmed his epic film, Purple Rain, at First Avenue.
[Pictured: Guests dance to Prince music as a slide show flashes images of the artist above the stage during a memorial dance party at the First Avenue nightclub on April 21, 2016, in Minneapolis, Minnesota.]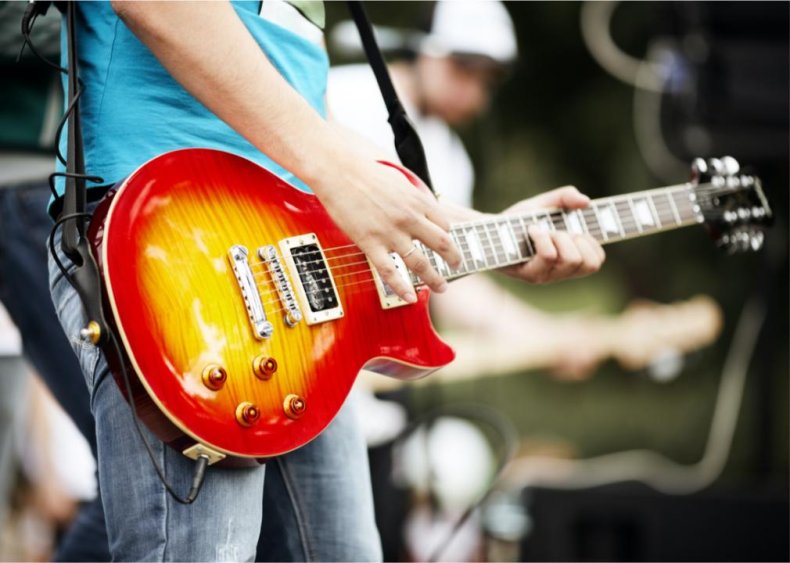 Mississippi: Brandon Amphitheater
For its inaugural concert in 2018, this newer venue featured Chris Young with Kane Brown. The smaller-sized venue, located in Brandon, can hold 8,300 concertgoers. Though only a few years old, Brandon Amphitheater has already attracted major musical talents like Widespread Panic, Lynyrd Skynyrd, and the Avett Brothers.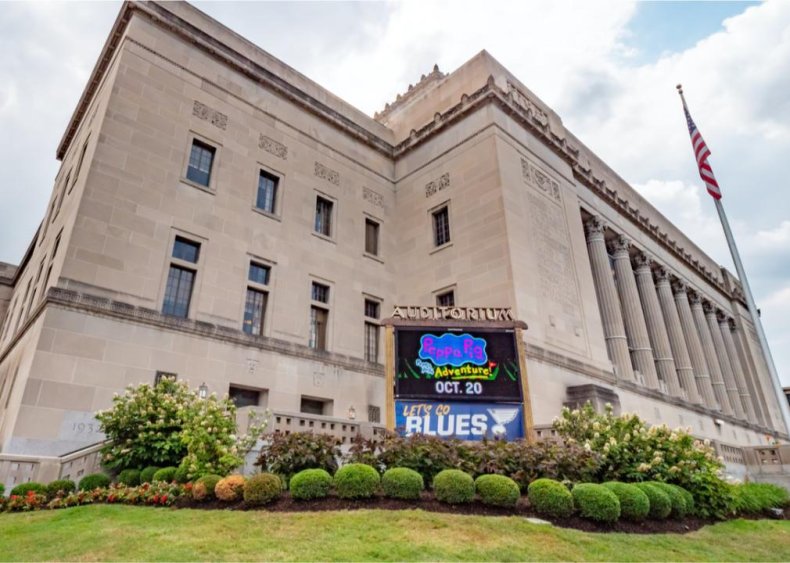 Missouri: Stifel Theatre
The Stifel is a historic theater in downtown St. Louis that seats up to 3,100 patrons. Since opening its doors in 1934, the venue has played host to musical powerhouses Ray Charles, Frank Sinatra, Bob Dylan, and the Rolling Stones. After undergoing a $78.7 million renovation, the theater now hosts a number of events including concerts, comedy shows, and family productions.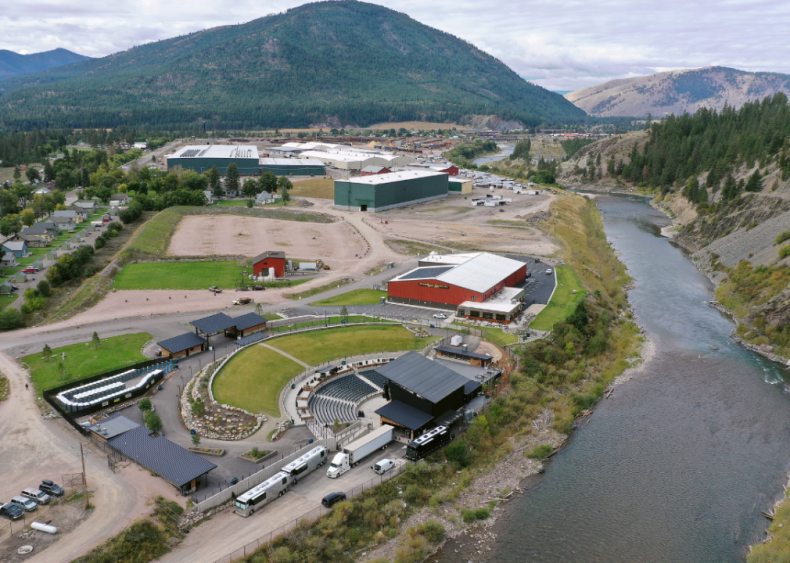 Montana: KettleHouse Amphitheater
Located on the banks of the Blackfoot River in Bonner, this concert venue offers stunning and scenic natural views. While it is a smaller venue, with a max capacity of 4,250, it still draws major music acts as well as an eclectic lineup of indie bands.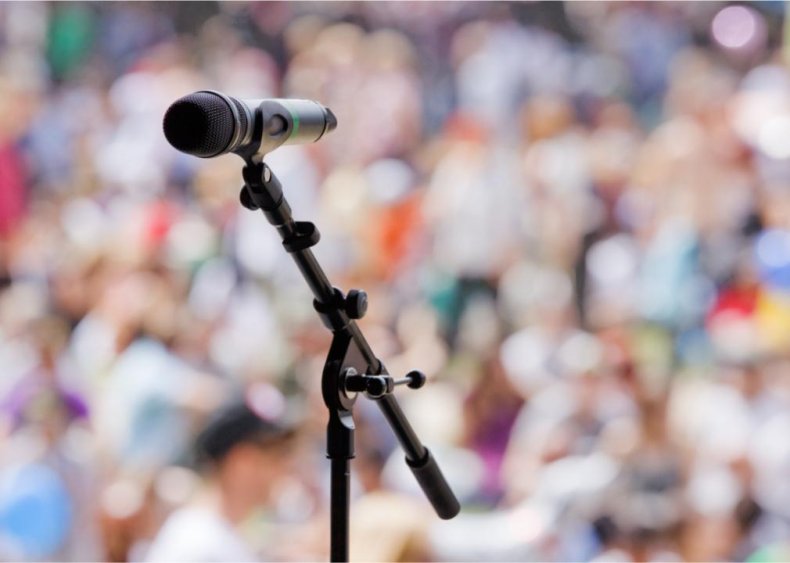 Nebraska: Pinewood Bowl Theater
This outdoor venue in Lincoln can hold 5,500 people and features big-name acts in a beautiful location surrounded by evergreens. Mumford & Sons, Alice In Chains, The Moody Blues, Bob Dylan, and Chicago have all played at Pinewood Bowl. Pinewood Performing Arts also puts on an annual summer musical at the venue.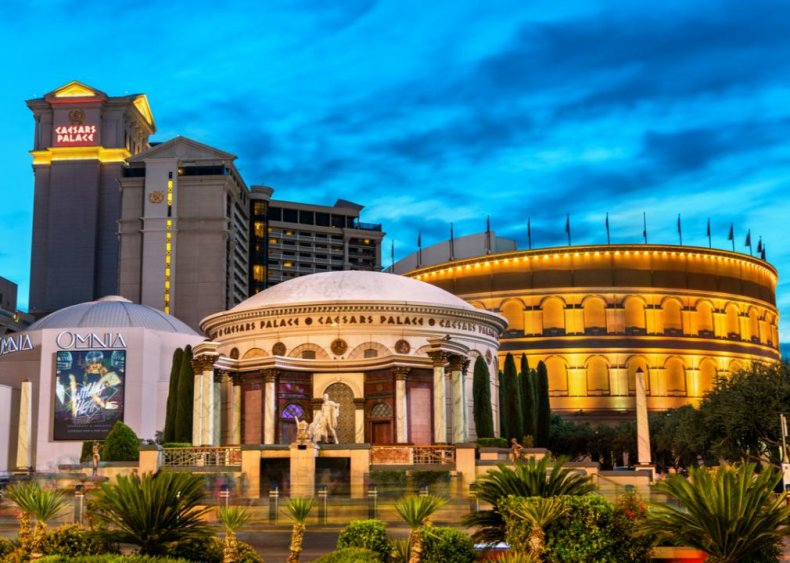 Nevada: The Colosseum
Located in the famous Las Vegas hotel, Caesars Palace, The Colosseum, which was rebuilt and renamed in 2000, features 4,300 seats. The iconic theater offers residencies to artists and provides them a long-term venue where they can play for weeks or months at a time. Named Billboard's Top Live Entertainment Venue Worldwide since 2005, The Colosseum has hosted Cher, Bette Midler, Mariah Carey, Elton John, Celine Dion, Usher, and others for multi-show residencies.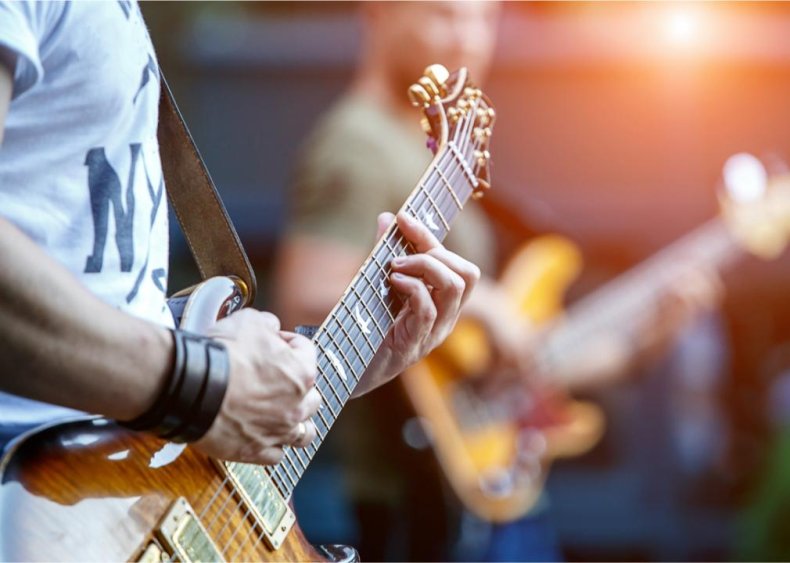 New Hampshire: Bank of New Hampshire Pavilion
Able to accommodate 8,000 concertgoers, this outdoor venue, located in Gilford, New Hampshire, is covered by a unique gabled roof. The venue is known for its robust summer concert calendar, which features an impressive list of both country and rock acts including Tim McGraw, Zac Brown Band, Bush, Lynyrd Skynyrd, and Alice Cooper. USA Today named it one of the 10 Best Concert Venues Across the USA.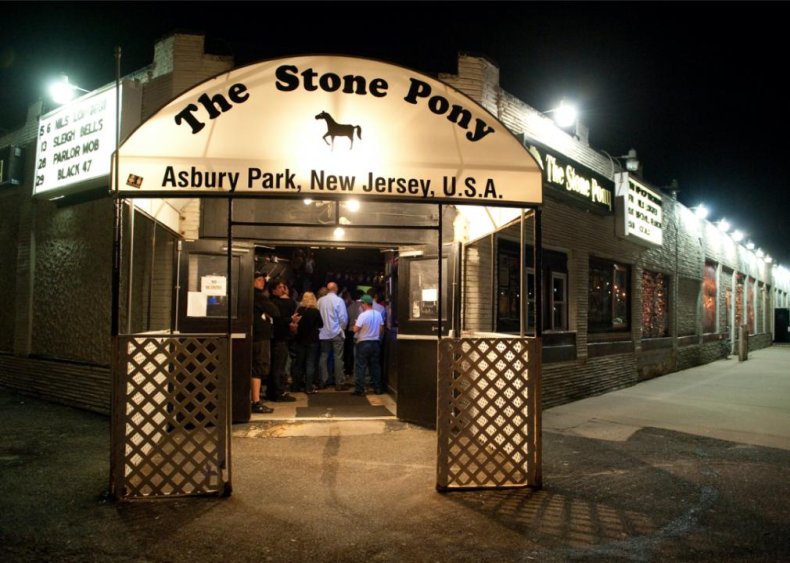 New Jersey: The Stone Pony
This iconic New Jersey music venue located in Asbury Park was a starting spot for Jersey legends Bruce Springsteen and Bon Jovi. The Stone Pony still features an impressive lineup and their Summer Stage offers seasonal entertainment. Opened in 1974, Joan Jett, Elvis Costello, and the Ramones have all graced its stage, and even Van Morrison used the club to shoot a video.
You may also like: 50 Best Small Towns for Retirees in America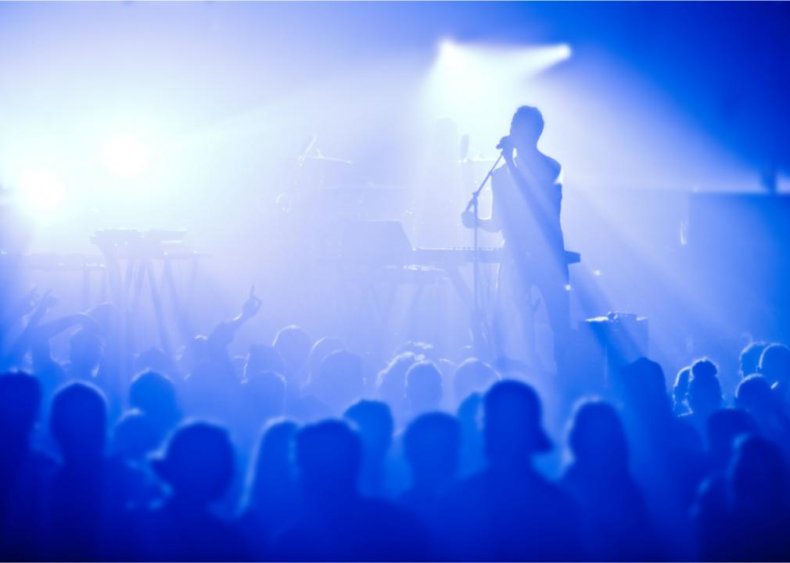 New Mexico: Sunshine Theater
Located in Albuquerque, the Sunshine Building, built in 1924 and added to the National Register of Historic Places in 1985, houses the Sunshine Theater. It started out as a movie theater but stopped showing movies in 1974 and closed in the 1980s. Fortunately, it reopened as a musical venue and has featured acts like the Strokes, Smashing Pumpkins, and Stone Temple Pilots.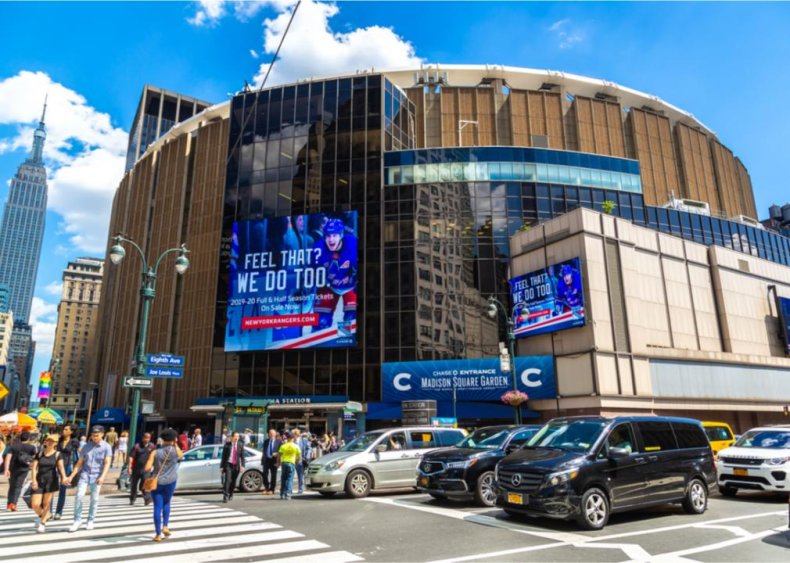 New York: Madison Square Garden
While New York is home to many iconic rock venues, Madison Square Garden has been an epic music venue since 1968 and is located just above Penn Station. Not only has it welcomed artists like Radiohead, Bruce Springsteen, and Eddie Vedder, MSG even hosted John Lennon's final live appearance in 1974. Aside from concerts, Madison Square Garden is also a sports arena and has even played host to music's greatest awards ceremony: the Grammys.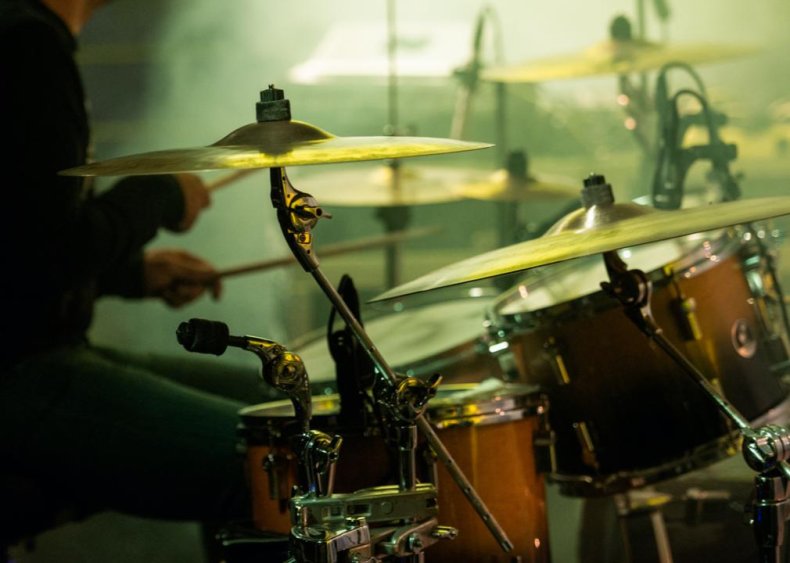 North Carolina: Cat's Cradle
Though it is located less than a mile from the University of North Carolina at Chapel Hill, Cat's Cradle isn't some dingy college dive bar. The downtown Carrboro venue has been iconic for over 40 years. Having hosted musicians such as Nirvana, Joan Baez, and Public Enemy in an intimate setting that holds about 750 people, Cat's Cradle continues to bring music to the masses.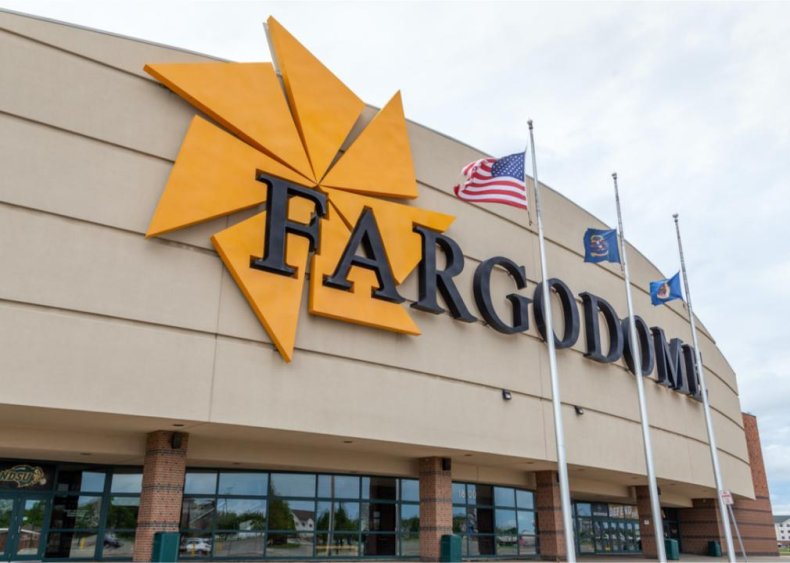 North Dakota: The Fargodome
The Fargodome opened in 1992 and is an indoor stadium located on the campus of North Dakota State University. Owned by the City of Fargo, the venue can seat 25,000 people for concert events and has hosted major music acts, from Metallica to Prince.
Ohio: Newport Music Hall
"America's Longest Continually Running Rock Club" started out as a movie theater in 1923. The club hosted Pearl Jam, Neil Young, Kiss, and Queen, and its stage featured the first American performance by U2. Blink-182 used Newport as its launching pad to fame, and John Lee Hooker's final performance was at the famous music venue.
Oklahoma: Paycom Center
The arena, located in Oklahoma City, serves as the home to the NBA team, the Oklahoma City Thunder, and recently underwent a name change. After opening its doors in 2002, the venue has welcomed a host of musical acts including Eric Clapton, Elton John, and the Eagles. During its first year of operations, Paycom Center, which is owned by the City of Oklahoma, made Pollstar's Top Ten Concert Venue list for North American ticket sales.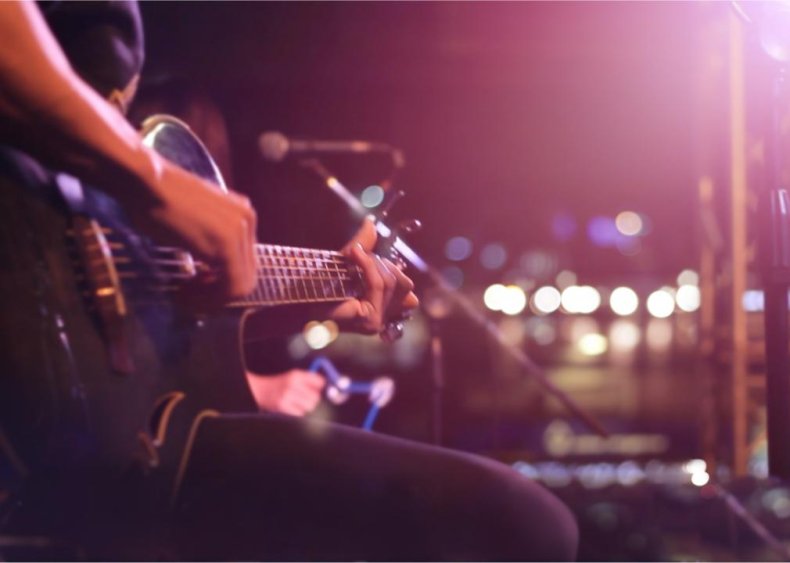 Oregon: Mississippi Studios
A former Baptist church, Mississippi Studios, located in Portland, is notable for its unbelievable acoustic design. Live national acts and indie bands can be seen and heard in an intimate setting for under $15, and the venue even has an apartment above it that can be rented out for an overnight stay.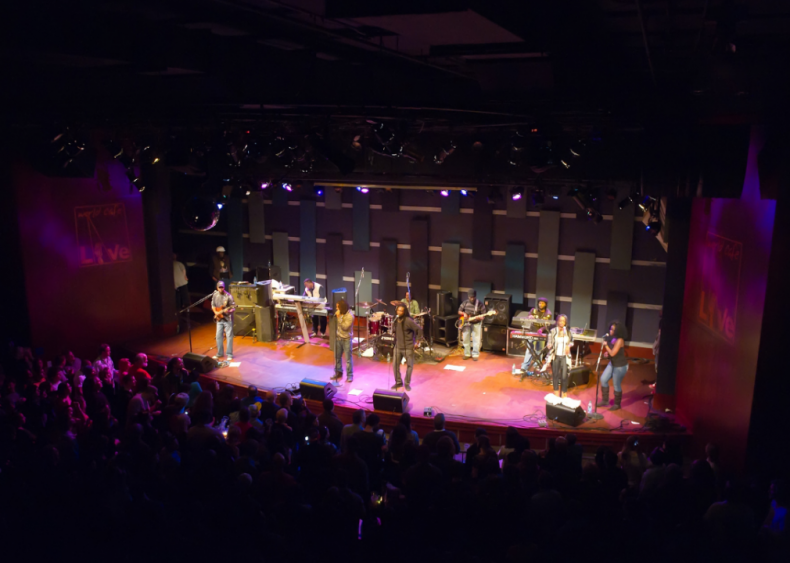 Pennsylvania: World Cafe Live
Located in Philadelphia, the City of Brotherly Love, this venue hosts hundreds of ticketed shows, special events, and free shows throughout the year. Known for showcasing acts before they hit it big, World Cafe Live hosted Adele back in 2008 before she won her first Grammy. This vibrant music hub opened its doors in 2004 and features multiple stages and levels.
[Pictured: The Wailers perform at World Cafe Live on December 28, 2011, in Philadelphia, PA.]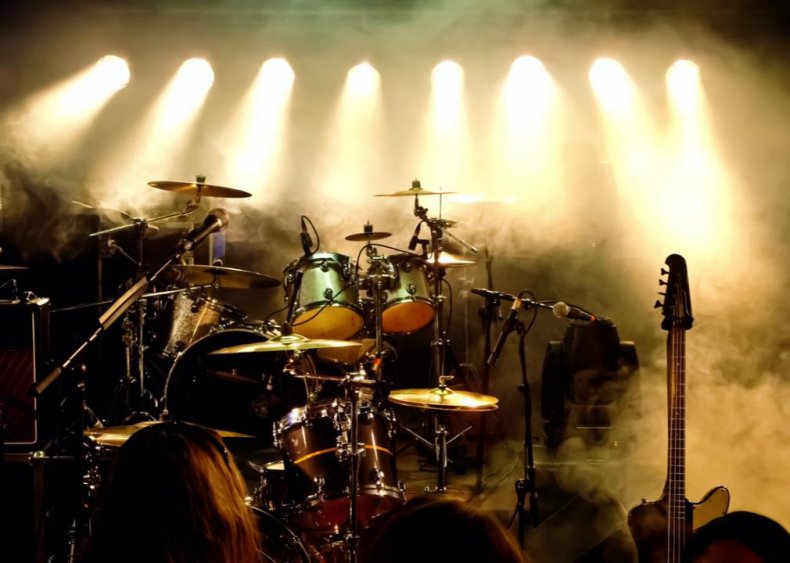 Rhode Island: Lupo's Heartbreak Hotel
Since opening its doors in 1975, Lupo's Heartbreak Hotel, a small bar in downtown Providence, has changed locations several times, although its mural featuring famous dead musicians has followed Lupo's from place to place. While the original location hosted such famous artists as Talking Heads, James Brown, and Jerry Lee Lewis in a more intimate setting, the current location has transitioned the small bar to more of a concert venue and can seat up to 1,900 people. Owner Rich Lupo went to Brown University before opening the bar, which he always promised his mother wouldn't be a lasting thing.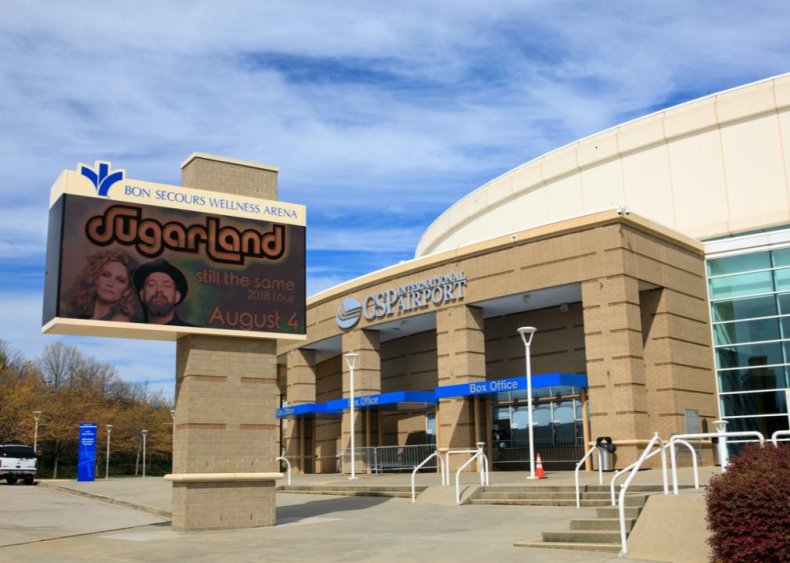 South Carolina: Bon Secours Wellness Arena
This multipurpose arena in Greenville first opened its doors on September 3, 1998, as BI-LO Center. The venue has hosted artists from many musical genres including the Eagles, George Strait, Pearl Jam, Prince, and Bruce Springsteen. It has also hosted special events that have included the Trans-Siberian Orchestra, World Wrestling Entertainment, and the Ringling Bros. and Barnum & Bailey Circus.
You may also like: 63 Memorable Moments From Every Year in Grammy History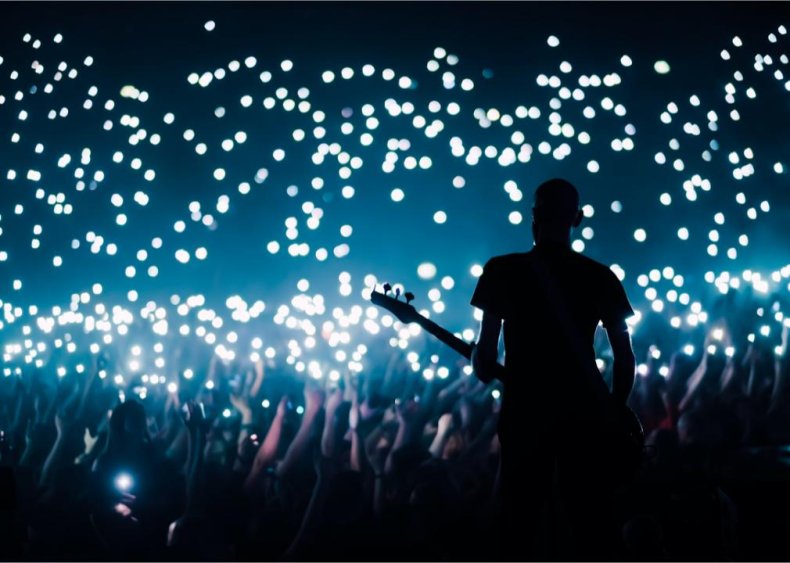 South Dakota: Denny Sanford Premier Center
A place to see the biggest music acts coming to Sioux Falls, the Denny Sanford Premier Center is the largest indoor arena in the state and has the capacity to accommodate up to 12,000 people. This multipurpose facility holds meetings, sporting events, and concerts, and has hosted several major concerts including Cher, Elton John, Elvis Presley, and Garth Brooks.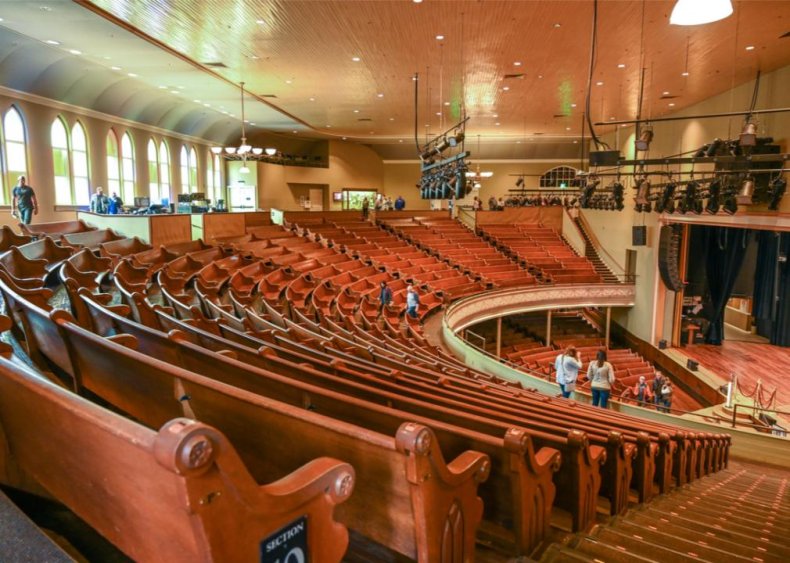 Tennessee: Ryman Auditorium
Ryman Auditorium was the original home of the Grand Ole Opry, and though it originally opened in 1892, the Ryman hit a rough patch before undergoing extensive renovations in the '80s and '90s. Located in Nashville, it is on the National Register of Historic Places and has hosted legendary artists such as Neil Young, Foo Fighters, and the Byrds. The latter act honored the country roots of the venue by covering Merle Haggard and The Strangers' "Sing Me Back Home."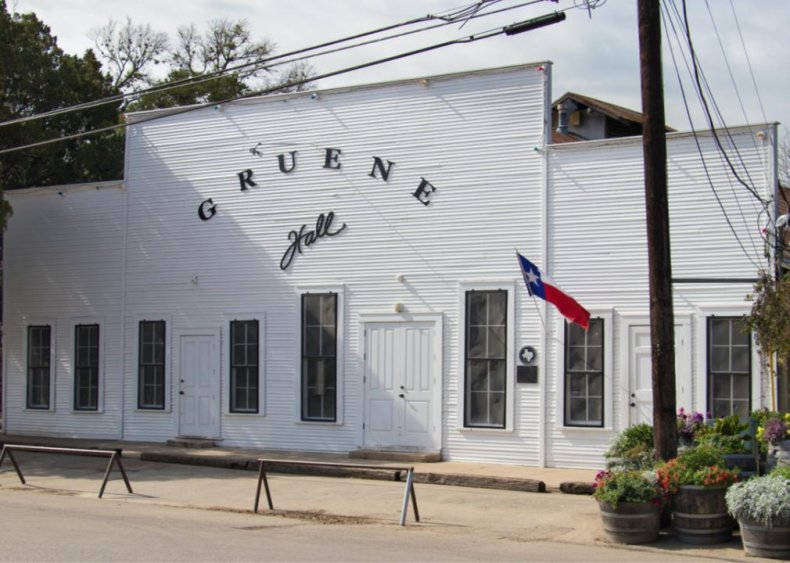 Texas: Gruene Hall
Not only is Gruene Hall a major music venue that has featured many genres including rock and country, but it also is the oldest continuously operating dance hall in the state. The large hall, with 6,000 square feet, dates back to 1878. The historic venue has witnessed performances by Jerry Lee Lewis, Los Lobos, Little Richard, and Chris Isaak, to name a few.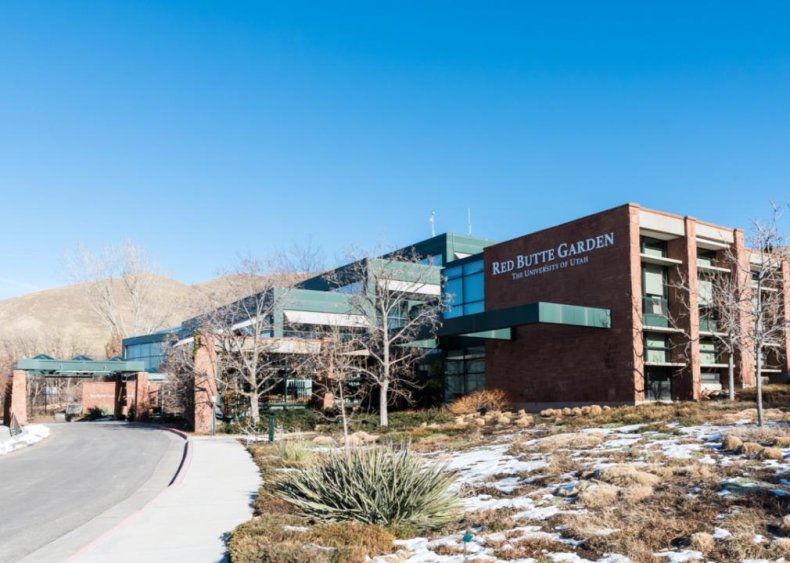 Utah: Red Butte Garden
This beautiful outdoor amphitheater, operated by the University of Utah, sits on 100 acres that include an arboretum and a botanical garden and features some first-rate musical offerings. This Salt Lake City venue's concert series has grown over the past several decades and has included Wilco, Counting Crows, ZZ Top, Billy Idol, and Death Cab for Cutie.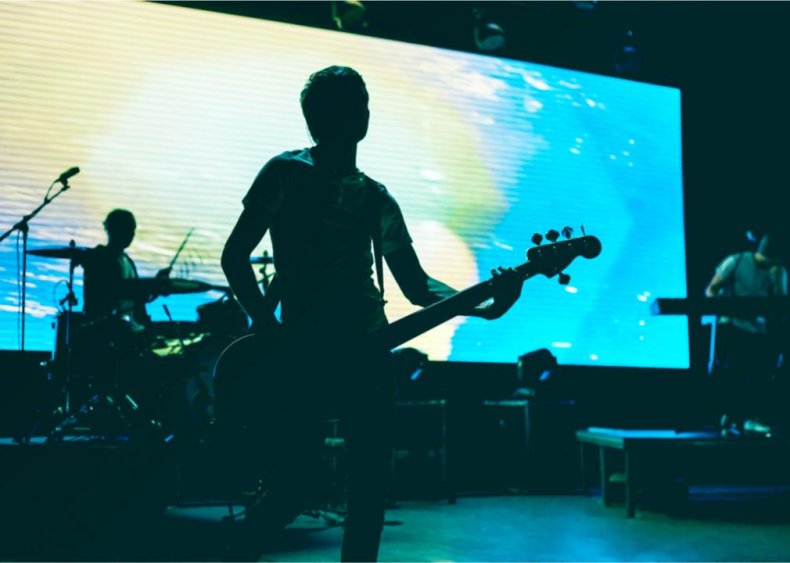 Vermont: Higher Ground
This all-ages venue features a diverse group of performers like Modest Mouse, Primus, Grace Potter, and St. Vincent. Located in South Burlington, Higher Ground offers three bars and local and national acts with a strong following, and it is standing room only.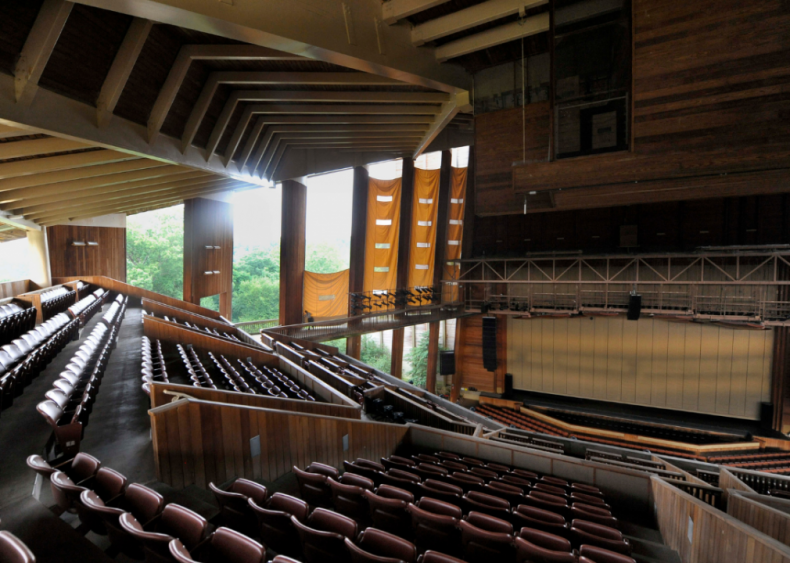 Virginia: Filene Center
Designed to exist harmoniously in nature, the Filene Center at Wolf Trap was built of southern yellow pine and Douglas fir. Hosting over 80 performances each summer and two annual celebrations, the outdoor amphitheater held its first performance in 1971. OneRepublic, Ringo Starr, and Elvis Costello have all graced the Filene Center stage.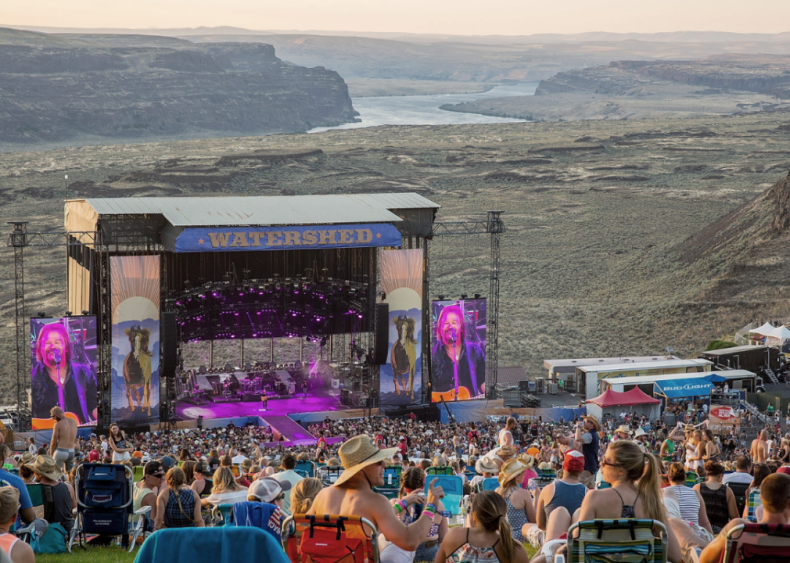 Washington: Gorge Amphitheatre
Located on the foothills of the Columbia River, Gorge, which opened in 1986, has hosted a number of music festivals including Lollapalooza and musical acts from Pearl Jam to Dave Matthews Band. Frommers named the 20,000-seat venue one of the top ten Epic Open-Air Concert Venues Worth Traveling For. Its remote location necessitates stay-over options which include a campground.
[Pictured: Fans enjoy the second weekend of the Watershed Music Festival at Gorge Amphitheatre on August 5, 2016, in George, Washington.]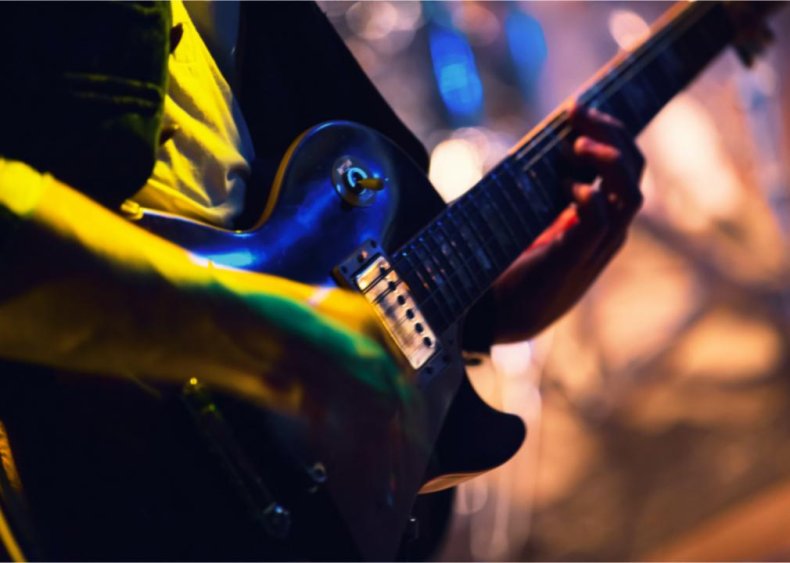 West Virginia: 123 Pleasant Street
Located in Morgantown, 123 Pleasant Street has been many things since its start in 1891, including Morgantown's first major apartment complex. Red Hot Chili Peppers played the venue back when it was the Underground Railroad. Both local and national acts continue to draw a crowd when they play at the bar.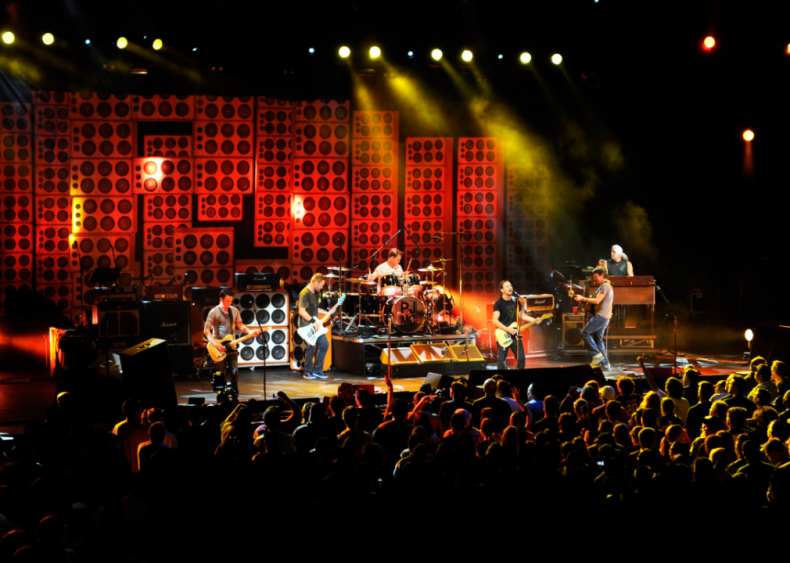 Wisconsin: Alpine Valley Music Theatre
This massive outdoor venue located in East Troy can hold up to 37,000 people. Built in 1977, this seasonal venue is a tour stop for many major musical acts and appeared on Rolling Stone's list of the best amphitheaters in America. The Grateful Dead played at Alpine Valley in the '80s and Pearl Jam chose it for the site of their 20th-anniversary concert in 2011.
[Pictured: Pearl Jam performs during Pearl Jam Destination Weekend at Alpine Valley Music Theatre on September 3, 2011, in East Troy, Wisconsin.}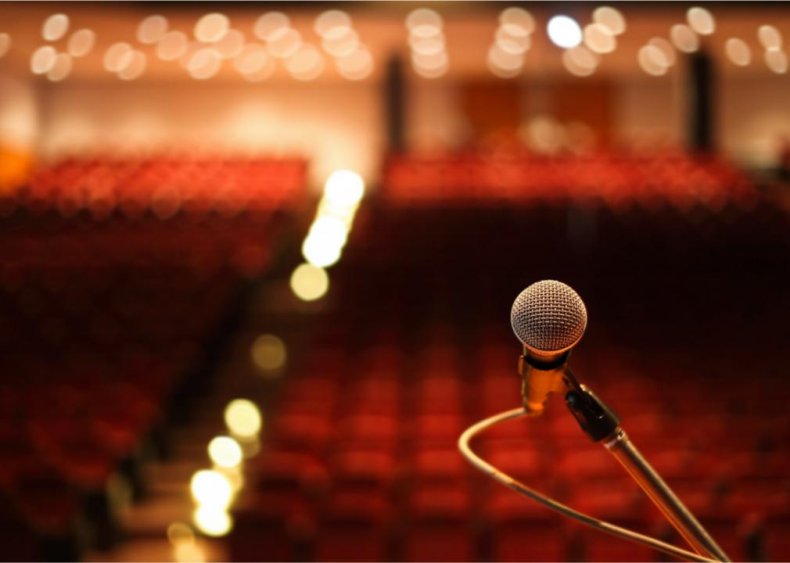 Wyoming: Cheyenne Civic Center
The Cheyenne Civic Center hosts major acts from a variety of music genres like Nitty Gritty Dirt Band and Clint Black. The small venue, built in 1981, can seat up to 1,500 people. The Cheyenne Symphony Orchestra uses the civic center as their primary performance location.