This story is co-published with Capital & Main
It was a little more than three weeks agothat COVID patients began filling up the intensive care units at both Bakersfield hospitals where Mary Lynn Briggs works. It had happened before, but this felt different.
"The majority of patients we're seeing are in their 20s and 30s, and we've never seen that before," Briggs said. "And in the past, although so many people who were in the ICU with COVID died, we also saw patients who survived—even went back to work. But these last three weeks, everybody has died."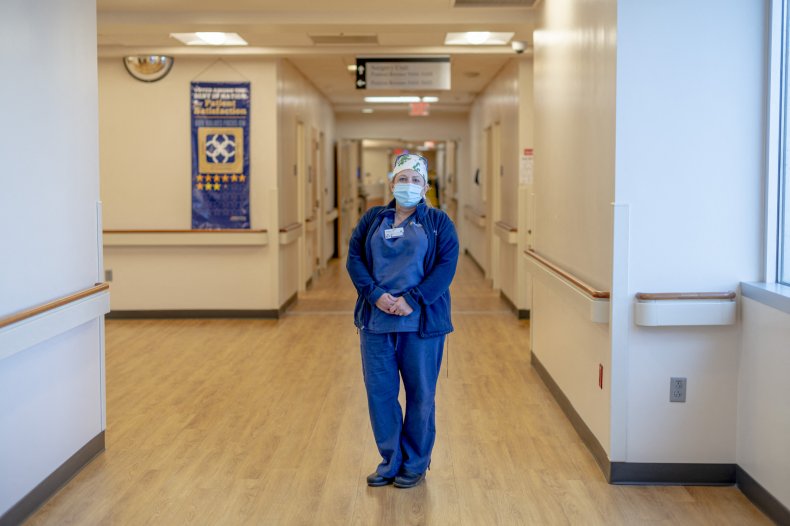 This is the brutal surge of the novel coronavirus that experts have long predicted, as some of the most severe cases fueled by the fast-moving Delta variant finally become hospitalizations. Both hospitalization and ICU admission rates in California have experienced massive upticks in the past month, including double-digit increases over the past seven days.
For many nurses, though, it isn't merely the numbers that chill. This is also a flashback to the very worst of any COVID period, including the end of 2020 and the first several weeks of this year. And some of them fear a darker turn—including working at hospitals that will be slow to address the biggest issues, like staffing.
"It's a little bit of a PTSD feeling, to be honest," said Brenda Chavez, an RN in the Centinela Hospital Medical Center emergency department in Inglewood. "We're just kind of holding our breath: Is this going to be even more severe than before?"
* * *
From a nursing perspective, 2020 was a year of battle. COVID itself was an immense challenge, but from the outset of the virus's arrival in the U.S., nurses also dealt with issues they might never have imagined confronting. Up and down California, nurses sometimes pleaded with and picketed their own hospitals for adequate amounts of personal protective equipment, including masks and even disposable gowns, and for enough staff to do their jobs the way they needed to be done.
Those concerns certainly haven't abated. While PPE appears to be mostly under better control, there are suggestions that some hospitals may again face shortages. And the nurses at Centinela, where Chavez works, conducted an informational picket just last week to air their concerns over inadequate staffing. Erica James, a nurse in the ER, said the need was "especially dire as COVID-19 cases once again surge." (Disclosure: The nurses quoted in this story are members of the California Nurses Association, a financial contributor to Capital & Main.)
It's a national issue. But in the complex field of nursing, what is national can quickly become local, and it demands a local response.
When hospitals in any given area or region find themselves facing staffing shortages, they often tap into a national network of so-called travel nurses, who do just that: Accept a short-term assignment at a hospital or group, move to that area and help fill out a thin staff. But COVID has generally meant emergencies in multiple areas of the country at the same time, with travel nurses sometimes offered signing bonuses and enhanced pay to choose one assignment over another.
In the wake of staffing issues, PPE shortages and the sometimes helpless feeling of working with terribly ill or dying COVID patients, nurses have begun leaving the ranks. Although firm numbers aren't known, the anecdotal evidence is strong.
"As the months progressed last year, and especially in November and on, I began to notice that our nurses were leaving," said Chavez, who has worked at Centinela for 2 ½ years. (The CNA says that in 2020 alone, Centinela lost 226 nurses, about half the total number currently working at the hospital.) "So we're trying to be more vocal about getting short-staff problems fixed, because we already saw what happened in November, December and January."
Chavez said nurses were told last month that staffing was being thinned due to "low census," meaning that fewer ER beds were in use. "But we have had an ER waiting time of multiple hours, plus ambulances waiting in line with patients," she said. "At times we don't have enough staff to help each other with patients."
In Bakersfield, Briggs works in the ICU at two Mercy hospitals. She noted that "by about the second COVID surge," staffing levels were at issue, even with travel nurses being brought in. California law requires hospitals to provide one nurse for every two patients in ICUs, but Briggs said that on several occasions Mercy has had a ratio closer to 3:1. (The state has issued temporary waivers to those ratios more than once during the pandemic, but a spokesperson for Mercy maintained that ratios "did not exceed 2:1" at either of its Bakersfield hospitals.)
Now comes the next wave of the virus, and Briggs, who works the night shift, said it is sending younger and sicker patients her way, often while she and her colleagues deal with staffing shortages. A year and a half of wrenching work for the nurses is nowhere near finished, while burnout stands on the fringes of the conversation.
Both Briggs and Chavez said they've made efforts to guard against becoming emotionally overwhelmed. Chavez began meeting with a therapist, anticipating what will happen over the next several weeks. That includes caring for patients who refused to wear masks or be vaccinated.
"People maybe don't realize that compassion fatigue is a real thing," Chavez said. "We have to take care of each other and take care of ourselves as nurses so that we can stick this out and care for our patients."
That grind may continue for months, in part because the staffing issues aren't likely to be resolved soon. And reinforcements might not be so quick to arrive.
"We had two cohorts of new [nursing] graduates in the ICU in 2020, and they came in facing this situation, in these circumstances, with no experience to back them up," Briggs said. "Most of them have already left."
Copyright 2021 Capital & Main