Everyone Seems to Hate Al Jazeera and The Qatari TV Channel is Fighting Back
Qatar's flagship Al Jazeera news channel has hit back at Israel over its decision to close the TV station's Jerusalem bureau and revoke the accreditation of its journalists saying the move undermines the nation's claim to be a democracy.
Al Jazeera has found itself at the centre of one of the most inflammatory diplomatic crises to grip the gulf states in decades. Saudi Arabia and its allies—accusing Qatar of supporting terrorism and backing regional rival Iran—have cut all ties with their tiny gas producing neighbor. The closure of Doha-based Al Jazeera is one of 13 demands issued by Saudi Arabia, Egypt, the UAE and Bahrain before normal relations can resume.
Read more: Saudi Arabia: Actress Offers Four Private Boeing 777s to Fly Qatari Pilgrims Amid Gulf 'War' Over Islam's Holy Sites
Israel gave its most explicit backing of the Saudi boycott to date on Sunday when Communications Minister Ayoub Kara said Israel would shut down the network's cable and satellite transmissions in the country as well as the other measures against its journalists.
"We have based our decision on the move by Sunni Arab states to close the Al Jazeera offices and prohibiting their work," Kara said. His comments followed statements by Israeli Prime Minister Benjamin Netanyahu criticising the channel's coverage of recent Arab boycotts over Israeli security measures at Jerusalem's al-Aqsa Mosque. Al Jazeera was denied access to the press conference about its own future.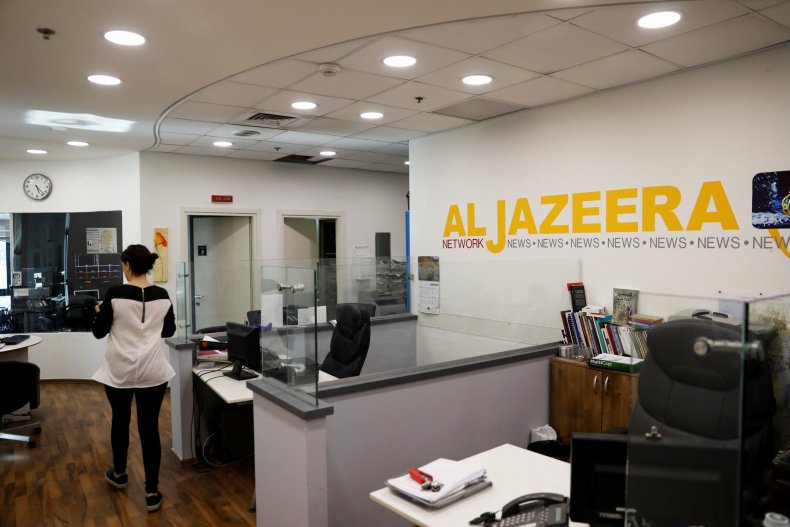 Fewer than 24 hours later the news channel offered its response. In a statement on the planned closure and other measures Al Jazeera said it " denounces this decision made by a state that claims to be 'the only democratic state in the Middle East.'"
Al Jazeera said that it would "watch closely the developments that may result from the Israeli decision, and will take the necessary legal measures towards it."
The news channel challenged Kara, saying the Israeli minister had failed to substantiate his claims over Al Jazeera's coverage, saying the network would "continue covering news and events in the occupied Palestinian territories in a professional and objective manner in accordance with the common journalistic standards set by the relevant international organizations, such as the British Broadcasting Code of Ofcom."
The move by Israel follows the closure of Al Jazeera bureaus in Saudi Arabia and Jordan. The UAE has also blocked Al Jazeera's signal, while Egypt banned Al Jazeera following the ouster of the country's Muslim Brotherhood President Mohammed Morsi. Al Jazeera and its Arabic language channel in particular have been accused of support for the Islamist movement.