'Star Wars: Visions': Everything We Know About the Anime Anthology Series
It's no secret that George Lucas was inspired by Japanese mythology and samurai culture, as well as the films of iconic director Akira Kurosawa, when he created Star Wars.

And now fans of the sci-fi franchise will be able to see what Japanese storytellers would do if given the chance to tell their own tales within the universe.
Lucasfilm first announced that an anime anthology series titled Star Wars: Visions was being made in December 2020.
And on Tuesday, August 17, the studio revealed new details in a press release, saying it would be coming to Disney+ in September.
The nine-episode series will see several anime studios making short films, each different to the other and not hindered by the already established universe.
Newsweek can reveal everything we know so far about the show.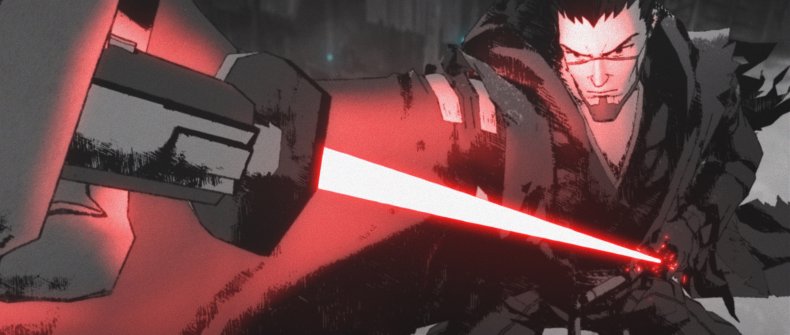 Which Studios Will Be Working on Star Wars: Visions?
Seven anime studios worked on the anthology series to create their own unique takes on the franchise, and they have all made hugely popular anime series in their own right, like Kill la Kill and Ghost in the Shell.
Studio Trigger worked on two episodes in the series, "The Twins" and "The Elder." The first is directed by Promare director Hiroyuki Imaishi and the second by his fellow co-founder, Masahiko Otsuka.
Otsuka has claimed the episode might be his last work as he felt the sci-fi franchise inspired him to get into the industry so he would be happy if he ended his career on such a high.
In a special preview of the series screened by Lucasfilm in July, which was later translated by Anime News Network, Otsuka said: "I'd be satisfied if Star Wars was the last thing I ever did."
Production I.G worked on "The Ninth Jedi," which was directed by Kenji Kamiyama, who previously worked on anime like Patlabor, Jin-Roh: Wolf Brigade and Ghost in the Shell: Stand Alone Complex.
Science Saru made two episodes, "Akakiri" and "T0-B1." Co-founder Eunyoung Choi directed the first and Spanish animator Abel Góngora directed the second.
Kinema Citrus, which has worked on anime like Black Bullet, is the creative studio behind "The Village Bride," and Hitoshi Haga directed the episode.
Kamikaze Douga is the studio behind the first episode, "The Duel," with Takanobu Mizuno acting as director. The studio previously animated the opening sequences for a number of seasons of JoJo's Bizarre Adventure.
Geno Studio and Studio Colorido, both part of Twin Engine, worked on episodes "Lop and Ochō" and "Tatooine Rhapsody," with Yuki Igarashi working on Geno Studio's episode and Taku Kimura directing Studio Colorido's episode.
Who Will Star in Star Wars: Visions?
A number of famous names will be lending their voices to the franchise, including Lucy Liu, Joseph Gordon-Levitt and Neil Patrick-Harris.
Temuera Morrison will reprise his role as Boba Fett for the series, while David Harbour is set to portray Tajin, and George Takei will play Seshuu.
The series will also have a full Japanese voice cast, including Yūko Sanpei, Kenichi Ogata and Hiroyuki Yoshino.
When Will Star Wars: Visions Be Coming Out?
Lucasfilm announced on August 17 that Star Wars: Visions will be available to stream on Disney+ on September 22, 2021.
When teasing the show on Twitter, Lucasfilm wrote: "Reimagine the galaxy with #StarWarsVisions, an Original Series featuring stories from seven visionary Japanese anime studios, streaming September 22 on @DisneyPlus."