Russian opposition leader Alexei Navalny announced Friday that he is ending his 24-day hunger strike in prison after citing "tremendous progress" from the protest and noting that his health was in serious decline.
In a statement issued on Twitter and Instagram, Navalny said he was following the advice of his doctors, who warned he could die at any minute if he continued to refuse meals while serving a two and a half year prison sentence.
"The doctors that I completely trust yesterday issued a statement that we have achieved enough for me to end the hunger strike. And to be honest, their words that 'very soon there will be no one to treat'...deserve attention," Navalny wrote in the translated post.
The 44-year-old activist first began the strike on March 31 in a protest against Russian prison authorities, who he said refused to provide him with adequate medical treatment after he developed severe back and leg pain.
At the time, Navalny complained in a handwritten letter to the prison warden that he needed "to see a doctor very badly" and that he would not end his hunger strike "before it happens," The New York Times reported.
In his Friday announcement, Navalny said that he made "tremendous progress" by striking for more than three weeks.
"With the tremendous support of good people across the country and around the world, we have made tremendous progress. Two months ago, they smirked at my requests for medical assistance, they did not give any medicines and did not allow them to be transferred. A month ago, they laughed in my face at phrases like: 'Can I find out my diagnosis?' and 'Can I see my own medical record?'"
Now, Navalny said, he has been treated by a team of civilian doctors and is on his way to receiving further medical attention.
"I am not withdrawing my demand to see a relevant doctor—I am losing senses in parts of my arms and legs, and I want to understand what it is and how to treat it. But taking into account all the circumstances, I am getting out of the hunger strike," he said.
Navalny's statement comes after a team of his personal doctors published a letter this week pleading with him to cease the protest, warning that he could experience kidney failure and severe neurological disorders or fall into a coma if he continued to forgo food.
His actions "can cause significant harm to the health of Alexei Navalny and can lead to the saddest outcome—death," they wrote. "We understand that if the hunger strike continues even for a minimal time, unfortunately, we'll soon have no one to treat."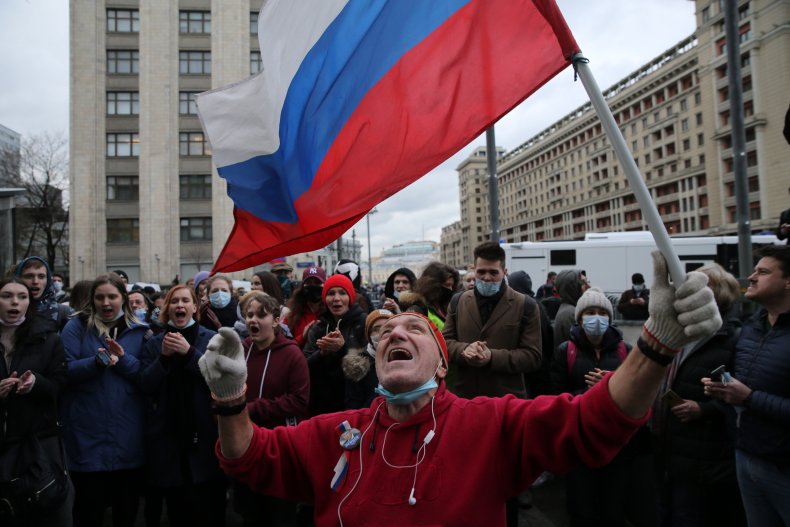 On Wednesday, thousands of Russian supporters marched in protest against Navalny's imprisonment and demanded he be given treatment by his personal doctors. In a statement the following day, Navalny issued an emotional message on social media, thanking those who have taken to the streets for him.
"Here it is—the salvation of Russia. You. Those who came out. Those who didn't come out but supported it. Those who didn't support it publicly, but sympathized," Navalny said in an Instagram post. "And, I will sincerely say, two feelings are raging inside me: pride and hope.
But on Friday, Navalny noted that some of his supporters have gone on a hunger strike in solidarity with him. He said that while that news brought "tears" to his eyes, he did not want anyone else to experience suffering on his behalf.
"Tears flowed from my eyes as I read this," Navalny wrote. "Lord, I don't even know these people, but they go to this for me. Friends, my heart is full of love and gratitude for you, but I do not want anyone to experience physical suffering because of me."
Navalny said Friday that since his hunger strike lasted for more than three weeks, his doctors said it would take the same amount of time for him to return to a normal eating routine.
"According to the rules, it will take the same 24 days and, they say, it is even harder. So wish me luck," he added.
Navalny was sentenced to prison in February for violating parole on a 2014 embezzlement conviction he says was fabricated. The fierce critic of Russian President Vladimir Putin was arrested and convicted after he returned to the country following treatment in Germany for a near-fatal poisoning.
Navalny and the international community, including the U.S., have since blamed Putin for the attempted poisoning.
President Joe Biden's administration has continually urged Putin to release Navalny from detainment and warned that "there will be consequences" if he were to die in jail.
Newsweek contacted the White House for additional comment but did not hear back in time for publication.