Everything Cameron Diaz Said About Her Baby With Benji Madden
Cameron Diaz has opened up about life as a new mother since giving birth to her baby girl Raddix in December 2019.
The Bad Teacher actress, 47, welcomed her first child with husband Benji Madden of Good Charlotte fame and says the experience has "been heaven."
"Literally every single day, there's just leaps and bounds ... and she's not the same baby that she was yesterday," Diaz gushed in an interview on The Tonight Show with Jimmy Fallon. "Yesterday is literally gone, and today is a new day, and tomorrow will be a new day that she's a completely different baby."
Diaz and her new little family have been quarantining together during lockdown and the actress said it's been "gratifying" to be there for every one of her daughter's milestones.
"It's so gratifying to actually get to see that growth and to be a part of it, and to help let her be her," Diaz said.
"It's just amazing. It's the best thing that ever happened to both Benj and I," she added. "We're just so happy."
Diaz also admitted that the family has the earworm that is "Baby Shark" on repeat.
"We have 'Baby Shark' on rotation," she said. "We have 'Elmo's Song.' We have Sesame Street. It's crazy. We're jamming out over here, and she loves it!"
Little Raddix, whose full title is full name is Raddix Chloe Wildflower Madden, may be taking after her musical dad as Diaz spoke about her husband writes and performs songs for the nine-month-old.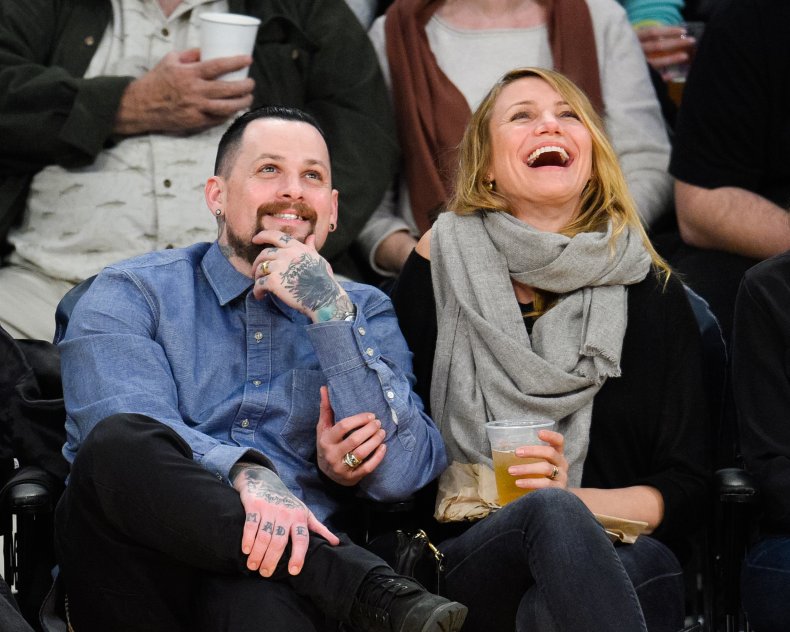 "She just loves it. She just looks at her daddy and loves him so much and it just makes my heart wanna explode," Diaz said.
She added: "When we go on car drives, Benj will put on some Afro-Cuban music, and she is in her car seat and her little legs are kicking. I'm like, 'Yeah, that's my girl!'"
Diaz and Madden announced Raddix's birth on Instagram in January of this year.
A source told PEOPLE at the time: "Despite everything that's going on, Cameron and Benji are having the best year as a family. They are the perfect team and love being parents."
They added: "For years, Cameron wanted to be a mom. She loves it more than she imagined."
On Mother's Day this year, shared a touching tribute to his wife, writing on Instagram: "Forever grateful to my wife for making me a Father, and taking such good care of us everyday. Best Mom and Wife and Friend."
Little Raddix is the cousin of Joel Madden and Nicole Richie's children Harlow and Sparrow.