Everything The Cast of 'Mom' Has Said About Losing Mary Pat Gleason to Cancer
Known for her quirky characters in Saved by the Bell and Mom, Actress Mary Pat Gleason, passed away at the age of 70 after fighting cancer. As Madame Oeuf on the NBC teen comedy, Gleason taught a fun French class to Zack Morris and his high school friends. As a recurring character on Mom actress, she took dramatic and comedic turns as Mary, a member of an Alcoholics Anonymous group.
After a five year remission period, Gleason had a recurrence of endometrial cancer. Her treatment took place at the start of the coronavirus outbreak. Because of pandemic concerns, family and friends were unable to visit the Friends actress during her month-stay at the hospital. After moving from the hospital two months ago, Gleason spent her last days at a friend's home.
Gleason's family will hold a personal memorial ceremony, where she will be cremated. Not only did the Intolerable Cruelty actress battle cancer, she also dealt with manic depression. Fans are asked to honor Gleason's legacy by sending donations to a charity that supports funding and research for bipolar disorder.
Gleason's manager told Variety that "she was a fighter to the end." Gleason's nephew, John Brostrom, said to Entertainment Tonightthat his aunt is survived by a "large, loving extended family."
In the award-winning Chuck Lorre sitcom, Christy Jolene Plunkett (Anna Faris) struggles with sobriety and raising two children as a single mother. Christy's mother, Bonnie Plunkett (Allison Janney), is also a recovering alcoholic.
The Mom cast shared their thoughts and memories of their former co-star on their Instagram accounts. Check out their loving tributes: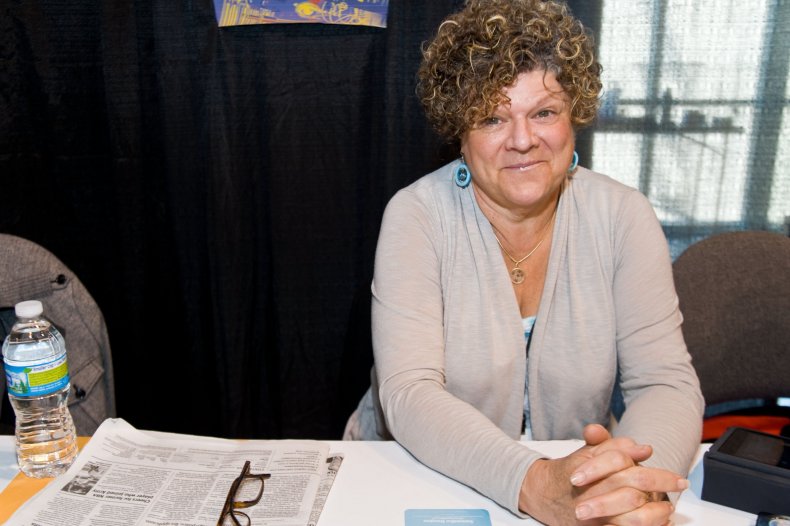 Allison Janney (Bonnie)
Janney wrote, "She was one of our favorite guest stars. Her kind heart and warm smile will be missed."
Jaime Pressly (Joy Turner)
"Mary Pat and I have had some funny, light conversations, but we've also had quite a few heavy ones," stated Pressly. "This lady can look you in the eye and literally feel you. She and I have that in common. It's a blessing and a curse."
"So there have been those moments in conversation when I'd look at her dead in the eyes, and she'd stare right back into mine, and we'd both just get choked up because we could feel each other's heavy," added Pressly.
Beth Hall (Wendy)
Hall remembered, "Mary Pat Gleason was in the first episode I ever shot of Mom and I loved every time she returned. I can honestly say that I have never met a person that was all goodness and kindness like she was."
Mimi Kennedy (Majorie)
Kennedy mentioned, "From her nephew. 'Her curtain closed at 10:20 Tuesday evening.' I'm sure she was met with thunderous applause and a great party backstage."
A representative for Anna Faris has not responded to Newsweek's request for comment.