Everything Donald Trump Has Said Since Leaving Office
Whether it's President Joe Biden's infrastructure plan, Georgia's new voting law, or the allegations against Congressman Matt Gaetz, Donald Trump has not hesitated to offer an opinion. Since leaving office, the former president has continued to issue statements and participate in interviews to offer his take on the current state of the nation while also criticizing those who opposed him.
The following is a rundown of his public comments since January 20:
On His Future Plans and Support of Sarah Huckabee Sanders for Arkansas Governor
On January 23, just three days after President Joe Biden's inauguration, Trump issued his first public comments in response to being asked about his plans for life after leaving the White House.
"We'll do something, but not just yet," Trump told the Washington Examiner.
Then two days later, the former president announced his endorsement of former White House Press Secretary Sarah Huckabee Sanders for her Arkansas gubernatorial run.
"Sarah Huckabee Sanders is a warrior who will always fight for the people of Arkansas and do what is right, not what is politically correct. Sarah is strong on Borders, tough on Crime, and fully supports the Second Amendment and our great law enforcement officers," Trump wrote in the statement on January 25.
Blasts Mitch McConnell After Being Acquitted by the Senate
On February 16, Trump gave another statement criticizing Senate Minority Leader Mitch McConnell, after comments he made about Trump's responsibility in the deadly January 6 Capitol riot.
"The Republican Party can never again be respected or strong with political "leaders" like Sen. Mitch McConnell at its helm. McConnell's dedication to business as usual, status quo policies, together with his lack of political insight, wisdom, skill, and personality, has rapidly driven him from Majority Leader to Minority Leader, and it will only get worse," the statement read. "In 2020, I received the most votes of any sitting President in history, almost 75,000,000. Every incumbent House Republican won for the first time in decades, and we flipped 15 seats, almost costing Nancy Pelosi her job."
"Mitch is a dour, sullen, and unsmiling political hack, and if Republican Senators are going to stay with him, they will not win again. He will never do what needs to be done, or what is right for our Country," the statement added.
His Return to Fox News and Political Endorsements
On February 17, Trump appeared on Fox News for his first TV interview since leaving the White House.
"I think we won substantially ... You would have had riots going all over the place if that happened to a Democrat," Trump said during the interview. "We don't have the same support at certain levels of the Republican system."
In the days after, Trump issued three more statements, endorsing Senators Jerry Moran and Tim Scott for reelection as well as Max Miller, a primary challenger to Ohio Congressman Anthony Gonzalez, who voted in favor of impeaching Trump.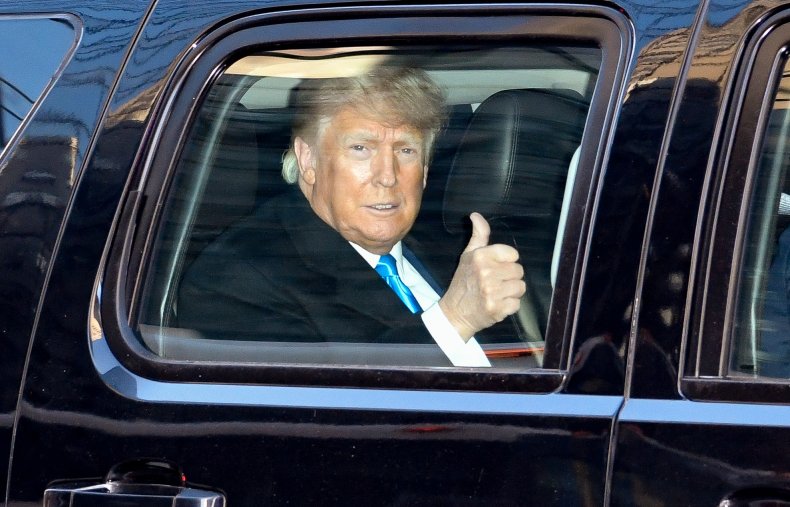 Trump Takes Aim at The Wall Street Journal and Karl Rove
On March 4, Trump issued a much longer statement, hitting back at the Wall Street Journal editorial board for urging Republican lawmakers to give up on the former president as well as blaming him for the party losing the Georgia Senate runoff race.
"The Wall Street Journal editorial page continues, knowingly, to fight for globalist policies such as bad trade deals, open borders, and endless wars that favor other countries and sell out our great American workers, and they fight for RINOS that have so badly hurt the Republican Party," Trump wrote. "Republicans did not turn out to vote because they were so angry and disappointed with Georgia Republican leadership and Governor Kemp for failing to stand up to Stacey Abrams and the disastrous Consent Decree that virtually eliminated signature verification requirements across the state (and much worse), and was not approved by the State Legislature as required by the Constitution—having a major impact on the result, a rigged election."
On the same day, Trump announced that he was endorsing Louisiana Senator John Kennedy as well as publishing another statement calling on Fox News to fire political commentator Karl Rove.
"Never had much of a feeling for Karl, in that I disagreed with so many of the things he says. He's a pompous fool with bad advice and always has an agenda. He ran the campaign for two Senators in Georgia, and did a rotten job with bad ads and concepts," the statement said. "Karl Rove is all talk and no action! Next time Karl, save your Election night phone call and keep doing a great job for the Democrats. Fox should get rid of Karl Rove and his ridiculous "whiteboard" as soon as possible!"
More GOP Endorsements While Slamming RINOs
Over the course of the next few days in March, Trump announced several more endorsements, including South Carolina Governor Henry McMaster, Tim Griffin for Arkansas attorney general, and Senators Mike Crapo and John Boozman.
On March 8 and 9, the former president issued two more statements, criticizing RINO's (Republican in name only) and urged his supporters to donate to his Save America PAC.
"No more money for RINOS. They do nothing but hurt the Republican Party and our great voting base—they will never lead us to Greatness," Trump said on March 8.
His March 9 statement in part read: "I fully support the Republican Party and important GOP Committees, but I do not support RINOs and fools, and it is not their right to use my likeness or image to raise funds. So much money is being raised and completely wasted by people that do not have the GOP's best interests in mind."
The former president then published two more statements on March 10, with one calling on former Heisman Trophy winner Herschel Walker to run for "United States Senate in Georgia," and a second endorsing Julia Letlow, the widow of U.S. Representative-elect Luke Letlow, for a seat in Louisiana's 5th Congressional District.
Trump Responds to The Washington Post Story Over Controversial Phone Call, and Urges Supporters to Take Vaccine
On March 15, Trump published a statement criticizing the Washington Post for issuing a correction to a story regarding the phone call Trump had with Georgia Secretary of State Brad Raffensperger.
"While I appreciate the Washington Post's correction, which immediately makes the Georgia Witch Hunt a non-story, the original story was a Hoax, right from the very beginning," Trump said. "You will notice that establishment media errors, omissions, mistakes, and outright lies always slant one way—against me and against Republicans. Meanwhile, stories that hurt Democrats or undermine their narratives are buried, ignored, or delayed until they can do the least harm—for example, after an election is over."
One day later on March 16, Trump called into Fox News Primetime to speak with host Maria Bartiromo in which he encouraged his supporters to receive a COVID-19 vaccine.
"I would recommend it, and I would recommend it to a lot of people that don't want to get it, and I lot of those people voted for me frankly. But again, we have our freedoms and we have to live by that and I agree with that also. But it's a great vaccine, and it is a safe vaccine and it is something that works," he said during the interview.
He Continues to Allege Improprieties in the 2020 Election
On March 20, Trump criticized The New York Times in a statement and further claimed that the election was "rigged."
"Sadly, the Election was Rigged, and without even going into detail, of which there is much, totally game changing. Democrats could not get Republican Legislatures in Swing States to approve many of the voting changes which took place before the Election, which is mandated under the Constitution of the United States," Trump wrote in part. "For that reason alone, we had an Illegitimate Election."
From March 21 to 24, Trump issued three other statements, congratulating Letlow on her win in Louisiana's special election while also endorsing Congressmen Jody Hice, who is running for Georgia secretary of state, and David Shafer for reelection as chairman of the Georgia Republican Party.
Trump Makes the TV Rounds to Discuss the Border Situation and the Capitol Riot
In late March, Trump participated in two TV interviews, both with Fox News. On March 22, Trump discussed the situation at the U.S.-Mexico border in an interview with Fox News' Faulkner Focus.
"People are just walking into our country and they will destroy our country," he said during the interview. "You can't take millions of people, they'll have millions of people before this mess is over. And they've got some kind of political theory I guess that it's a good thing... We want people to come in but they have to be able to help our country. They have to come in through merit and they have to come in legally."
On March 26, Trump spoke with Fox News host Laura Ingraham about the January 6 Capitol riot and said "it was zero threat, right from the start, it was zero threat."
"They went in, they shouldn't have done it," Trump said. "Some of them went in and they're, they're hugging and kissing the police and the guards. You know, they had great relationships. A lot of the people were waved in and then they walked in and they walked out."
The former president also issued a statement on March 26, congratulating Georgia for passing a voting bill: "They learned from the travesty of the 2020 Presidential Election, which can never be allowed to happen again. Too bad these changes could not have been done sooner!"
He Fires Back at His Former White House Coronavirus Task Force Members
A few days later on March 29, Trump criticized Dr. Anthony Fauci and Dr. Deborah Birx, who were both part of his COVID-19 response team while in office.
"Based on their interviews, I felt it was time to speak up about Dr. Fauci and Dr. Birx, two self-promoters trying to reinvent history to cover for their bas instincts and faulty recommendations, which I fortunately almost always overturned," Trump claimed. "They had bad policy decisions that would have left our country open to China and others, closed to reopening our economy, and years away from an approved vaccine-putting millions of lives at risk."
Calls Biden's Infrastructure Plan a 'Massive Giveaway' to China
On March 31, Trump criticized Biden's proposed $2 trillion infrastructure plan saying that it "is a massive giveaway to China, and many other countries, that will send thousands of factories, millions of jobs, and trillions of dollars to these competitive Nations."
"Biden promised to "build back better"—but the country he is building up, in particular, is China and other large segments of the world. Under the Biden Administration, America is once again losing the economic war with China—and Biden's ludicrous multi-trillion dollar tax hike is a strategy for total economic surrender," the statement added.
Slams the News Outlets That Challenged His Election Fraud Claims
At the beginning of April, the former president issued several more statements with one on April 2 criticizing the "Fake News Media" for calling election fraud claims "baseless, unfounded, unwarranted, etc."
"Sadly, there was massive voter fraud in the 2020 Presidential Election, and many very angry people understand that," Trump added.
Urges Boycott of Businesses That Opposed Georgia Voting Law
On April 2 and April 3, Trump issued two other statements calling for boycotts of the MLB and numerous companies that advocated against the election bill passed in Georgia.
"Baseball is already losing tremendous numbers of fans, and now they leave Atlanta with their All-Star Game because they are afraid of the Radical Left Democrats who do not want voter I.D., which is desperately needed, to have anything to do with our elections," the statement said.
In a statement issued on April 3, he wrote, "Boycott Major League Baseball, Coca-Cola, Delta Airlines, JPMorgan Chase, ViacomCBS, Citigroup, Cisco, UPS and Merck. Don't go back to their products until they relent," Trump wrote after these companies expressed opposition to the Georgia voting bill.
In addition to calling for boycotts of these companies, on April 6, Trump issued a statement saying "Georgia's election reform law is far too weak and soft to ensure real ballot integrity," adding "Hope the RINOs are happy."
On April 7, Trump appeared on Newsmax and further criticized the MLB and those who have advocated against the Georgia voting bill.
"They're woke and woke is not good for our country," Trump said during the interview. "I think people are giving up on baseball anyway. You look at the fans ... everything is way down. I don't think anybody cares. But they shouldn't be doing that. They shouldn't be hurting the people of Georgia."
"I'm just not very interested in baseball for the last number of years. You want to find a game, it's on every channel, and yet you can't find anything," he told Newsmax. "I would say boycott baseball ... why not?"
Defends Matt Gaetz Amid Accusations
Trump also issued a formal statement on Wednesday expressing support for Florida Representative Matt Gaetz, after the Justice Department opened an investigation into allegations of sexual trafficking and prostitution.
"Congressman Matt Gaetz has never asked me for a pardon," Trump wrote. "It must also be remembered that he has totally denied the accusations against him."