Everything Dr. Anthony Fauci Has Said About Working in the Trump Administration
With Donald Trump now out of the picture, Dr. Anthony Fauci is divulging more details about what it was like to work with the former president and his administration.
The director of the National Institute of Allergy and Infectious Diseases, who routinely butted heads with Trump over the federal government's response to the coronavirus pandemic, has described feeling "liberated" under President Joe Biden's leadership.
In multiple interviews and press briefings since Biden's inauguration on January 20, Fauci has remarked on the different tones taken by the two administrations and the pressure he received from Trump to paint the pandemic in a better light.
During the Biden White House's first press briefing on January 21, Fauci told reporters that under Trump "you didn't feel that you could actually say something and there wouldn't be any repercussions about it."
"Obviously, I don't want to be going back over history, but it was very clear that there were things that were said, be it regarding things like hydroxychloroquine and other things like that, that really was uncomfortable because they were not based on scientific fact," Fauci said. "I can tell you, I take no pleasure at all in being in a situation of contradicting the president."
He added that it was "somewhat of a liberating feeling" to let the science speak for itself under the new administration.
Fauci further highlighted the differences between the two presidents during an interview with MSNBC on January 23, stating the new administration has a "different tone, actually that's strikingly different" than his former boss.
"Instead of pointing fingers and making blame, we're going to try and fix it," he told host Alex Witt. "So the idea is transparency, and honesty with the American people, and to always make the scientific data and the facts guide."
In an interview with The New York Times published Sunday, Fauci said that Trump had urged him to be more optimistic even as the COVID-19 crisis worsened.
"I would try to express the gravity of the situation, and the response of the president was always leaning toward, 'Well, it's not that bad, right?' And I would say, 'Yes, it is that bad,'" Fauci told the newspaper about when the rift began between him and Trump. "It was almost a reflex response, trying to coax you to minimize it. Not saying, 'I want you to minimize it,' but, 'Oh, really, was it that bad?'"
He went on, "There were a couple of times where I would make a statement that was a pessimistic viewpoint about what direction we were going, and the president would call me up and say, 'Hey, why aren't you more positive? You've got to take a positive attitude. Why are you so negativistic? Be more positive.'"
Fauci also said that he was blocked from making television appearances under the Trump administration. He told MSNBC's Rachel Maddow on Saturday that he wanted to come on her show for months but "it's just gotten blocked."
"Let's call it what it is. It just got blocked because they didn't like the way you handle things and they didn't want me on," Fauci said.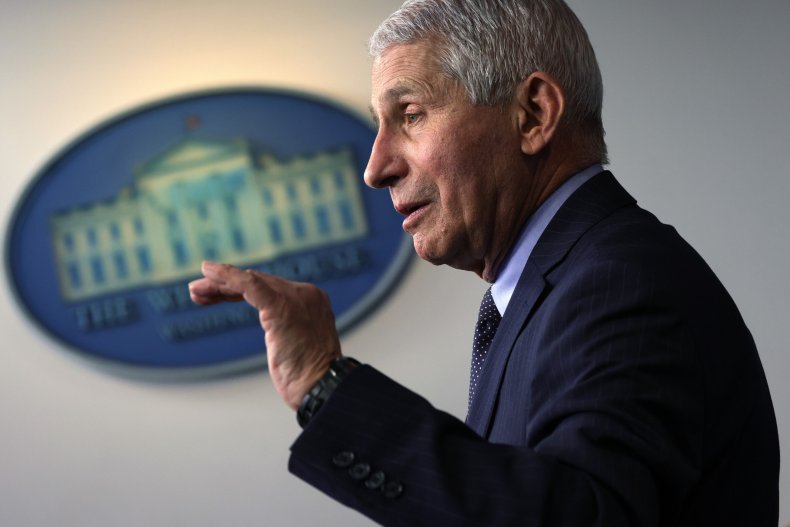 Speaking with CBS This Morning contributor Ted Koppel in an interview that aired Sunday, Fauci described Trump as a "charismatic person" and said he got along "very, very well with him." But his corrections to Trump's scientific misrepresentation led to a rift.
"That annoyed, I think, his staff, his loyal staff, in some respects even more than it annoyed him. So, that's when things started to go in the wrong direction," he said. Fauci continued, "So, the relationship became a bit frayed. And then, when I would see him in the Oval Office, he would act like everything was fine."
Fauci also said that a more unified message from government leaders could have lessened the death toll of the virus, but he didn't place the blame on one individual or group. The United States has had more than 25 million confirmed COVID-19 cases and at least 419,000 people have died.
"With more consistent leadership, we could have saved a lot of lives. Is that a fair statement?" Koppel asked Fauci during the interview.
"Yeah, I believe so," Fauci replied. "I mean, I think if we had had the public health messages—from the top right through down to the people in the trenches—be consistent, that things might have been different. In fact, I'm pretty sure they would have been different."
Newsweek has reached out to the Trump Organization and campaign for comment on Fauci's statements.