Everything Gavin Newsom Just Signed Into Law in California, From Toys to Cocktails to Leafblowers
California Gov. Gavin Newsom signed a raft of bills into law in recent days—including first-in-the-nation policies requiring gender-neutral toy sections in large retail stores and banning the removal of condoms during sex without consent.
Under the gender-neutral toy law, retailers with 500 or more employees who sell toys now must sell some toys and childcare products outside of sections targeted to specific genders, The Los Angeles Times reported. The legislation doesn't prevent stores from continuing to maintain sections marketed by gender, however.
"Part of it is to make sure if you're a young girl that you can find a police car, fire truck, a periodic table or a dinosaur," said Assemblyman Evan Low, a Democrat from Campbell, who introduced the bill said according to the Times.
"And then similarly, if you're a boy, if you're more artistic and want to play with glitter, why not? Why should you feel the stigma of saying, 'Oh, this should be shamed' and going to a different location?"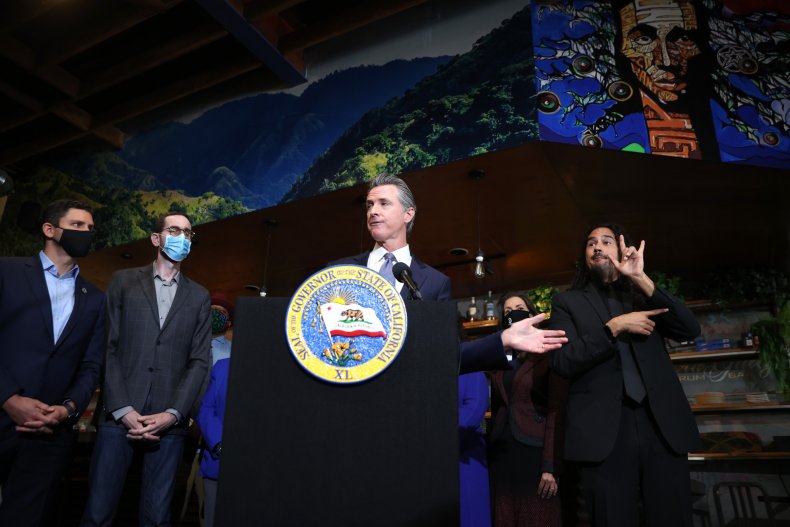 "I think it's important that we as a state are demonstrating our values of diversity and inclusion," he added.
On Thursday, the governor signed a bill that prohibits taking off a condom during sex without consent, or "stealthing." The law, which is the first of its kind in the country, allows victims to sue perpetrators for damages, the Sacramento Bee reported.
Also on Thursday, Newsom signed a bill to crack down on street racing and illegal driving demonstrations known as "sideshows." The legislation adds penalties for those who participate in illegal driving. Previously, joining in or aiding and abetting street racing would result in jail time and a $500 fine. The new law now allows California courts to suspend the licenses of convicted drivers for up to six months, according to the Bee.
"This law helps make our communities safer by giving law enforcement another tool to curb reckless sideshows," California Assemblyman Vince Fong, a Republican from Bakersfield, who proposed the bill wrote on Twitter Thursday.
"We're sending a message that this dangerous activity is no longer acceptable," he added.
Other bills Newsom signed into law in recent days include a policy that will allow California restaurants to continue to offer to-go cocktails, a practice that was introduced by many states during the COVID-19 pandemic.
In addition, Newsom approved legislation Saturday that protects journalists covering protests. The new law ensures reporters can access protests behind police lines, and prohibits law enforcement officials from interfering with their work.
"There's no doubt about it, California now has some of the toughest protections in place for journalists compared to any other state in America," California State Senator Mike McGuire said, according to the Associated Press.
"We have seen a surge in egregious acts of violence and obstruction made against members of the press across the country and right here at home in the Golden State."
Another piece of legislation will eventually ban new gas-powered leaf blowers and lawnmowers in California. As part of an effort to curb carbon emissions, state regulators will be required to implement the ban by the beginning of 2024.
This story was updated at 5:35 p.m. with information about a bill Newsom signed Saturday to protect journalists.