Everything Heidi Klum Has Said About Canceling Her 2021 Halloween Party
Heidi Klum's Halloween parties have become synonymous with the spooky season itself. Every year she raises the bar with her incredible costumes, like going green as Princess Fiona from Shrek and even attending one event as herself with an army of lookalikes.
The supermodel has for the last two years been forced to cancel her iconic Halloween party due to the COVID-19 pandemic, though that has not stopped her celebrating in a big way.
In 2020, she and her family produced a short film to raise holiday spirits, and already Klum has been teasing what she might do for 2021.
Newsweek breaks down everything Klum has said about canceling her party this year.
Why Is Heidi Klum Canceling Her 2021 Halloween Party?
The reason why many of our holiday plans have been thwarted over the past 18 months has reared its ugly head once again: coronavirus.
Klum has said the uncertainty COVID-19 presents has forced her to stop her party once again, adding the decision to go ahead could be considered "insensitive."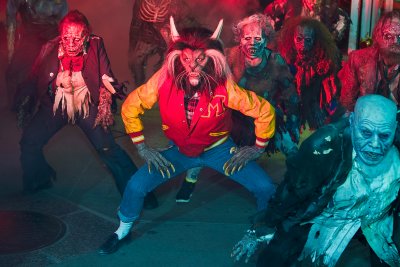 She told TooFab: "With everything happening in the world right now, I feel like it's still too early for me to feel okay having a party. So I will not do that this year again.
"Like last year, I feel like it's insensitive of me to do that. I don't want anyone to get hurt because we're having fun on my dime so I don't want to do that."
However, do not think Klum won't be doing anything at all, as she is famously the Queen of Halloween.
In 2020, Klum, her husband musician Tom Kaulitz and children Leni, Lou, Johan and Henry, made a short film in their home.
The children were inadvertently turned into zombie mummies while her husband became some kind of vampire, all while Klum was sitting on the toilet.
She quickly realized something terrible had happened and began running away from her children, using quick disguises so they could not find her among the photo frames on the walls and among the bed sheets.
There were even some Scooby-Doo moments where they would run across the hallway frantically, but ultimately she was doomed.
What Will Heidi Klum Do For Halloween In 2021?
In 2021, it looks as though Klum is planning another major event.
On her Instagram account, the model posted an image of her looking like the undead, lying on a tombstone with hers and Kaulitz's names.
Under Klum's name read the epitaph: "Halloween Meant Her Doom" while her husband's read: "RIP."
The caption read: "Until death do us part @tomkaulitz #heidihalloween2021"
While no more information has been shared, the hashtag suggests Klum will be back to her old tricks with a memorable Halloween party.
Heidi Klum's Halloween Costumes
One thing is for certain, Klum's Halloween costumes are famous.
In 2019, Klum dressed as a flesh-eating alien, spending hours in make-up to perfect the look, while Kaulitz attended as a blood-soaked astronaut.
In the same year at a separate event, Klum and Kaulitz attended as fireworks, with both being completely covered in glitter.
In 2017, Klum's outfit was a perfect representation of one of the most iconic Horror-themed music videos: Thriller.
She went dressed as Michael Jackson's werewolf, which was so accurately portrayed she could have been the man himself.
The year before, Klum barely had to change her appearance, attending a party as herself. However, she brought with her five others in prosthetics who were made to look like her clones.
In 2013, Klum dressed as an older lady, using prosthetics and make-up to give the look of varicose veins and light grey hair.
Other famed costumes were a human body, Lady Godiva (which included arriving on a horse), Betty Boop, Jessica Rabbit, a crow, and Kali, the Hindu goddess of death and time.