Everything Jamie Lynn Spears Has Said About Her Relationship With Her Sister Britney Spears
Jamie Lynn Spears recently filed to become the custodian of her sister Britney Spears' conservatorship. If approved by a judge, the former Zoey 101 actress will have extensive control of her sister's fortune worth $57 million. Here's everything that Spears has said about her relationship with her older sibling.
The 29-year-old actress is asking the Los Angeles court to move all assets from the SJB Revocable Trust to multiple accounts at Fidelity Brokerage Services under her sister's name, according to The Los Angeles Times.
About two years ago, Jamie Lynn was named as a trustee to the music superstar's estate. If anything tragic happened to her older sister, Lynn Spears would be in charge of administering the family's assets. Her father, Jamie Spears, would remain the conservator who handled Britney's daily affairs.
Newsweek has reached out to a representative for Jamie Lynn Spears but did not hear back before publication.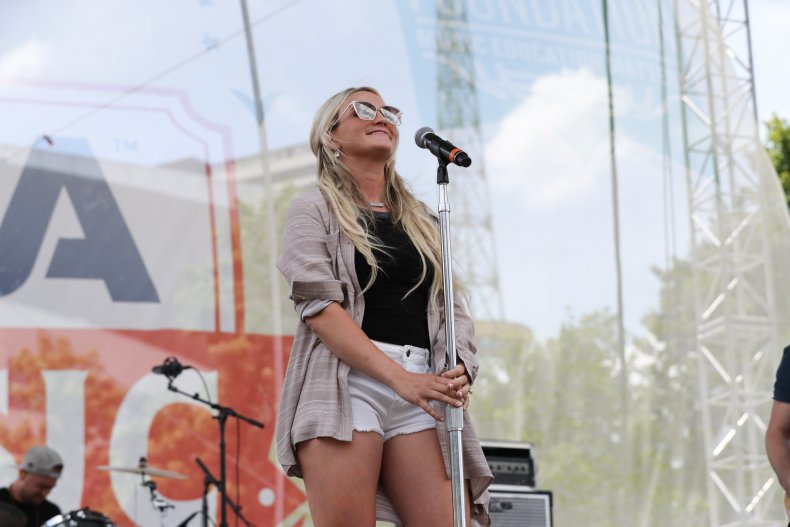 Driving Each Other Crazy
About three months ago, the Sweet Magnolias actress spoke about quarantining with her older sister to Entertainment Tonight. During the pandemic, the siblings were living together for nearly two weeks.
"Britney was like, 'I want to come home, I don't want to be by myself out here,' because all of her family's pretty much here. So she was able to come home for almost two weeks or so," said Spears.
"I mean, we're driving each other absolutely insane, about things you wouldn't normally get mad about, but at the end of the day, at least we have each other, you know? That's been really fortunate," she added.
Being Parents
Also three months ago, Spears spoke about the differences in their parenting skills to Access Hollywood. Jamie Lynn Spears is the mother of two daughters, Maddie Briann Aldridge and Ivey Joan Watson. Britney Spears has two kids of her own, Sean Federline and Jayden Federline.
"I probably am more of the tomboy and she's more of the girly girl, so it's funny that I got the two girls and she got the two boys," said the Crossroads actress.
"She gets to spoil my girls and I get to be hard on her boys, and so that's just kind of fun to switch roles a little bit as girl mom and boy mom," said Spears.
Working With Family
Three months ago, The Journey artist mentioned she's eager to collaborate with her older sister. Spears said she's about "down for anything" to Fox News. Back in 2013, The two previously collaborated on the duet track, "Chillin with you."
"I think working with family is fun, especially when you can collaborate in a creative way. So of course, I say no to nothing," said "The Sleepover" singer.
"I appreciate her music and she appreciates mine. That's the really cool thing about music. Good music is good music and that's whenever it crosses genres," she said.
An Open And Honest Relationship
About four months ago, Spears spoke about having a big sister, who was also a famous star, to The Hollywood Reporter.
"Having Britney as an example was crucial for me. Not only did my sister build me up, but she made me feel like I was the star when she was clearly the star. Britney was always really open and honest with me about the good and the bad that comes with this industry. And that's what gave me the confidence to say no sometimes," she said.
How To Be A Good Mom
Last year, Spears mentioned she always asks for advice on how to be a mother and how to be an artist. Her older sister is always there to give her counseling. She told her to "stick to her gut and do what you love."
"She said you can't do it all, all the time. You have to work so that you can obviously provide for your children. But you have to learn that being a good mom is also providing for your children and working even though you feel so guilty. It's just knowing that you can't do everything all the time," shared Spears.
My Hero
About three years, Britney Spears received the Icon Award from the Radio Disney Music Awards. During the ceremony, her younger sister made a surprise visit to present the award, according to Entertainment Weekly.
"She is my friend, my hero, my favorite pop star of all time ― and everyone else's. I'm so excited to present her with this well-deserved recognition," said the "Shotgun Wedding" singer.
A Happy Childhood
Spears described having a wonderful childhood with her older sister to WFAA. She was always cheering for her sister's success.
"Truthfully, my childhood was so fun. Everything was new and everything was like Christmas, because we were just from this small town and my sister had amazing success. It was so amazing to see my sister reach such heights," she responded. "I think that with all that good, you don't expect the negative side. And I think, for me, it was just that I couldn't believe people can ever be so negative."
A Proud Sister
About five years ago, Spears spoke about being in the limelight with her sister to The New Orleans Advocate. She doesn't mind having a famous sister, but the "Big Bad World" singer understands she has to earn her spot in the entertainment industry.
"I'm very proud. That is something I want to be attached to," she replied. "But it's about me getting out there and earning my space. It wouldn't be genuine if I set out just to be different."
A Second Mom
About six years ago, the Goodbye Zoey actress talked about having an older sibling to Access Hollywood.
"There's such a big age difference between me and my sister that I think she almost was like a second mom," Spears added. "She's so supportive and she's so encouraging of me and she's like my biggest fan. She's always had my back."
No Sibling Rivalry
About seven years ago, Spears confessed there was no competitive streak between them as artists and as sisters.
"She was one of the first people to call and tell me how proud she was of the success of '[How Could I Want] More,' so charts won't come between me and her – never will!" said Spears to Billboard.
"We have fun like only sisters can, but we don't have that young sibling rivalry," she added.
Our Bond As Mothers
About eight years ago, Spears spoke about sharing the mother's experience with her sister to Glamour.
"As for Britney, she's in such a good place right now. She's in love. She has her kids. So I'm happy for her. Of course, our bond as mothers, it's such a big thing, you know?" she mentioned. "Especially 'cause there's an age gap there—she's 10 years older. I think if I were just a normal 20-year-old, I wouldn't be able to relate as much to her."