Everything Joe Biden Has Said About a Potential Vaccine Passport
While the U.S. continues to accelerate its COVID-19 vaccination efforts and expand eligibility to all adults in the coming weeks at President Joe Biden's direction, questions about the possibility of a federal "vaccine passport" initiative have sparked growing debate.
Biden himself has shared few remarks about a potential program, where people who are vaccinated against the respiratory illness will receive digital proof of their immunizations. But top administration officials responded this week to some general inquiries about vaccine verification plans.
Shortly after his January inauguration, Biden signed an executive order that outlined a series of directives related to domestic and international travel during the pandemic. One subsection referenced International Certificates of Vaccination or Prophylaxis (ICVP)—immunization records created by the World Health Organization and already used by some travelers to provide proof of vaccination for other diseases—and the possibility of issuing them as verification for individuals who receive COVID-19 vaccination.
The order said, "Consistent with applicable law, the Secretary of State, the Secretary of HHS, and the Secretary of Homeland Security (including through the Administrator of the TSA), in coordination with any relevant international organizations, shall assess the feasibility of linking COVID-19 vaccination to International Certificates of Vaccination or Prophylaxis (ICVP) and producing electronic versions of ICVPs."
On Monday, Andy Slavitt, senior adviser to White House coronavirus response coordinator Jeffrey Zients, and press secretary Jen Psaki each provided some general insights into the Biden administration's plans for vaccine verification. Slavitt described the initiative as an "interagency" effort and indicated that if COVID-19 immunization certificates do materialize, the federal government would not be responsible for issuing them to members of the public. Private sector entities would handle the task instead.
"We recognize this is a tricky and important subject, but the core here is that Americans, like people around the world, who are vaccinated will want to be able to demonstrate that vaccination in various forms," Slavitt said during a news briefing.
"This is going to hit all parts of society. And so, naturally, the government is involved. But unlike other parts of the world, the government here is not viewing its role as the place to create a passport, nor a place to hold the data of citizens," he continued.
"We view this as something that the private sector is doing and will do. What's important to us—and we're leading an interagency process right now to go through these details—are that some important criteria be met with these credentials," Slavitt said.
Psaki reiterated Slavitt's sentiment in comments to reporters later on Monday. She noted that the White House's COVID-19 response, as well as its involvement in the U.S. vaccine rollout and policies related to verification, will primarily focus on guidance, while the private sector oversees the potential development of a vaccine passport. The press secretary also confirmed that it would not be mandatory for individuals to receive immunization certificates.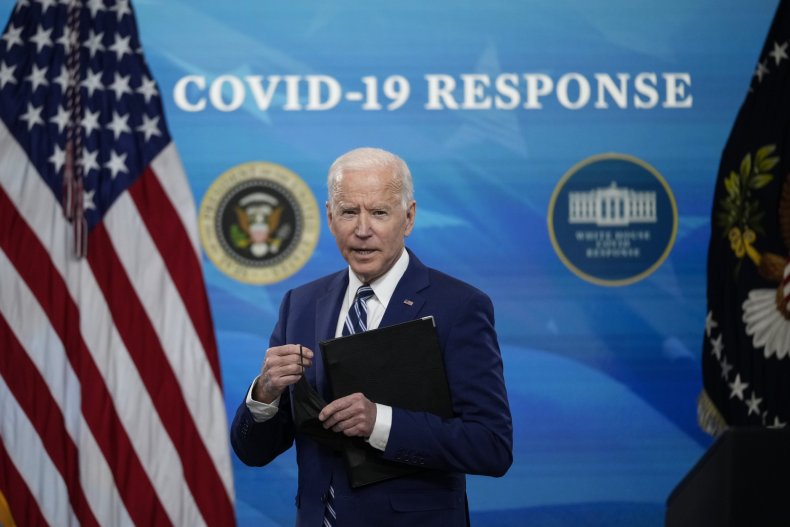 "We expect—as Andy Slavitt, I think, alluded to—that a determination or development of a vaccine passport, or whatever you want to call it, will be driven by the private sector. Ours will more be focused on guidelines that can be used as a basis," Psaki said.
"And there are a couple key principles that we are working from. One is that there will be no centralized, universal federal vaccinations database and no federal mandate requiring everyone to obtain a single vaccination credential," she said.
Newsweek reached out to the White House for further comment but did not receive a reply in time for publication.
Newsweek, in partnership with NewsGuard, is dedicated to providing accurate and verifiable vaccine and health information. With NewsGuard's HealthGuard browser extension, users can verify if a website is a trustworthy source of health information. Visit the Newsweek VaxFacts website to learn more and to download the HealthGuard browser extension.