Everything Joe Manchin Has Said About Biden's Supreme Court Nomination
Democratic Senator Joe Manchin said Monday he's "anxious" to fill the Supreme Court vacancy left by retiring Justice Stephen Breyer.
The West Virginia lawmaker is a key vote for President Joe Biden in getting a nominee through the evenly divided Senate, where all 48 Democrats and the two independents who caucus with them will need to back the nominee amid potential Republican opposition.
Manchin, along with Arizona's Kyrsten Sinema, has opposed some of Biden's key legislative priorities. But the two Democrats have been reliable yes votes on the president's judicial nominees so far.
Breyer, 83, officially announced on January 27 that he would step down at the end of this term. He had faced pressure to retire after Ruth Bader Ginsburg's death and the Democratic takeover of Capitol Hill in 2020.
Biden has pledged to nominate a Black woman to take Breyer's place, which would be a historic first for the Court in its 232-year history. The president wants to choose someone by the end of the month, and the White House said he's beginning to deliberate with lawmakers this week on possible contenders.
After Breyer's announcement, Manchin released a statement saying he was "grateful" for the justice's service.
"I take my Constitutional responsibility to advise and consent on a nominee to the Supreme Court very seriously," Manchin added. "I look forward to meeting with and evaluating the qualifications of President Biden's nominee to fill this Supreme Court vacancy."
Later, during a radio interview on MetroNews, Manchin said he'd be willing to back a Supreme Court nominee who is more liberal than he is. What's more important, he said, was the nominee's character and whether that person could get along with the other eight justices on the bench.
"It's not too hard to get more liberal than me," Manchin said. "So it would not bother me, having a person who was sound in their thought process, have been sound in their disbursement of justice and the rule of law, just because of their personal beliefs."
Manchin also noted during the radio appearance that supporting a liberal nominee will not change the court's makeup. Breyer, who was nominated by former President Bill Clinton, is one of three liberal justices on the bench.
"Whoever he puts up will have experience, and we'll be able to judge them off of that," Manchin said.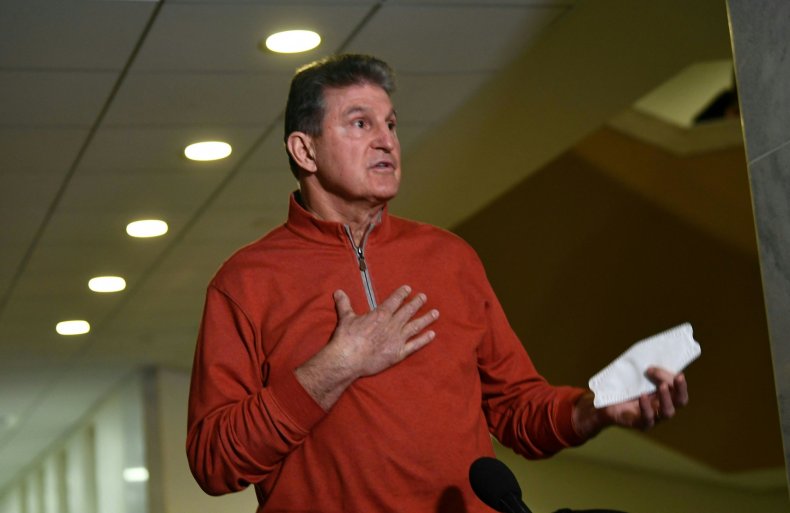 On Monday, Manchin said he was ready to kick-start the confirmation process.
"I'm just in favor of basically filling the court and making sure we don't have a vacancy there for any time at all," Manchin told reporters. "So yes, absolutely, let's move forward."
Manchin added, "A lot of people have been vetted, so we're looking for a good, qualified, competent, rule-of-law person, and I think there's quite a few of them they mentioned. So I'm anxious to see who the president brings forward, and we'll go through the process—judiciary and then they'll pass it on to us, the full body and then we'll vote. I'm anxious to do that."
Asked what he thinks about Biden's decision to nominate a Black woman to the Supreme Court, Manchin signaled his support.
"You must represent basically who we are as a nation," he said. "I think it's far beyond time. Far beyond time. It's time to do it."
Manchin also told the press that he doesn't see the issue as "politicized" but rather just "a balance that needs to be done."
"The United States is very diversified, and we have a lot of great people in all different segments of society," Manchin said, "and to be able to hear from their voice and have someone that can represent who they believe understands who they are, that's really the reason that you want a balanced Justice Department and I'm very hopeful that will be done."
Newsweek contacted Manchin's office for additional comment but did not hear back before publication.