Today, Katherine Schwarzenegger and Chris Pratt announced the birth of their daughter, Lyla Maria Schwarzenegger Pratt. The Guardians of the Galaxy actor has a 7-year-old son, Jack Pratt, from his first marriage with the actress Anna Faris.
On social media, Pratt shared a precious photo of his newborn's hand. In the caption, he wrote, "We couldn't be happier. Both mom and baby are doing great. We are extremely blessed."
In video obtained by Entertainment Tonight, Katherine's younger brother, Patrick Schwarzenegger, confirmed the baby news yesterday. He had bought a "little gift" for his niece.
To celebrate the birth of their baby girl, let's find out what Katherine Schwarzenegger has said about her relationship with Chris Pratt: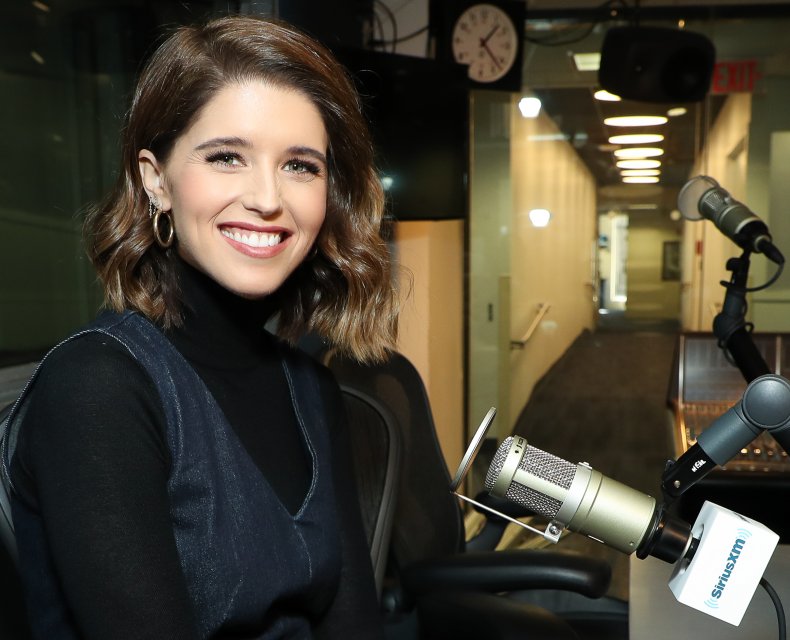 The Fun Part of Quarantine
Last month, The Gift of Forgiveness author spoke to Entertainment Tonight about being quarantined during the pandemic. To keep herself busy, she has been cooking a lot in the kitchen with Pratt.
Schwarzenegger teased, "I would say a huge amount of our time is definitely spent in the kitchen. For me, learning a lot. For Chris, teaching me a lot."
"It's been really fun. It's like a silver lining to be able to get more experience in the kitchen, and also be able to spend time with your loved ones in this quarantine. So, it's been a fun part of it!" she added.
He's Very Wonderful
About two months ago, the daughter of Arnold Schwarzenegger discussed her pregnancy with Dr. Zelena Montminy on Instagram Live. She described the Jurassic World actor as a "very wonderful husband." He had been keeping their home sanitized during the coronavirus outbreak.
Schwarzenegger continued. "It's been amazing having him home and also very understanding about my need to sanitize everything, having everyone wear masks all the time."
He's Her Cheerleader
Five months ago, Schwarzenegger explained to Us Weekly how her husband has been her "support system." The Maverick and Me author called Pratt as "the greatest gift ever" because she has "a partner who can love and support you throughout everything.
"We try to be each other's greatest cheerleaders," she said. "It's very important to the both of us."
Faith
Five months ago, Schwarzenegger discussed how forgiveness and faith are integral to her relationship with her husband.
She said to Fox News, "Faith is a huge part of our relationship and also just a huge part of our lives. I grew up with faith being a huge part of my family's life as well. Faith is a huge part of the forgiveness process and healing process in life in general. So if you are able to have faith to rely on and lean on, it's a great gift."
Amazing Love
Five months ago, Schwarzenegger spoke about her newlywed life on The View.
She said, "It's the best! As you know, being married to someone that you can have similar values with. You just have the most amazing love. It's the greatest gift you can give yourself."
Similar Values
Five months ago, Schwarzenegger dished on her relationship with Pratt on the Rachael Ray show. She revealed how she knew he was the one.
Ray asked, "What sold you on him?"
Schwarzenegger said, "We met in church. So the fact that we had very similar values. We had a lot similar things important to us. Not too bad to look at either."
"He's also incredibly supportive, especially with this book and with my work. So I'm very lucky," she continued.
Their Wedding Day
Last year, the two tied the knot at a ceremony in Montecito, California. According to USA Today, Schwarzenegger wore two custom-made Giorgio Armani dresses during the festivities. A day after their wedding, Schwarzenegger shared a photo from the beautiful event on Instagram.
In the caption, she wrote, "Yesterday was the best day of our lives! We became husband and wife in front of God, our families and those we love. It was intimate, moving and emotional. We feel so blessed to begin this new chapter of our lives."
They Get Everything Done!
Last year, Schwarzenegger gushed about being Pratt's fiancée to Us Weekly. She said, "Everything's really exciting about it. It's an exciting time in my life. A very blessed time in my life."
She also talked about how they were planning their wedding day. She added, "We get everything done. I mean, we're pretty good with time management so it works out really well."
Her Sweet Love
Last year, Schwarzenegger shared the news of her engagement on social media. In a snapshot on Instagram, the children's book author showed off her engagement ring. She described the Guardians of the Galaxy actor as her "sweet love."
In the caption, she wrote, "Wouldn't want to live this life with anyone but you."
The Earrings
Last year, the daughter of journalist Maria Shriver displayed her earrings on Today. The earrings said "CP," the initials of her husband. Schwarzenegger spoke to host Hoda Kotb about finding her perfect mate after struggles with dating and failed relationships.
She said, "With dating, with anything that you do, it's like you have all these experiences — sometimes can be really challenging. And then especially with, you know, finding someone that you're gonna spend the rest of your life with, you find them and you're like, that's exactly why past things didn't work out."