Everything To Know About Channing Tatum and Sandra Bullock's New Movie 'Lost City of D'
Channing Tatum helped Sandra Bullock wrap on the set of their latest movie by throwing her into a pool—but what film were the two new friends filming?
The pair are part of a star-studded cast appearing in Lost City of D, due out in cinemas in 2022.
Tatum shared a sweet Instagram video of the two that went viral. He paid tribute to the Oscar-winning actress with some kind words as well.
What did Channing Tatum share on Instagram?
To celebrate the last day of filming Lost City of D, Tatum shared a picture and a video on his Instagram account praising his latest co-star Bullock.
The picture shows them swimming underwater together while the video shows Tatum carrying Bullock across the set and back into the pool. She can be heard screaming no before telling him to jump in backward while carrying her—it's all smiles once they both emerge from the water though.
After confirming they'd finished shooting, Tatum wrote alongside the social media post, "I love this movie so much I don't have words. I also don't have words for how special Sandy Bullock is." He continued, "We definitely were made in the same lab and share a brain at times. I love you girl. And as you can see I'll ride your coattails anywhere anytime forever."
Everything we know about Lost City of D
Lost City of D is pegged as a romantic action-adventure film starring Bullock and Tatum.
It tells the story of a reclusive romance novelist who is on a book tour with her cover model until she gets swept up in a kidnapping attempt that lands them both in a cutthroat jungle adventure.
It was reported by Deadline that Bullock will play the romance novelist while Tatum will star as the model.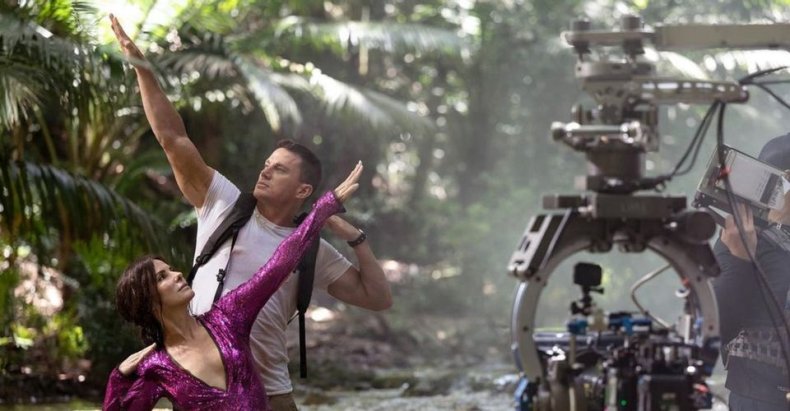 Other cast members confirmed to appear include Daniel Radcliffe (Harry Potter), Patti Harrison (Shrill) and Oscar Nunez (The Office). In April 2021, The Hollywood Reporter confirmed Brad Pitt was also cast in a cameo role. It's the second movie set to be made with Pitt and Bullock working together after they were both cast in the upcoming movie Bullet Train.
Lost City of D will be co-directed by the Nee brothers, Aaron and Adam (Band of Robbers) while the screenplay was written by Seth Gordon (Horrible Bosses), Dana Fox (Cruella) and Oren Uziel (22 Jump Street).
Earlier this year Paramount announced that Lost City of D was set for release on April 15, 2022, according to Deadline.