Everything to Know About the Disappearance of Vanessa Guillen
Human remains authorities found earlier this week near the Leon River in Bell County, Texas, are believed to be that of Vanessa Guillen, a 20-year-old soldier who went missing in April.
The U.S. Army Criminal Investigation Command, which is overseeing the investigation into Guillen's disappearance from the Fort Hood base at which she was stationed, said it will take time to positively identify the remains. In the meantime, one male suspect is dead and a female suspect has been arrested, the investigation command said Wednesday.
"We believe that her remains were found. We believe that the suspect killed himself," Natalie Khawam, a lawyer who represents Guillen's family, said during a press conference Wednesday. "That unfortunately doesn't provide us with much information about how this happened, why this happened—why a beautiful, young soldier is not with us today."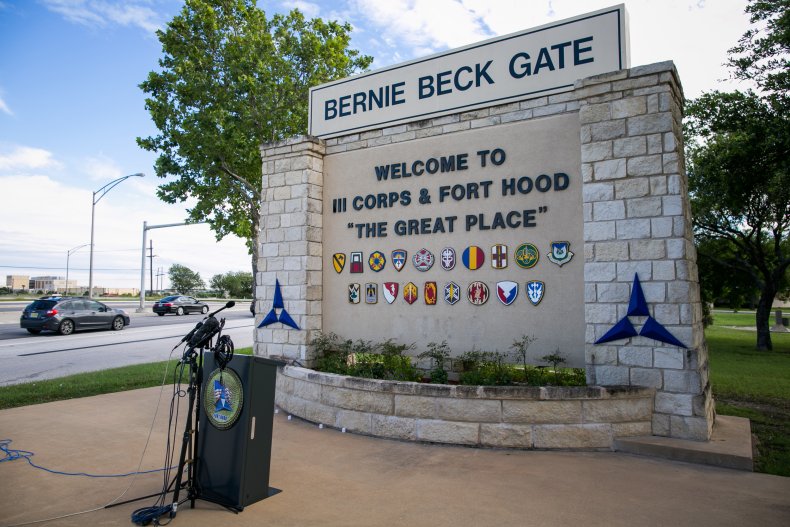 Guillen was last seen in a parking lot near her barracks the night of April 22, the investigation command said. Officials said keys to Guillen's barracks and car were later found with her identification card in the arms room. Four days later, the command offered a reward worth up to $15,000 for information on her whereabouts, an amount that was later increased to $25,000. The search for Guillen continued until June 29, at which time authorities exploring an area near the Leon River found partial human remains.
The Killeen Police Department said it was trying to track down a man suspected in the case one day later. Before police could detain the man, who was described as an active-duty soldier, he pulled out a gun and shot himself Tuesday evening, Killeen police said during a Wednesday news conference. The male suspect died early Wednesday morning, police said.
Authorities said they would not release the name of the deceased suspect until all family members had been notified. The arrested suspect was described as a civilian who was "the estranged wife of a former Fort Hood Soldier."
"We have made significant progress in this tragic situation and are doing everything possible to get to the truth and bring answers to the family of Pfc. Vanessa Guillen," Chris Grey, the investigation command's spokesperson, said in a news release.
Newsweek reached out to the investigation team for comment but did not receive a response in time for publication.
According to a website the family launched to spread the news of Guillen's disappearance, Guillen told her mother before she went missing that she was being sexually harassed by a sergeant. Guillen's family has since asked for a congressional investigation into how and why Guillen vanished.
"Protocol was breached in every manner," Khawam said Wednesday. "We lost one of our own on our own base. Unacceptable. Should never happen—ever."