Everything to Know About Kyrie Irving's Breonna Taylor TV Show
Kyrie Irving is using his massive platform to help bring Breonna Taylor justice.
Nearly four months have passed since 26-year-old Taylor, a Black emergency room technician, was killed by white officers who barged into her home in Louisville, Kentucky. Two of the officers involved were placed on administrative leave while a third was fired from his post. However, Irving, along with hundreds of protesters are demanding more action from local government including the arrests and convictions of the officers involved.
To help fuel the movement, Irving is set to appear in the TV special, #SAYHERNAME: BREONNA TAYLOR, calling for action over Taylor's death. The special will air on the PlayersTV digital and broadcast network on Wednesday beginning at 7 p.m. ET.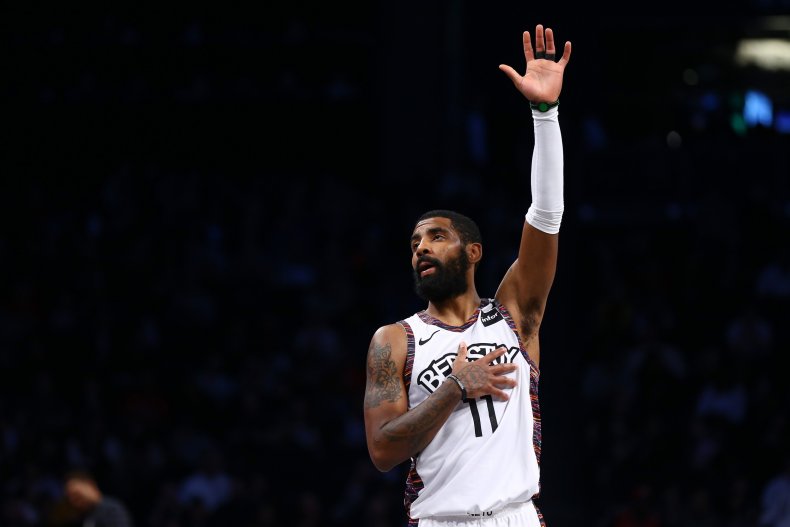 Along with Irving, Alicia Garza, co-founder of Black Lives Matter, U.S. Rep. Ayanna Pressley, The Atlantic writer and sports journalist Jemele Hill and rapper Common are slated to appear in the special, during which activists will press offices of city and state officials for justice by calling on viewers to contact Kentucky Attorney General Daniel Cameron. Irving will also address matters of voter registration and advocate for the Justice For Breonna Taylor petition.
In a statement, Irving, who has long used his NBA fame to raise awareness for social and racial justice, said "it is critical to magnify how these unjust behaviors and practices are directly impacting Black Women."
"I stand for Breonna Taylor, Sandra Bland, and the countless women whose names are never said but have shared the same unfortunate fate. I will continue to champion those who are working to enact change for and to empower Black, Native, Indigenous, Hispanic, and women of color. I am equally committed to creating platforms like the #SAYHERNAME: Breonna Taylor special, that provides support, solutions, and sustainable impact," he continued.
Officers were attempting to execute a no-knock search warrant when they entered Taylor's home on March 13. After a brief exchange, Taylor's boyfriend Kenneth Walker fired his handgun and authorities shelled out bullets in return. Taylor was shot eight times by officers.
In the time since, nationwide civil rights marches have emerged and Taylor's name has been chanted among the many victims that protesters are demanding justice for along with George Floyd, a black man who was killed after a white police officer kneeled on his neck in Minneapolis just two months after Taylor was killed by white officers, and several others. And while no arrests for Taylor's death have been made, Louisville officials have banned no-knock warrants, preventing police officers from entering a person's home without warning.