Everything to Know About Las Vegas Raiders vs Cincinnati Bengals Wild Card Game
The NFL playoffs kick off Saturday afternoon when the Las Vegas Raiders face the Cincinnati Bengals in Cincinnati. Both teams are looking to break long playoff droughts.
The Raiders haven't won a playoff game since the 2002 season. The Bengals are looking for their first playoff win since the 1990 season, which is before most of their current players were even born.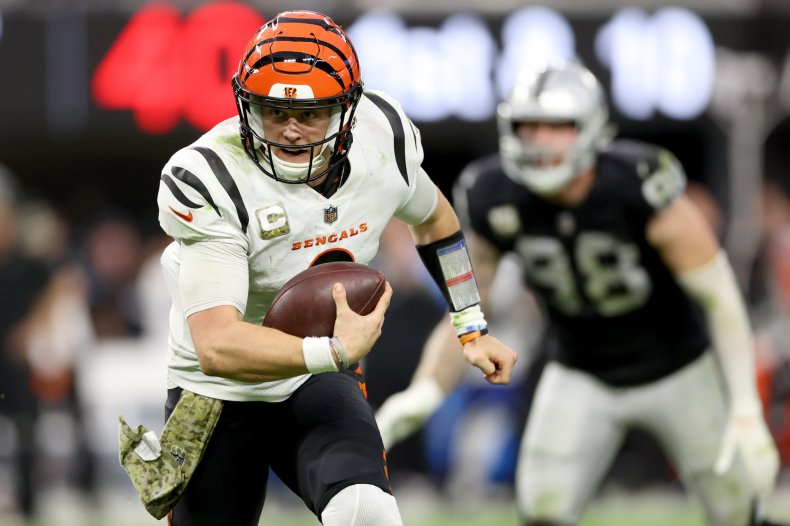 Cincinnati might have one of the hottest offenses in all of football entering the playoffs with the combination of quarterback Joe Burrow, running back Joe Mixon and receivers Ja'Marr Chase, Tyler Boyd, and Tee Higgins. The last time Burrow and Chase played a postseason game is when they led LSU to the 2019 college football national championship. Many call that LSU team one of the best in college football history. Now, they're making waves in the NFL.
The Raiders needed late dramatics to make the playoffs. They booted a field goal in overtime to defeat the Los Angeles Chargers on Sunday night to clinch the final spot.
Raiders quarterback Derek Carr is expected to make his first career playoff start as well.
Here's everything to know about the Raiders-Bengals game on Saturday.
Las Vegas Raiders at Cincinnati Bengals
Saturday, Jan. 15, 2022, 4:35 p.m ET
Paul Brown Stadium
Records: Las Vegas (10-7); Cincinnati (10-7)
Referee: Jerome Boger
TV: NBC
National Radio: Westwood One
SIRIUS: 82 (LV), 85 (Cin.), 88 (National)
XM: 225 (LV), 226 (Cin.), 88 (National)
SXM App: 816 (LV), 806 (Cin.)
Favorite: Cincinnati (-4.5) — According to FanDuel
Over/Under: 48.5
Weather: 30 degrees at kickoff with 11 mph winds
All-time head-to-head: Raiders lead 19-12
Playoffs head-to-head: Raiders lead 2-0 (last game in 1991)
Playoff records: Las Vegas (25-19, .568); Cincinnati (5-14, .263)
Last postseason game: Las Vegas — Lost, 27-14 at Houston (1/7/17)
Cincinnati — Lost, 18-16 vs. Pittsburgh (1/9/16)
Quick Hits
Raiders quarterback Derek Carr has passed for a franchise record 4,804 yards this season. He's now only the fourth quarterback to ever throw for 3,000-plus yards in each of his first four seasons, matching that of Peyton Manning, Cam Newton and Russell Wilson.
Bengals quarterback Joe Burrow set franchise records for both passing yards (4,611) and touchdowns (34) this season. His 525 yards against the Ravens in Week 16 are the fourth-most in a game by any quarterback in NFL history.
Bengals running back Joe Mixon rushed for 1,205 yards this season, which is third among all players in the NFL and tops among any playoff contender this year.
Raiders wide receiver Hunter Renfrow, who had 103 catches this season, became only the second Raiders player to ever catch 100-plus passes in a season. Tim Brown caught 104 passes in 1997.
Bengals wide receiver Ja'Marr Chase has 1,455 receiving yards, which was fourth in the league and the most ever by a rookie during the Super Bowl era.
The Bengals are the first team in NFL history with a 4,000-yard passer (Burrow), a 1,000-yard rusher (Mixon) and two 1,000-yard receivers (Chase and Higgins) who are all under the age of 26.
The 2021 Raiders are the first team in NFL history to win four overtime games in one season, which included their win Sunday night to clinch the final playoff spot.