Everything to Know About 'Lovecraft Country' Cast and Characters
The terrifying creatures that creep through the night will soon come to a small screen near you when HBO premieres its newest sci-fi horror series, Lovecraft Country, on Sunday.
Produced by showrunner and writer Misha Green along with Jordan Peele, J.J. Abrams, Bill Carraro, Yann Demange, Daniel Sackheim, David Knoller and Ben Stephenson, the 10-episode series follows the tale of the 2016 Matt Ruff novel of the same name, in which the protagonist Atticus Freeman goes on a quest through Jim Crow America in the 1950s to search for his missing father. With his childhood friend and faithful uncle by his side, Atticus' journey leads him down a dark path full of mystery, murder and monsters perhaps even more terrifying than the racist white people hunting them down in the daylight.
There are plenty of peculiar characters on the show, and we've compiled a handy guide to help you get acquainted with all of them—and the actors who play them—before the show premieres. Lovecraft Country debuts on HBO on Sunday at 9 p.m. ET.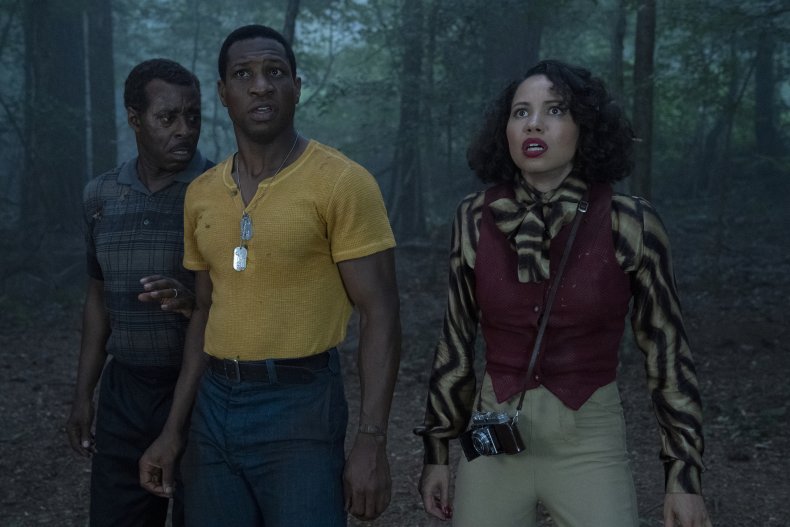 Atticus Freeman
Jonatha Majors stars as Atticus, known to his friends and family as Tic, the nerdy soldier with a passion for pulp fiction books. A Korean War veteran, Tic is introduced as he's making a road trip from Florida up to Chicago after learning that his father has suddenly gone missing. Despite their complicated relationship, Tic is hellbent on rescuing his dad. However, his efforts to do so will unlock a few mind-blowing mysteries surrounding his late mother's side of the family and his blood connection to a former slave owner with a magical, if not deadly, history.
Before landing the lead in Lovecraft Country, Majors caught his big break as Monty in the critically acclaimed indie film The Last Black Man in San Francisco. He also appeared in Spike Lee's latest film, Da 5 Bloods, which debuted on Netflix in June.
Letitia Lewis
You've likely seen her in projects like Full House, Eve's Bayou, Friday Night Lights, True Blood, Birds of Prey and many others, but in Lovecraft Country, actor Jurnee Smollett plays the role of Letitia Lewis—that's "Letitia f**king Lewis when she's getting the guys out of a jam.
Letitia, often referred to as Leti, is a tough-as-nails, boisterous photographer, as well as the childhood friend of Atticus (and his potential love interest). She returns to Chicago after spending years protesting for civil rights and creating art across the country, only to find herself back out on the road with Tic and his uncle for a job. She initially thinks she's there merely take photos for a Black travelers' guide, but the assignment turns out to be so much more than that, and Leti proves herself to not only be a pivotal player in keeping Tic safe but one hell of a getaway driver, too.
George Freeman
Atticus' beloved and endearing uncle is played by Courtney B. Vance. Like his nephew, George Freeman too loves flipping through pages of pulp fiction and horror books, and his obsession with Bram Stoker's Dracula turns out to be a major saving grace when he accompanies Tic across the Mason-Dixon line. He's an explorer who complies a Black travelers' guide for the members of his community, and he's an unshakable family man with a much softer touch compared to his brother and Tic's father, Montrose.
Vance, who won an Outstanding Lead Performance Emmy for his role as Johnny Cochran in the 2016 FX limited series The People V. O.J. Simpson: American Crime Story, has appeared in dozens of titles over the span of his nearly 40-year career, including The Preacher's Wife, The Hunt for Red October, Dangerous Minds, Space Cowboys and The Tuskegee Airmen.
Montrose Freeman
Simply put, Montrose, played by Michael K. Williams, has a lot of demons.
He's got demons from his past as a kid with an abusive father living in a KKK-infested Tulsa, Oklahoma; demons from his dead wife's family; and plenty more demons in those bottles of liquor he can't put down. The hard-hearted and heavy-handed father of Atticus, Montrose has a lot to reckon with and Tic is oftentimes the one to face the brunt of his wrath because of it.
Diehard HBO fans will remember Williams from his role as Omar Little on The Wire or when he appeared on Boardwalk Empire as Chalky White. Williams has also starred in titles such as 12 Years a Slave, The Night Of, Assassin's Creed, Hap and Leonard and When They See Us.
Hippolyta Freeman
Aunjanue Ellis stars as Uncle George's devoted wife and Atticus' loving aunt. Although she spends most of her time as a housewife, she dreams of accompanying George on one of his adventures. The family matriarch, Hippolyta is also the one responsible for turning the notes from George's exploits into a cohesive travel guide, and she's quite the secret astronomer.
Ellis holds more than 70 acting credits, appearing in such features as Ray, Men of Honor, Undercover Brother, The Help and several others.
Christina Braithwaite
Australian model and actor Abbey Lee plays the bewitching blonde bombshell Christina. She's a woman of extreme privilege who possesses otherworldly powers. Her father is the leader of the secret society, Sons of Adam, which has an interesting connection to Atticus. (Don't worry, we won't spoil anything further.)
Lee has appeared in a number of films, including Mad Max: Fury Road, Office Christmas Party and The Dark Tower.
Ruby Baptiste
British-Nigerian actor Wunmi Mosaku appears in Lovecraft Country as Leti's stern older sister who dreams of landing a position behind one of the counters at the luxurious Marshall Fields' department store. She also moonlights as a blues singer at bars and block parties around Chicago.
Before landing the role of Ruby, Mosaku played opposite Idris Elba in the BBC detective show Luther. She's also appeared in a number of other popular British series like Jo, Fearless, The End of the F**king World, Law & Order: UK and The Body Farm.