Everything Kyrie Irving Has Said About the COVID Vaccines, Masks
A recent report claimed NBA all-star Kyrie Irving not only remains unvaccinated against COVID-19, and that is due to his reported belief in conspiracy theories. The Brooklyn Nets star did not attend the team's media day on Monday, and he repeatedly declined to discuss his vaccination status when taking questions from media during a Zoom call.
While Irving said he will address the matter at an unspecified date in the future with a statement "when everything is cleared up," past comments and actions have indicated the point guard is resistant to wearing masks and possibly to getting vaccinated.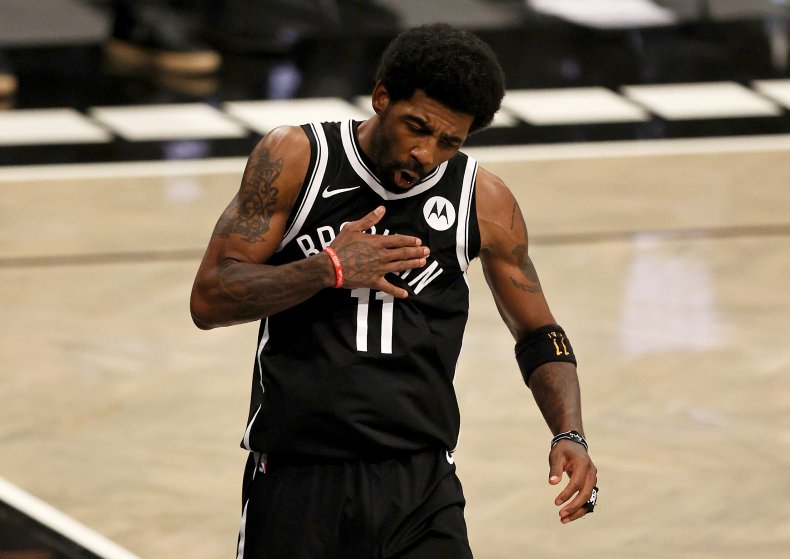 According to a story from Rolling Stone this weekend, Irving allegedly recently started following and liking posts from a person on Instagram who has claimed "secret societies" are using vaccines to inject implants into Black people that connect to a master computer for "a plan of Satan."
Irving has admitted to believing conspiracy theories in the past. In 2017, during an interview on the podcast Road Trippin' with R.J. & Channing, he asserted that Earth is flat. In the same talk, he also said that extraterrestrial aliens were real.
According to The Boston Globe, Irving has also reportedly said he believes the Federal Reserve played a role in the assassination of John F. Kennedy and that the C.I.A. tried to kill Bob Marley.
Yet, his views on COVID-19 remain the most controversial. In June 2020, a reporter for the New York Daily News wrote that Irving opposed the NBA's plan of restarting the season inside a bubble in Orlando and even proposed players start their own league.
Although some NBA players insisted the bubble story was untrue, it has been reported that Irving has resisted wearing masks at times. In early January 2021, he was fined $50,000 for violating the NBA's health and safety protocols after a video emerged that showed him maskless at a large family party. He also had to undergo a five-day quarantine before he could return to team activities for his actions.
On September 15, he tweeted a message that was largely interpreted to be anti-mask. He wrote: "My mask is off. Now take yours off. No fear."
After he was widely ridiculed for the message, he wrote a follow-up tweet in which he stated the message was not about face masks in relation to protecting against COVID-19.
"'Mask off' means you stop being something you're not and stop lying to yourself," he said. "It's the moment you discover the real you and can walk around with NO FEAR in a society that shows a lot of the masks people wear to hide who they truly are. *nothing COVID rule related!! Relax."
In August, Irving visited a schoolyard at a Sioux reservation in South Dakota. According to Rolling Stone, all the student-athletes there over the age of 12 had been vaccinated for the coronavirus to play sports and many wore masks when Irving posed for photographs with them in the basketball gym. Irving, according to Rolling Stone, did not wear a mask.
Sports Illustrated wrote that photographs on the school's Facebook page were photoshopped "in an attempt to make it seem that Irving and several students wore their masks."
The latest NBA report suggests that 90 percent of players in the league are vaccinated.