All eyes are on Senator Kyrsten Sinema as Democrats scramble to pass President Joe Biden's sweeping social services and climate change package.
But the Arizona lawmaker has said little publicly about her positions on key policies amid the ongoing negotiations, much to the frustration of activists in her home state and her Democratic colleagues.
But her office has said that the White House and Senate Majority Leader Chuck Schumer are "fully aware" of her priorities.
"While we do not negotiate through the press—because Senator Sinema respects the integrity of those direct negotiations—she continues to engage directly in good-faith discussions with both President Biden and Senator Schumer to find common ground," John LaBombard, the senator's communications director, said in a statement on September 30.
Biden called Sinema "smart as the devil" during a CNN town hall last week. The president also gave more insight into her priorities, stating she's supportive of his environmental agenda and paid family leave.
Biden also shed light on what proposals Sinema has opposed, including a measure that would allow Medicare to negotiate drug prices.
Sinema and fellow centrist Joe Manchin are critical votes in the Senate as Democrats attempt to pass the multi-trillion-dollar spending bill via reconciliation—a legislative process that will allow the party to bypass the 60-vote filibuster and approve the bill in a simple majority vote.
Here's what the senator has said about the president's spending bill.
$3.5 Trillion Cost Is Too High
In July, Sinema said she would participate in negotiations but flat-out rejected the originally proposed $3.5 trillion price tag attached to Biden's "Build Back Better" agenda.
"While I will support beginning this process, I do not support a bill that costs $3.5 trillion—and in the coming months, I will work in good faith to develop this legislation with my colleagues and the administration to strengthen Arizona's economy and help Arizona's everyday families get ahead," Sinema said in her statement.
Manchin also denounced the $3.5 trillion cost, and the emerging compromise appears to be around $1.75 trillion.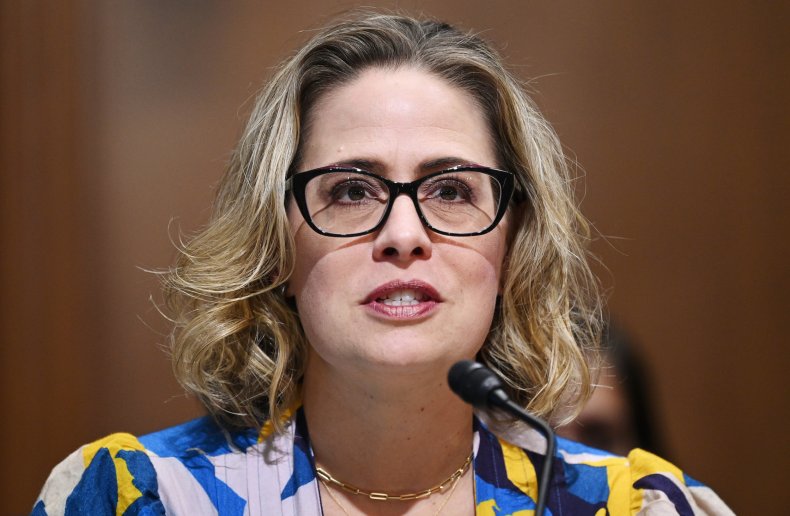 Corporate Minimum Tax Is 'Commonsense'
On Tuesday, Sinema voiced support for a tax minimum on corporate profits as one possible way to pay for the social spending plan.
The plan would create a 15 percent minimum tax on corporations that report more than $1 billion in profits annually. Approximately 200 companies would be impacted, senators Elizabeth Warren, Angus King and Ron Wyden estimate.
Sinema called the proposal a "commonsense step toward ensuring that highly profitable corporations—which sometimes can avoid the current corporate tax rate—pay a reasonable minimum corporate tax on their profits, just as everyday Arizonans and Arizona small businesses do."