Everything Lenny Kravitz Has Said About His Friendship With Jason Momoa
Lenny Kravitz and Jason Momoa have nothing but love for each other. In an interview with Men's Health that published on Thursday, Kravitz opened up about what his relationship is like with his ex-wife, actress Lisa Bonet, and her current husband, Momoa.
For background: Kravitz and Bonet were married from 1987 until 1993, and together they share daughter Zoë Kravitz. Years later, in 2005, the Aquaman star met Bonet; they eventually had two kids together, and got married in 2017.
"People can't believe how tight Jason and I are, or how tight I still am with Zoë's mom, how we all relate," Kravitz admitted to Men's Health. "We just do it because that's what you do. You let love rule, right? I mean, obviously, after a breakup, it's work—it takes some work and time, healing and reflection, et cetera. But as far as Jason and I? Literally the moment we met, we were like, 'Oh, yeah. I love this dude.' "
Momoa and Kravitz are giving people everywhere bromance envy, and have been on good terms for some time.
In 2013, Kravitz explained on Oprah's Master Class how he stayed close with Bonet through their daughter, along with how he welcomed her new husband into his family. "We were very young. And it was wonderful. And we had Zoë, which I see now is what it was all about. It was really about bringing this beautiful child to the planet. And also sharing the love that we had. Zoë's mom and I now are best friends. Which is interesting because that's the way it started."
He continued, "But it makes you feel really good when you can do that. When we're all together now—her man, her kids, Zoë, me—we're all together and we're one big, happy family. It's beautiful and it just shows you what can be done."
The brotherly feeling between the two is mutual.
In 2018, Kravitz stopped by Studio8H to support Momoa while he was hosting Saturday Night Live, and the two sported matching skull rings. "I'm a huge fan of the artists I meet on instagram love spreading the aloha," Momoa posted in December 2018. "I got @lennykravitz a present made by @leroyswoodentattoos amazing bone skull ring. Check him out insta. Mahalo Lenny for coming to support me on @nbcsnl."
Kravitz also posted on Instagram about the SNL episode, and called the Game of Thrones alum his "brother."
Kravitz also told People in February 2019 that his relationship with Bonet is now more like that of a brother and sister. "After Lisa and I separated, we learned to find a new relationship," he said. "Then I met Jason when they got together and I love him, he loves my kid and I love their kids and we're all one big family. It's beautiful."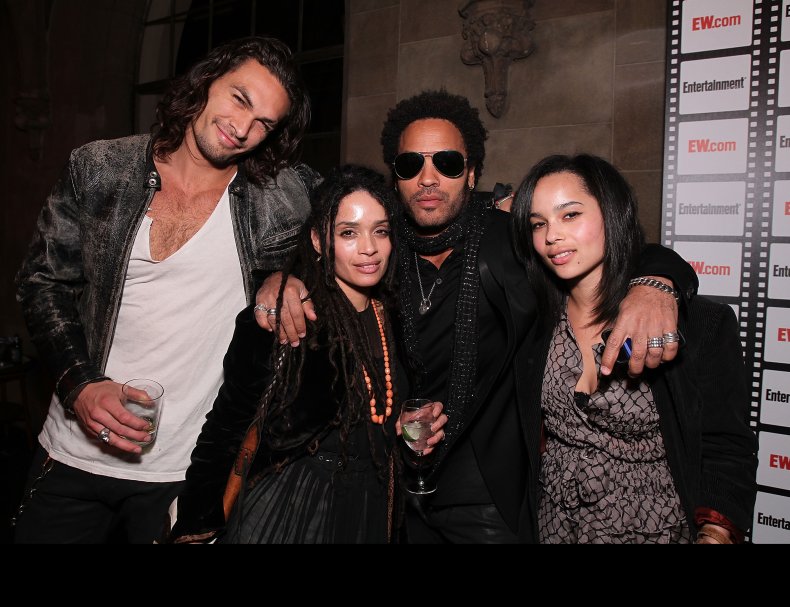 In July 2019, Kravitz opened up about his big-hearted family some more in an interview with U.K. publication The Times. "You go through a marriage with somebody, you break up and it's very difficult," he said.
"But [Lisa and I] put the work in and we took the time so that we could become best friends again," Kravitz continued. "Our families are blended."
Now, with these latest comments that Kravitz has made to Men's Health, we're hoping that it's only a matter of time before Momoa says something lovely and reciprocal back.