Representative Liz Cheney is under fire in her own party for her criticism of former President Donald Trump—including his baseless allegations about the 2020 election and his role in the Capitol insurrection on January 6.
The infighting began Monday after the Wyoming Republican responded to Trump's press statement that the 2020 election would be known as "THE BIG LIE!"
Cheney challenged Trump's claim on Twitter, writing: "The 2020 presidential election was not stolen. Anyone who claims it was is spreading THE BIG LIE, turning their back on the rule of law, and poisoning our democratic system."
Later that day, Cheney criticized Trump by name at an American Enterprise Institute event in Georgia.
"We can't rebuild the party or the conservative movement on a foundation of lies. We can't embrace the notion the election is stolen," Cheney said. "It's a poison in the bloodstream of our democracy. The way we win back suburban voters and keep all who voted for us in 2020 is with ideas and policy. We can't be a cult of personality."
She added that the party couldn't "whitewash what happened on January 6th or perpetuate Trump's big lie."
Cheney's comments were swiftly met with backlash from many of her colleagues, and she now faces removal from her leadership position as the House's Republican Conference's chair. House Minority Leader Kevin McCarthy said Tuesday that members were questioning whether she could "carry out the job."
This is the second time this year Cheney has faced opposition from her own party. In February, she survived a 145-61 secret ballot vote to remove her from her leadership position after she was one of 10 House Republicans to vote to impeach Trump on the charge of incitement of insurrection.
Cheney explained that she voted yes on impeachment because it was clear Trump had summoned and assembled the mob of supporters who stormed the U.S. Capitol. She said that "everything that followed was his doing" and that there has never been "a greater betrayal by a President of the United States of his office and his oath to the Constitution."
Cheney also didn't shy away from critiquing Trump while he was in office. The congresswoman pushed back against the administration on its foreign policy several times.
In response to McCarthy's latest threat of removal, Cheney spokesman Jeremy Adler said the congresswoman wouldn't be intimidated.
"This is about whether the Republican Party is going to perpetuate lies about the 2020 election and attempt to whitewash what happened on Jan 6. Liz will not do that. That is the issue," Adler said in a statement.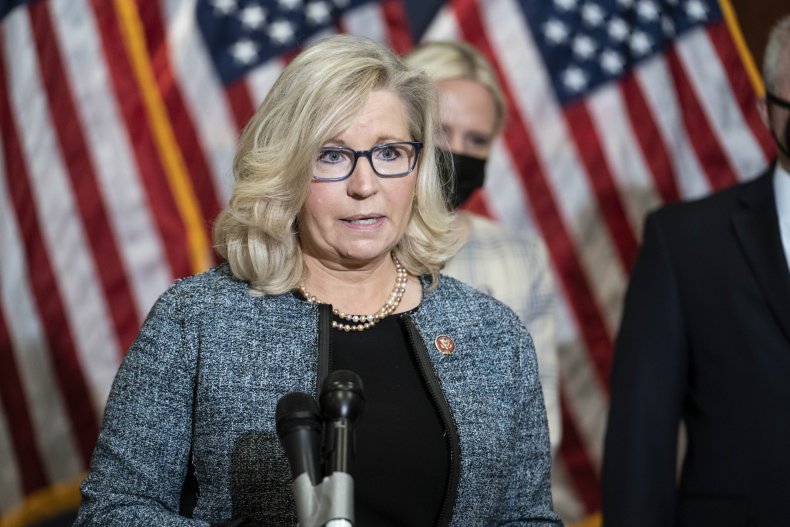 On Wednesday, Cheney doubled down and called on her colleagues to distance themselves from the former commander in chief in a Washington Post op-ed.
"The Republican Party is at a turning point, and Republicans must decide whether we are going to choose truth and fidelity to the Constitution," Cheney wrote.
She went on, "While embracing or ignoring Trump's statements might seem attractive to some for fundraising and political purposes, that approach will do profound long-term damage to our party and our country. Trump has never expressed remorse or regret for the attack of Jan. 6 and now suggests that our elections, and our legal and constitutional system, cannot be trusted to do the will of the people. This is immensely harmful, especially as we now compete on the world stage against Communist China and its claims that democracy is a failed system."
Cheney concluded in her op-ed that the GOP must "stand for genuinely conservative principles" and move away from Trump's "cult of personality." She also warned her fellow members that history was watching them.