Everything Max Erich Has Said About His Demi Lovato Split
Demi Lovato and Max Erich split just two months after announcing that they were engaged. While Lovato has remained completely silent in the wake of the breakup, Erich has not. He's already asked fans for a bit of respect following the public split.
Erich took to Instagram on Sunday shortly after news broke. In a story, he asked Lovato's fans for some peace. "Please stop trying to 'Thank you, next' me," he said in reference to the Ariana Grande song. It's unclear if this was just a statement about the lyrics, or about the way Grande's fans quickly dismissed Grande's former fiance Pete Davidson with vengeance. "For I'm just a human being who has to go to work tomorrow AM where there are families with kids relying on me," he said.
In his statement, Erich said that he and Lovato still hadn't officially spoken about breaking up. "To this moment... we haven't spoken over the phone... we haven't even officially ended anything to each other, literally. I'm here in real time with y'all. I love Demetria and just want her to be healthy and safe."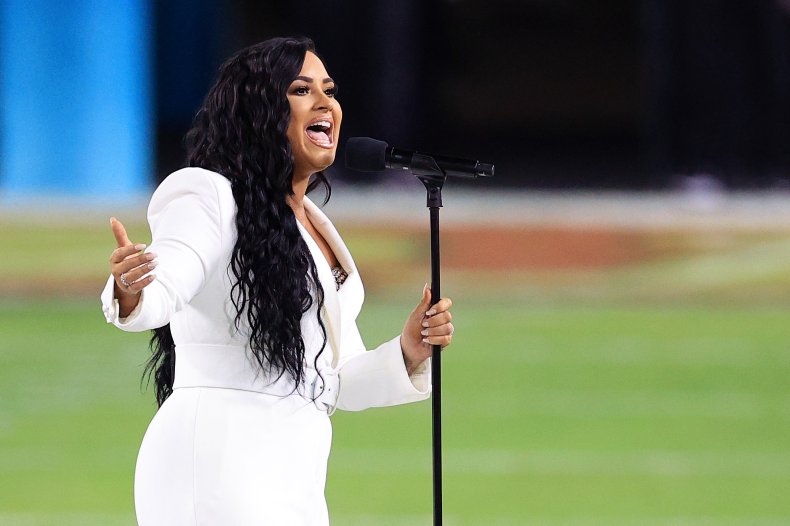 He then appeared to make a statement directly to Lovato. "If you're reading this...I love you always...unconditionally...no matter what."
Erich also shared Spotify links to a handful of Lovato's songs including "Don't Forget," "Catch Me" and "Get Back," not so subtle messages that he apparently wanted to revive the broken bond with Lovato.
Just one day before the Instagram emotion dump, Erich claimed he'd learned of the breakup through the press. "Imagine finding out the status of your relationship through a tabloid," his Instagram stories revealed, "While your [sic] in the middle of filming a biopic movie about a Pastor in a Christian Church whose intention of the film is to help people."
Since then, however, Erich has accepted the breakup. He's changed his tune in his most recent statement, which claimed he'd "closed a chapter" on his life. Immediately after, Erich asked for respect. "Stop harassing my mom with text messages all throughout the night," he wrote on his Instagram stories Tuesday, though they've seemingly been deleted. "Stop harassing me. Leave us alone."
He continued. "Who are these 'sources'? Stop trying to defame me for telling the truth."
Without Lovato's side, it appears fans won't know the full story of the breakup for some time.