Everything Miles Taylor Has Said About Donald Trump
Miles Taylor, the Department of Homeland Security's former chief of staff, revealed he was the anonymous voice behind 2018's explosive New York Times essay that brought to light an internal "resistance" within President Donald Trump's administration on Wednesday, less than one week ahead of the upcoming election.
In a statement, Taylor additionally identified himself as the anonymous "senior Trump administration official" who authored A Warning, the 2019 book that called the president's decision-making skills, attitude and influence over the U.S. population further into question. The securities expert was appointed to lead the Homeland Security Department under Trump, but resigned from his position in November of 2019.
"We do not owe the President our silence," Taylor wrote in Wednesday's statement, explaining why he decided to leave his Anonymous label behind after more than two years. "We owe him and the American people the truth."
Prior to Wednesday's reveal, Taylor criticized Trump publicly on several recent occasions, mostly in the days surrounding August's Democratic National Convention. Here is a look at the former administration official's past comments about the president.
October 28, 2020: 'Anonymous' Reveal
Taylor shared the statement in which he identifies himself as the "anonymous" Trump critic in a message posted to social media Wednesday afternoon.
"Donald Trump is a man without character," he tweeted. "It's why I wrote 'A Warning'...and it's why me & my colleagues have spoken out against him (in our own names) for months. It's time for everyone to step out of the shadows."
August 17, 2020: Biden Endorsement
Although Taylor is a Republican, he became one of many public figures affiliated with the GOP to endorse Joe Biden, the former vice president and current Democratic presidential nominee, over the summer.
Taylor offered his endorsement to the Democratic candidate's campaign in a video produced by Republican Voters Against Trump, a political group created earlier this year. The endorsement was released the same day this year's Democratic National Convention began.
"Given what I have experienced in the administration, I have to support Joe Biden for president," Taylor said in the video. "And even though I am not a Democrat, even though I disagree on key issues, I'm confident that Joe Biden will protect the country and I'm confident that he won't make the same mistakes as this President."
"What we saw week in and week out, for me, after two-and-a-half years in that administration, was terrifying," he recalled of his years serving as a Trump appointee. "We would go in to try to talk to him about a pressing national security issue, cyberattack, terrorism threat…he wasn't interested in those things. To him, they weren't priorities."
Later on in the video, Taylor alleged that Trump intentionally withheld funding from California to support its wildfire response because it is a traditionally Democratic state. He described the president's general demeanor as "one of the most unfocused and undisciplined" of any senior executive he knew.
August 18, 2020: Washington Post Op-Ed
Taylor again condemned the president's leadership in an opinion piece published by The Washington Post soon after he announced his Biden endorsement.
"After serving for more than two years in the Department of Homeland Security's leadership during the Trump administration, I can attest that the country is less secure as a direct result of the president's actions," Taylor opened the piece.
"Like many Americans, I had hoped that Donald Trump, once in office, would soberly accept the burden of the presidency—foremost among them the duty to keep America safe. But the did not rise to the challenge," he continued. "Instead, the president has governed by whim, political calculation and self-interest."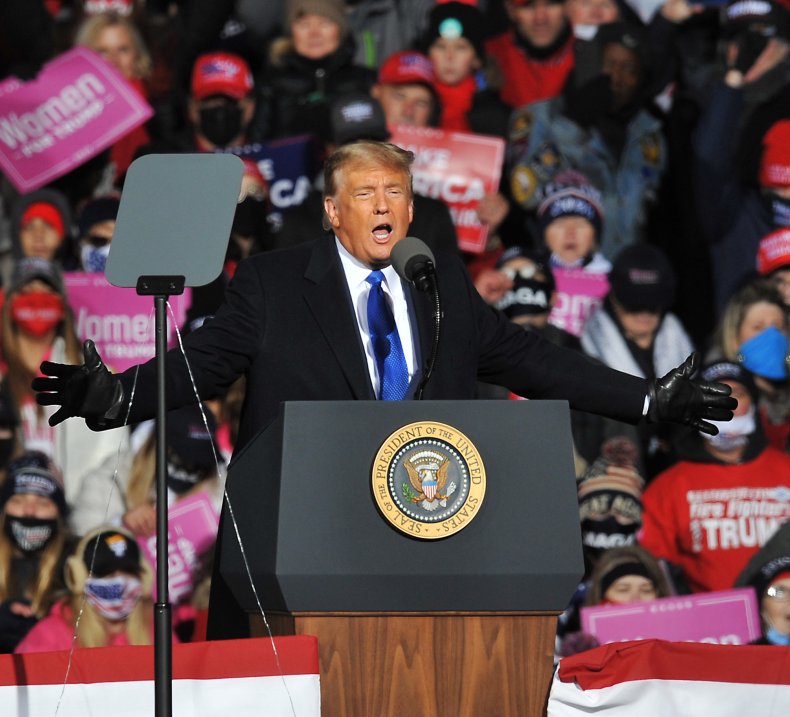 August 19, 2020: Other Administration Officials 'Feel the Same Way'
Taylor addressed his public support for Trump's opponent in the 2020 election race, and open denunciation of the president's capabilities, during an MSNBC interview on August 19. Echoing sentiments expressed in his 2018 op-ed for the Times, Taylor told correspondent Hallie Jackson that he was far from the only member of Trump's administration who stood against the president and his policies.
"Those colleagues that I served with in the administration know very, very well how I felt about the president.… And many of them felt the same way about the president," Taylor said during the interview. "In fact, I would be willing to go as far as to say I can think of very few people that I served with in the Trump administration that don't feel the same way about the president as I do."
Newsweek reached out to the White House and Trump's re-election campaign for comments but did not receive replies in time for publication.