Everything Portia de Rossi Has Said About Her Relationship with Ellen DeGeneres
Portia de Rossi, Ellen DeGeneres' wife, broke her silence amid the allegations made about the talk show host on August 3. She posted a baby blue square on Instagram that read "I Stand By Ellen."
"To all our fans....we see you. Thank you for your support," she captioned the post.
DeGeneres and de Rossi met in 2000 at a party but didn't make their red-carpet debut as couple until the HBO Golden Globe Awards Party in January 2005. They've been married since 2008.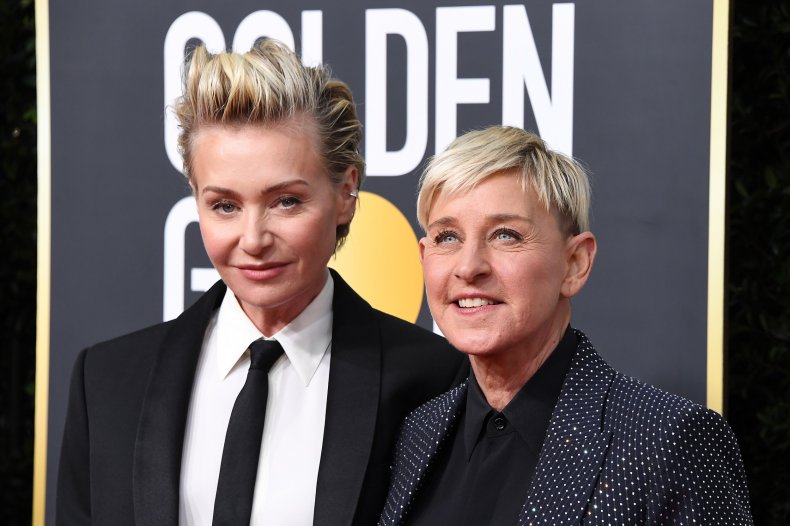 During a 2005 interview with The Advocate, de Rossi opened up about her sexuality for the first time. "Believe me, I had a very, very long and difficult struggle with my sexuality," she said.
"I didn't choose the fact that I was gay, but I did choose whether to live my life as a gay woman — that was the terrifying thing for me," de Rossi continued. "Especially being a gay actress. I love playing all different kinds of women, and the majority of women aren't gay, so the majority of characters aren't going to be gay."
DeGeneres and Rossi had their first interview as a married couple on The Oprah Winfrey Show in 2009. De Rossi explained how she knew DeGeneres was the one. "[I knew Ellen was the one] when I first laid eyes on her, but it took me three years to actually tell her how I felt about her because I was on Ally McBeal at the time and I was not living as an openly gay person," she admitted.
"I was closeted and very, very afraid that if I talked about being gay, it would be the end of my career, so I wasn't about to date the most famous lesbian in the world." A couple years after this interaction, she understood the extent to which she had feelings for the talk show host.
"I just walked over to say hello to her, and I couldn't believe it, but she turned around and it was like an arrow was shot through my heart," de Rossi continued. "I felt weak at the knees and I was overwhelmed with how I felt, but then it took me about 10 months to get the courage up to actually do anything about it."
In de Rossi's memoir Unbearable Lightness: A Story of Loss and Gain, the actress wrote about her battle with an eating disorder. She also recalled the positive impact DeGeneres had on her life.
"I have changed so much since I met Ellen," she wrote. "I used to think the way to be strong was to be tough, the way to be independent was to not need anyone. But she's taught me that the more vulnerable you are and the softer you are and the more you allow people into your life and into your heart, the happier you are and the more valuable you are to other people. Ellen has completely changed the way I look at life. She has made me not worry about what other people think.
"I'm still working on that, I have to be honest," de Rossi continued. "She has taught me that who I am is perfectly good enough ... that I don't have to pretend to be anything other than who I am, and that's been the most incredible gift that she's given me that anyone could give to anybody that they love."
After the two were happily married for a few years, rumors began to swirl about whether or not the couple planned on starting a family. De Rossi addressed this speculation an October 2014 appearance on Jimmy Kimmel Live. "It's just one big rumor that doesn't seem to go away," she said about the rumors. "And at this point, I feel like I'm disappointing the whole of America — not just my mother."
She previously mentioned to Out Magazine in 2013 the same sentiment. "We've settled into happily married life," she explained. "We really support each other in whatever we're doing and we're incredibly happy, which is why you don't see us in the press so much. There's no drama to report."
In a January 2016 interview with Entertainment Tonight, de Rossi couldn't stop singing her wife's praises. "We're just really good friends and we talk about everything, and we never ever, ever lie to each other, like, not even the tiniest lies," she gushed.
"And she's the only person I want to hang out with. Like, she is my best friend and I just want to be with her all the time. She's just so awesome! Who wouldn't want to be with Ellen all the time?"
In February 2018, de Rossi gifted DeGeneres with a gorilla sanctuary for her 60th birthday. The thoughtful gift comes from the fact that the primatologist and conservationist Dian Fossey, who studied mountain gorillas, is one of DeGeneres' heroes.
"It's your 60th birthday, and this gift had to be really special, and it had to represent who you are and what you really care about," de Rossi said on the during an appearance on the Ellen DeGeneres Show. "Not just now, but what you've always cared about. What you were influenced by and what has made you the amazing person that you are today."
DeGeneres called it "the best gift ever."