Everything Rush Limbaugh Has Said About His Lung Cancer Battle
Radio host Rush Limbaugh has been transparent about his fight with lung cancer, and he recently revealed it isn't getting easier. The ultra-famous entertainment personality spoke about his third round of treatment on his radio show Tuesday and gave some personal details.
The episode of The Rush Limbaugh Show opened up about the pain, treatment and general quality of life he's facing as he enters his third round of treatment. Limbaugh titled the episode "Just Waking Up Each Day Is A Blessing."
Here's a timeline of when and what Limbaugh has revealed about his diagnosis, and how he's handling it.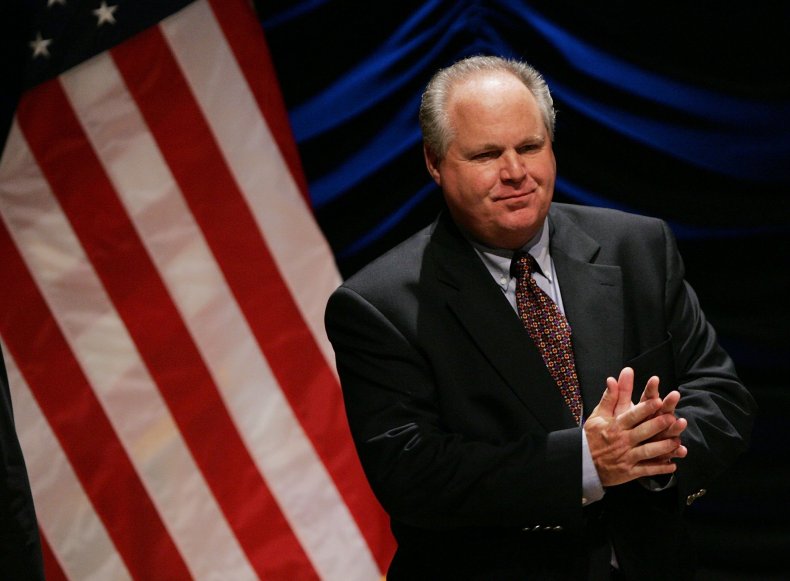 February 3 - Limbaugh Announces Lung Cancer
In an episode of The Rush Limbaugh Show, the conservative radio host took a moment to speak about himself, despite his normal wish to leave himself out of the conversation. "I wish I didn't have to tell you this, and I thought about not telling anybody," Limbaugh explained, as captured by NPR. "I thought about trying to do this without anybody knowing, because I don't like making things about me."
In the conversation, Limbaugh described the lung cancer as "advanced." It was in this episode he also noted that some days, he won't be able to appear on his radio show, as he'd be undergoing treatment. "It is what it is," he said. "This has happened, and my intention is to come here every day I can."
February 28 - Limbaugh Reveals There's Good In Diagnosis
Limbaugh wrote about his illness on his website, which he said is terminal for some. But Limbaugh said he's looking for the good even though cancer "takes over your life." The post was titled "An Update on My Health and Treatment. You can read the full letter here.
The post was prompted by listeners who emailed Limbaugh personally to ask for health updates.
"Let me remind you, I told you at the beginning of this that I'm very flattered by all of you who care. Don't misunderstand," he explained. "But I vowed not to let this take control of my life. I've seen that happen. It's hard not to. It's a terminal disease for a lot of people. It takes over your life. I've vowed to not let that happen as much as I can."
He began to explain his treatment plan for concerned listeners, too. "All I will tell you is this. I get treated every day. I get treated every day at 1 p.m., folks, within a five-minute window here at the top of the hour, 1 p.m., and then again at 11 p.m. Every day. And then four times a week I have to do something else, which I'm not gonna describe and I'm not gonna explain or any of that."
Limbaugh included an optimistic note, despite the diagnosis. "It's not good for me that I have contracted this," he wrote. "But there's good in it. There's good in it maybe for other people who might be inspired to change their life, so they don't get it or whatever — there's good in everything, if you just look for it. And ultimately there's gonna be good in it for me. It already has been good for me."
May 26 - "Just Waking Up Is A Blessing"
The full transcript of Limbaugh's Monday radio show is available on his website. In the lengthy conversation, Limbaugh dives into the difficulties he's facing in his cancer treatment. He focused on the third wave.
"There have been many cycles, but this is the third wave, and this current wave, I have to tell you, is kicking my a**. For the last seven days, I have been virtually worthless, virtually useless," he said. "I haven't left the house. I haven't done much of anything except just try to rest and relax. All of this was told to me; it was gonna be a factor."
He also explained the energy it takes for him to record his radio show, even alone, is incredibly tiring. "A lot of people say, 'What you mean? You're sitting on your butt for three hours.' Yeah, but I guarantee you, folks — and I can prove this with any kind of measurements — my heart rate skyrockets during these three hours," he noted. "My caloric burn is the highest of the day during these three hours, and the mental aspect of it — which, to me, another name for it is performance pressure."
Limbaugh also gave a bit of information about the tumor he's trying to treat. "I've just now begun Week 2 of this third cycle, and each cycle is three weeks, and the impact on the tumor in these three weeks is not expected to be significant."
He continued with bad news. "It's supposed to take a little longer than that. There has been one particular kind of treatment that works in 97% of patients and did not work in me, and it's because of a 1% mutation I have that led to my lung cancer in the first place," he revealed." That 1% mutation is theorized to nullify the second phase of treatment that we tried, throughout..."
You can stay tuned for updates from Limbaugh by paying attention to his website and radio shows.