Everything 'Schitt's Creek' Stars Dan and Eugene Levy Have Said About Working Together
Eugene and Dan Levy, co-creators and co-stars of Schitt's Creek, are role models for a father-son working relationship. The real-life and onscreen family members swept the 72nd Emmy Awards on Sunday night, winning seven Primetime Emmys.
"I wouldn't be here if it weren't for you," Dan said to his dad when he accepted his first award of the night, the Emmy for best writing in a comedy series.
Eugene returned the sentiment when he accepted his Emmy for best actor in a comedy series, which was also his first-ever Emmy. "As a dad, getting to work on camera for six years with both my kids, Daniel and Sarah, is such a joy and I couldn't be prouder," he gushed. "And that brings me to my multi-Emmy-nominated partner, Daniel Levy, who took our show that we came up with and brilliantly guided it to this little Emmy party tonight, so thank you, son."
When Dan came to Eugene with the idea for Schitt's Creek, he was thrilled to have his son ask for his help with the project.
"He never came to me for anything in his life—when he was in school doing plays, [I'd say], 'Do you want me to help you read lines?' 'No, I got it,'" Levy said during the Pop TV Television Critics Association press tour panel for Schitt's Creek via NBC.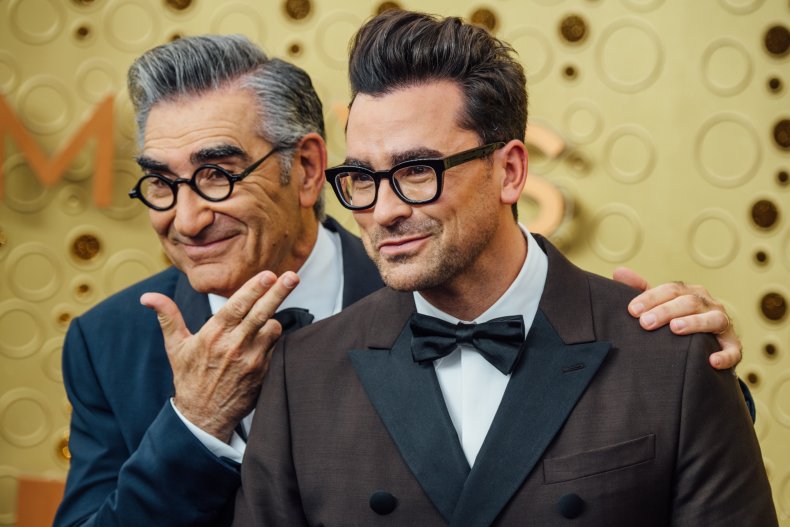 "So when he finally came and said, 'I have an idea for a show, do you want to work on it?' As a dad, it's like, 'This moment finally came, thank you; it doesn't matter what the idea is, I'll work on it, we'll try to get it going.'"
Eugene also told Time in 2016 that he was very impressed with how talented a writer Dan was. "Early into the process, it was hitting me that he's a very good writer, much more advanced in terms of story writing than I thought. We put a pilot together and next thing you know, we're going into our third season," he recalled.
When prepping the pilot for Schitt's Creek, Eugene knew his son had acting chops. "Honestly, with the very first show, I remember taking a deep breath and thinking, He's got it. It wasn't shocking at all," he told Time Out in 2016.
Eugene was also impressed with his son's work ethic. "It's almost like he's been doing this for years and years before we started the show," Eugene told GQ in 2019. "In the beginning, I just felt that I had to mentor him," the veteran actor explained, "but over the first season, I found myself going 'Wait a minute, I don't have to be here, he's got a pretty strong handle on what he's doing.'"
The Levys teaming up was a long time in the making, and Dan wasn't in any rush to do so.
He revealed during an interview with SAG-AFTRA Foundation in May that he avoided working with Eugene for quite some time. "For a long time, I avoided any kind of association with him.… I feel like this industry is incredibly unforgiving when it comes to nepotism," he admitted, adding that he wanted to be known for his own work, and not just "the son of someone famous."
Dan gushed about Eugene during an April Variety interview and revealed what it was like getting to watch his dad act. "To watch my dad and finally have an understanding of how and why he has had the career longevity that he's had, and why he is continually and will continue to be sought after for the work that he does—I mean, you want to have him on set. It's certainly set the bar high for me in terms of what I hope to achieve and the reputation I hope to uphold."
During an appearance on David Tenant's podcast, David Tenant Does a Podcast With..., Dan reflected on Eugene's excitement to be working together.
"I think he was really excited to collaborate," he explained. "If nothing more than just the experience of doing something creative with his son. I truly believe that when he sat down and said yes, he had absolutely no expectation that we would be doing anything beyond just chatting."
The first five seasons of Schitt's Creek are available to stream on Netflix and all six seasons are available on Amazon Prime.