Everything Stephen A. Smith Has Said About Kyrie Irving's Stance on COVID Vaccine
NBA All-Star Kyrie Irving's refusal to get vaccinated against COVID-19 has proved difficult for the Brooklyn Nets, who suspended him earlier this week for being unable to fully participate in the regular season.
Amid the controversy, ESPN's Stephen A. Smith has emerged as one of Irving's biggest critics.
The sports television personality has continued to raise issues with Irving's decision to remain unvaccinated, arguing that the Nets player owes it to his team and fans to do whatever it takes to play on the court.
Here's a timeline of everything Smith has said about the situation:
September 27: On ESPN's Stephen A's World, Smith advocates for the Nets to trade Irving, arguing that if one of the team's top three players is willing to miss half of their games, Irving's priorities are not on helping the team get to the championships.
"Trade him! If he ain't gonna take the vaccine and can't play half your home games, trade him," Smith told the Nets.
"It's about the ring. That's what [Irving] came to Brooklyn to get," he said, adding that when it comes to getting vaccinated, "You've got to do what you got to do."
October 7: Smith said Irving's fate with the Nets lies with teammate Kevin Durant, who has been outwardly supportive of Irving's decision and had remained hopeful that Irving would eventually be able to join the team.
"Eventually KD has to realize that Kyrie's vaccination status is impacting basketball and basketball is all KD cares about," Smith said on his ESPN show.
"If KD says enough is enough, Kyrie is gone. Traded. That is if the Nets could still find a team to take him at this point," he added.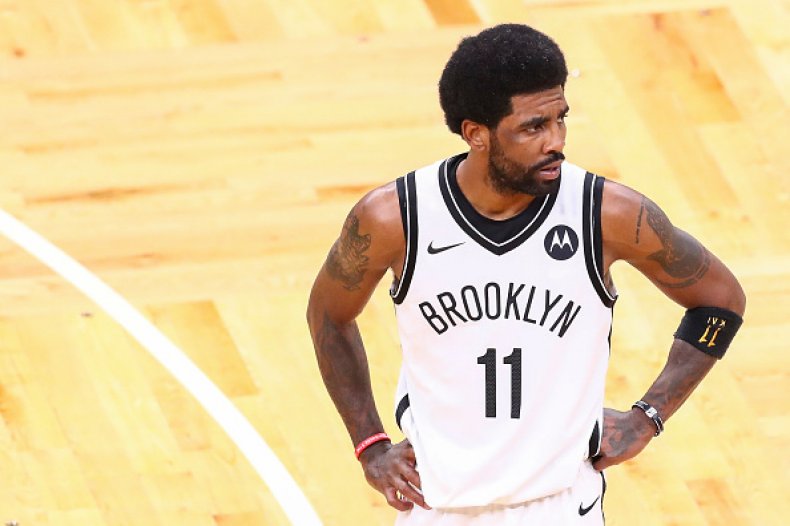 October 13: Following the news that Irving would not be able to play or practice with the Nets until he gets vaccinated, Smith called Irving's vaccine stance "flat-out stupid."
"I've been covering the NBA now for almost 25 years. This is some of the stupidest nonsense I've ever seen. Just flat-out stupid," Smith said.
In a heated exchange with sports analyst Jay Williams, Smith argued that Irving had an obligation to his team to do whatever it took to play with the Nets, including getting the vaccine.
"We're talking about a basketball player who signed on to play for the Brooklyn Nets that has left his team hanging," Smith said.
The ESPN personality told Irving: "Your position is that you're going to sit up there and compromise the championship aspirations of an organization you signed on to represent. You coaxed Kevin Durant into signing on to represent. You played a role in coaxing James Harden into signing on to represent. You're gonna compromise all of that because you want to give a voice to the voiceless. Really?"
Later that day, Smith went a step further and celebrated the Nets' decision, calling the suspension "well-deserved."
"As far as I'm concerned, the hell with [Irving]!" Smith told CNN's Don Lemon on Don Lemon Tonight. "Sit him down, let him stay home, don't pay him a dime."
October 14: Smith responds on ESPN to Irving's Instagram Live, during which the basketball star said he had not known there would be a vaccine mandate in place when he began the season.
"This wasn't something that I foresaw coming where I'll prepare for it and you know, had a chance to strategize on what was going to be best for me and my family," Irving told his fans. "I came into the season thinking that I was just gonna be able to play ball."
Because Barclays Center is subject to New York City's vaccine mandate, Irving is prohibited from playing any home games. Vaccine requirements are also in effect for NBA venues in Los Angeles and San Francisco.
Smith called Irving's remarks "all over the place" and argued that it only made Irving's position "more murky" than anything. He also accused Irving of "paint[ing] himself as a victim."
Smith clarified that his issue with Irving was not about whether or not the Nets player would get vaccinated but rather about Irving's "selfishness" in continuing to take time off from playing.
"If you don't want to take the vaccine, that's your choice. You are absolutely right. It's a personal choice, and it's other people's choice to react whatever way they want to," Smith said.
He pointed out that Irving, who is the vice president of the NBA's Players Association, voiced concern about playing in the Orlando bubble last year and that he took three months off after an ankle injury.
"Where we are now is yet another reason why Kyrie Irving isn't playing basketball," Smith said. "KD is in Brooklyn because of you. James Harden, to a lesser degree, is in Brooklyn because of you. You help bring these brothers together and that's where I'm coming from."
"We're not talking about, 'Oh, you took the vaccine or you didn't take the vaccine.' It's about Kyrie Irving, one season after another, after another. There's always something that gets in the way of him balling," Smith added.