Everything Tom Hanks Has Said About The Coronavirus Since Being Diagnosed
Tom Hanks was among the first high-profile celebrities to contract the coronavirus. Hanks announced on March 11 that he and his wife, Rita Wilson, tested positive for Covid-19 while in Australia. Since his diagnosis, he has been very vocal about the virus and asks everyone to take the proper precautions.
When he revealed he and Wilson's diagnosis, he said that they felt a bit tired, had chills, and slight fevers. "To play things right, as is needed in the world right now, we were tested for the coronavirus, and were found to be positive," he revealed.
"Well, now. What to do next? The Medical Officials have protocols that must be followed. We Hanks' will be tested, observed, and isolated for as long as public health and safety requires. Not much more to it than a one-day-at-a-time approach, no?" He concluded his message by telling his followers that they would keep them posted on their progress, and encouraged all to take care.
The next day, Hanks shared a selfie of him and Wilson, assuring all that they were quarantining and taking the proper steps in battling the coronavirus.
"There are things we can all do to get through this by following the advice of experts and taking care of ourselves and each other, no? Remember, despite all the current events, there is no crying in baseball," he quipped, referencing the film A League of Their Own.
In late March, the couple was safe to travel back to Los Angeles and continued to shelter in place.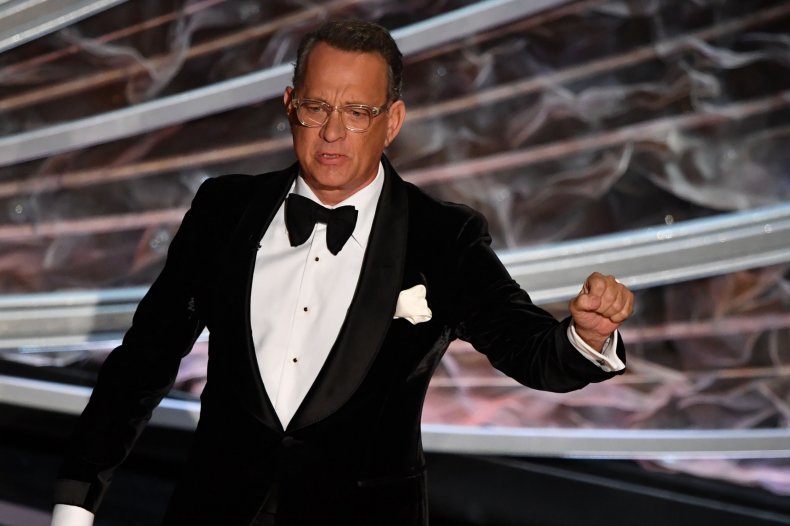 In an interview with NPR on April 18, Hanks joked about what the coronavirus vaccine should be named. He revealed that he and Wilson had been approached about donating their plasma, since they carried the virus's antibodies. "In fact, we will be giving it now to the places that hope to work on what I would like to call the Hank-ccine," he joked. "I'm not trying to hog it with a copyright or - you know, I'm not going to the patent office."
The next day, he explained how the virus affected he and Wilson in an interview with the National Defense Radio Show. "Rita went through a tougher time than I did," he said. "She had a much higher fever and she had some other symptoms. She lost her sense of taste and smell. She got absolutely no joy from food for a better part of three weeks." Hanks added that Wilson was so nauseated that she couldn't even walk from her bed to the bathroom — she had to crawl.
Hankes noted that he attempted to do a light workout, and after 12 minutes, he felt completely drained. "I said, 'I just had the weirdest thing. I just tried to do basic stretches and exercises on the floor and I couldn't even get halfway through,'" he recalled. "And she [Wilson] looked at me through her glasses like she was talking to the dumbest human being. And she said, 'You have COVID-19.'"
On April 29, the two-time Oscar winner encouraged his followers to donate plasma. "After the paperwork, it's as easy as taking a nap," he Tweeted with a picture of a bag of his plasma. Hanks shared another series of photos in late May of him donating plasma.
While promoting his upcoming Apple TV+ film Greyhound, Hanks condemned those who aren't wearing a mask as cases surge across the country. "Those things are so simple, so easy, if anybody cannot find it in themselves to practice those three very basic things – I just think shame on you. Don't be a p***, get on with it, do your part," he insisted, according to People. "It's very basic. If you're driving a car, you don't go too fast, you use your turn signal and you avoid hitting pedestrians. My Lord, it's common sense."
Hanks also spoke about what it was like being the celebrity guinea pigs for the virus. "Oh, as the canaries in the coal mine for the COVID-19 experience, we are fine," he said, as per People. "We had about 10 days of very uncomfortable symptoms. Not life-threatening, we're happy to say. We were isolated in order to keep an eye on ourselves because if our temperatures had spiked, if our lungs had filled, if any number of things had gone wrong with this, we would have needed expert medical care. We didn't."
"I guess we were model recoverers from COVID-19, but we were also isolated so that we would not give it to anybody else that we came in contact with, and since then have been doing the same isolating, social distancing that is being asked of the world so, we are fine," Hanks noted.
Hanks continued to slam those who aren't wearing masks amid the pandemic days later. "I simply do not get it, it is literally the least you could do," he said in a clip shared by the Associated Press on July 6.
"If anyone wants to build up an argument about doing the least they can do, I wouldn't trust them with a driver's license." Hanks compared wearing a mask and following the rules to driving a car. "If you can't wear a mask and wash your hands and social distance, I got no respect for you man. I don't buy your argument," the disappointed actor added.
During a July 6 interview with The Guardian, Hanks also revealed the different ways he and Wilson were affected by Covid-19. "Our discomfort because of the virus was pretty much done in two weeks and we had very different reactions, and that was odd," he said. "My wife lost her sense of taste and smell, she had severe nausea, she had a much higher fever than I did. I just had crippling body aches, I was very fatigued all the time and I couldn't concentrate on anything for more than about 12 minutes. That last bit is kinda like my natural state anyway," he quipped.
He also revealed he remained calm during his experience with the virus.
"When we were in the hospital, I said: 'I'm 63, I have type 2 diabetes, I had a stent in my heart – am I a red flag case?' But as long as our temperatures did not spike, and our lungs did not fill up with something that looked like pneumonia, they were not worried," he recalled. "I'm not one who wakes up in the morning wondering if I'm going to see the end of the day or not. I'm pretty calm about that."
On a July 7 virtual appearance for the TODAY Show, Hanks explained how simple it is to help prevent the spread of the coronavirus. "The idea of doing one's part should be so simple: wear a mask, social distance, wash your hands. That alone means you are contributing to the betterment of your house, your work, your town, your society as a whole," he said.
"The idea of doing one's part should be so simple," Hanks added. "It's such a small thing...It's a mystery to me how somehow that has been wiped out of what should be ingrained in us all."
Newsweek did not receive additional comments from Tom Hanks at the time of publication.