Everything Trump Has Said About Intervening in Chicago as Violence Surges in the City
President Donald Trump discussed his administration's plans to deploy federal agents to cities currently seeing increased crime rates on multiple occasions this week. Officials in Chicago, where recent shootings have left dozens injured and several dead, have responded with concerns in light of reported violence playing out in Portland, Oregon, since federal agents arrived in early July.
Trump shared plans to deploy federal law enforcement to cities reporting an uptick in violent crimes during an Oval Office press briefing on Monday. Responding to a reporter who asked him to confirm reports of additional federal troops coming to those cities, he said: "Well, it depends what your definition of troops is. I mean, we're sending law enforcement."
In addition to Portland, where federal agents' actions sparked criticism over their lack of identification and violent use of force, Trump mentioned Chicago and New York. Both cities have reported elevated incidences of shootings and murders this summer compared with previous years. The Chicago Police Department responded to roughly 50 shootings across the city between Friday evening and Sunday afternoon.
"How about Chicago? I read the numbers were many people were killed over the weekend. We're looking at Chicago, too," Trump continued on Monday.
One day prior, the president seemed to attribute elevated crime rates in certain U.S. cities, including Chicago, to Democratic leadership. He did so during an interview as well as via social media.
"The Radical Left Democrats, who totally control Biden, will destroy our Country as we know it. Unimaginably bad things would happen to America. Look at Portland, where the pols are just fine with 50 days of anarchy. We sent in help. Look at New York, Chicago, Philadelphia. NO!" Trump tweeted on Sunday.
Earlier, he said cities with heightened crime incidences are "liberally run," while speaking to Fox News' Chris Wallace.
"I explain it very simply by saying that they're Democrat-run cities, they are liberally run. They are stupidly run," Trump told the news anchor.
Chicago Mayor Lori Lightfoot resisted a possible increase in federal agents deployed to Chicago at the beginning of the week, as reports indicated the Department of Homeland Security's (DHS) would send more than 100 law enforcement officers to the city. On Tuesday, Lightfoot said Illinois district attorney John Lausch told her the deployment would involve agents and resources from the FBI, Drug Enforcement Administration and the Bureau of Alcohol, Tobacco, Firearms and Explosives.
Still, the mayor told reporters: "I don't put anything past this administration, which is why we will continue to be diligent and why we will continue to be ready. If we need to stop them and use the courts to do so, we are ready to do that."
"While we all understand that having additional federal resources can be a value add, they're not a value add if they're nameless agents riding around in vans, pulling people off the street, depriving them of their constitutional rights," Lightfoot added, referencing reported incidents that took place in Portland over the weekend. "That is not what a democracy looks like, and we are not going to have that in the city of Chicago."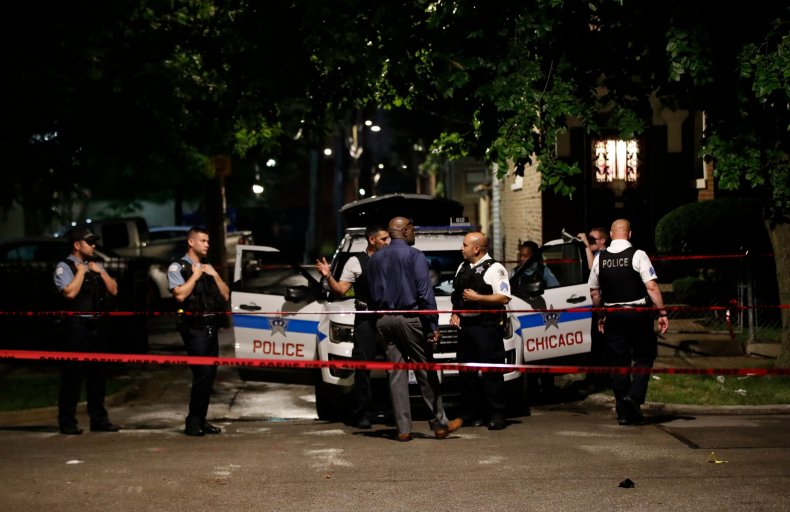 Illinois Senators Tammy Duckworth and Dick Durbin pushed back against increasing the federal law enforcement presence in Chicago earlier on Tuesday. In a letter addressed to Trump, the congressional representatives said deploying federal agents whose aims depart from those of local police would be counterproductive.
"Any involvement by federal law enforcement in community policing activity must be conducted in coordination with, and with the approval of, local officials," the senators' letter read. "In this time of heightened tension, we cannot have federal law enforcement operating at cross-purposes with local leaders."
Duckworth and Durbin also suggested avenues for the federal government to assist violence prevention efforts in Chicago without deploying additional law enforcement. Their suggestions included strengthening Department of Justice programs related to community policing, as well as mentoring and job training initiatives for youth and formerly incarcerated city residents.
Newsweek reached out to Lightfoot's office, the DHS, and the White House for additional comments but did not receive replies in time for publication.