Everything Tyler Perry Has Said About Police Reform and Racial Injustice
Tyler Perry went viral after his speech at the 93rd annual Academy Awards ceremony in Los Angeles where he called on Americans not to hate police officers, but this is not the first time the famous filmmaker has spoken about police reform and racial injustice.
Perry delivered his viral speech after receiving the Jean Hersholt Humanitarian Award on Sunday night. The award is given to an "individual in the motion picture industry whose humanitarian efforts have brought credit to the industry."
During his speech he discussed his past experiences as a Black man and the lessons his mother taught him after she grew up in Jim Crow South.
"My mother taught me to refuse hate. She taught me to refuse blanket judgment. And in this time and with all of the internet and social media and algorithms and everything that wants us to think a certain way—the 24-hour news cycle—it is my hope that all of us will teach our kids—and not only to remember—just refuse hate. Don't hate anybody," Perry said during the speech. "I refuse to hate someone because they're Mexican or because they are Black or white, or LGBTQ. I refuse to hate someone because they're a police officer. I refuse to hate someone because they are Asian. I would hope that we would refuse hate."
He continued, "I want to take this Jean Hersholt Humanitarian Award and dedicate it to anyone who wants to stand in the middle, no matter what's around the walls, stand in the middle because that's where healing happens. That's where conversation happens. That's where change happens. It happens in the middle.… So anyone who wants to meet me in the middle, to refuse hate, to refuse blanket judgment and to help lift someone's feet off the ground, this one is for you, too. God bless you and thank you Academy, I appreciate it."
Perry's most recent comments come amid different issues over racial injustice including multiple fatal police shootings.
Prior to his speech at the Academy Awards, Perry has spoken extensively about police reform and racial injustice.
While speaking with CNN's Anderson Cooper in July 2020, Perry discussed the movement to defund the police in the wake of George Floyd's death and said, "Now you've got to understand this, I am not for taking money from the police department. I think we need more police. My studio is in a neighborhood where I think we need police.… But we don't need police that are undertrained."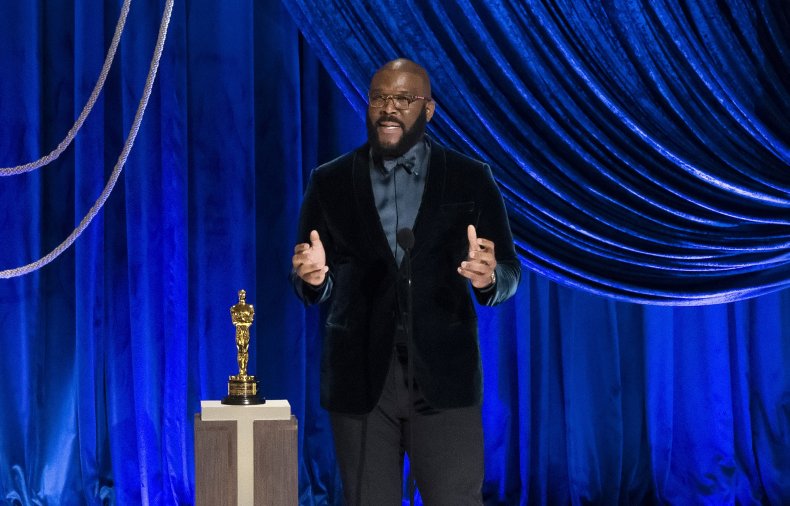 "I think we need the police. I know that I need the police. I have several that worked for me here at the studio. We need them, but we need them reformed. We need them trained. Well, we need the right structure...But some of the things inside of the 'defund the police' [movement] I really understand, like having officers who are clinically trained to deal with certain situations—I think all of those things are helpful. But taking money from the police department to make the police department smaller, that troubles me," Perry added.
In July 2020, Perry sought to "bridge unity" between the Atlanta police and community members following mass protests over Floyd's death and the fatal police shooting of Rayshard Brooks.
According to the New York Post, Perry purchased 1,000 Kroger supermarket gift cards for the police to hand out to community members. Perry is a native of Atlanta, and he operates his film studio in the city.
"This is about the community that I love, that I live and work in," Perry said in a July statement to the Post. "This is about the good police officers who do their job well every day, some of which are my personal friends...This is about trying to bridge unity in a city that adopted me and held me up high enough to reach my own branch on the tree of success."
The Atlanta Police Department posted several pictures to Twitter showing officers handing out the gift cards and thanked Perry for providing them.
A month earlier in June, Perry published a first-person essay in People magazine discussing his thoughts on racial injustice and police reform.
"I'm exhausted from all the hate and the division, the vitriol that I see online from one to another," Perry wrote in the essay. "I'm exhausted from seeing these kinds of senseless murders play out over and over again with nothing changing in our society."
In the essay, Perry also wrote about Floyd's death at the hands of a former Minneapolis Police Officer and how he will have to talk about racial injustice issues with his son.
"The level of racism and brutality that George Floyd faced is something that we as black people know all too well. When I saw that video, I had so many raw, guttural emotions. I felt for him and his family, I felt for all of us as black people, I felt for my five-year-old son," Perry wrote. "As I watched with tears in my eyes, it brought back a flood of years of emotions from carrying what feels like the weight of racism on my neck."
Perry continued, "I know that as his father, a black man in America, it is my duty to prepare him for the harsh reality that awaits him outside of the watchful eyes of his loving parents...It will be a hard, heartbreaking conversation but one that I must have and will have soon."