Everything We Know About Amber and Barnett's Relationship After 'Love Is Blind'
There's a mystery surrounding many of the Love Is Blind couples and if their relationships have lasted post-finale. Amber and Barnett, however, have given many clues to suggest they're still happily married.
The couple met on Netflix's dating experiment, which required them to accept an engagement before ever seeing each other. While Amber was immediately drawn to Barnett, he received a bad reputation for flirting with three women and only choosing Amber at the last minute.
Though their relationship started out with a bit of drama, the pair quickly fell into what seemed to be a close, secure bond. Now, they've addressed all of the show's drama as a couple.
Amber and Barnett made it clear they're still an item in an interview with Entertainment Tonight. Together, they spoke about the show and revealed it filmed a year and a half ago. Amber even exclaimed she forgot the show was coming out, and they're ready to celebrate their relationship with the world.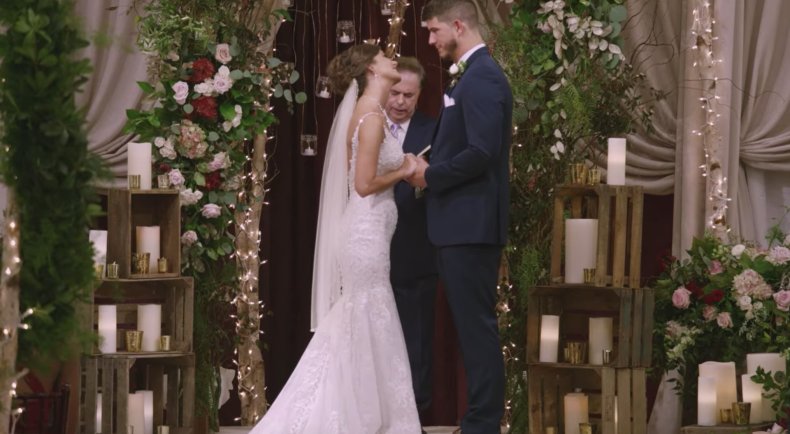 "It's not an easy thing to keep such a big, big secret," she explained.
Social media pointed to the couple's relationship even before they acknowledged their ongoing connection. Barnett's mom commented on one of Amber's social media posts back in August. Amber also continued to follow Barnett's dog's Instagram account.
Super sleuths noticed one crucial similarity in Amber and Barnett's Instagram feed. Around July 4 last year, both posted summer Instagram photos wearing the same American-flag cowboy hat. Fans immediately claimed this must have meant the pair were in the same place and still together.
Before committing to Amber, Barnett was seriously considering proposing to another single woman on the show, Jessica. They had a series of conversations even after his commitment to Amber, some of which rubbed Amber the wrong way. Though Barnett was committed, Amber commented on Jessica's ongoing "crush" on Barnett, even when Jessica was in her own engagement.
Jessica has received some hate from viewers, who claimed she was meddling in Amber's relationship. Amber responded after watching the series back.
"You know, I had no idea," she said of Jessica's apparent feelings toward Barnett. She also explained the girl's side of the house had a feminist air, and focused on supporting and uplifting each other's newly-formed relationships.
"To see that Jessica was coming out of left field, playing it as shady as she was, I was really offended that she disrespected me in that way," she continued.
Jessica did not get married to her fiance, Mark, on the show.
A reunion special will air on Netflix's YouTube channel next Thursday, March 5.