Everything We Know About The Avengers Campus Coming to Disneyland This Summer
The Avengers are officially becoming members of the Disney theme parks, with the Avengers Campus opening at California Adventure on July 18. Joining Guardian of the Galaxy's Mission: Breakout, the new land will feature high-flying acrobatics, web-slinging adventures and a chance to meet your superhero (or villain). The land is aimed at families, with anyone of any age being able to partake in the experience.
Here's everything we know so far about the park and what to expect upon opening, other than really long lines.
Web Slingers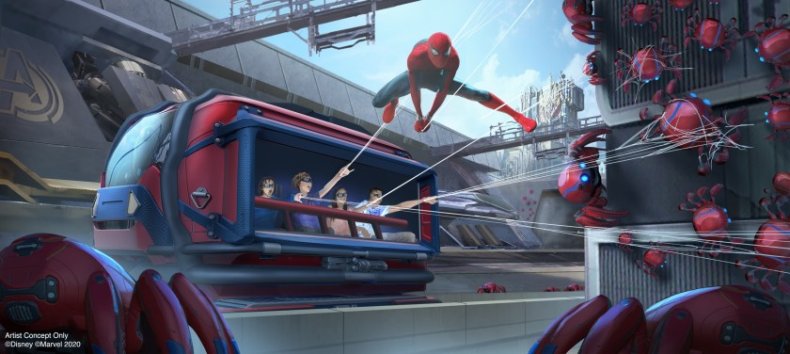 Join Spider-Man and the Worldwide Engineering Brigade (or WEB) as you take care of a spider-bot problem. The building is housed in a former Stark Automotives factory, with Easter eggs and homages to Tony's father littered throughout the building. The actual ride takes guests inside a spider-van where they fling webs out of their wrists without the use of guns or add-ons. The all ages experience will automatically detect your wrists and have webs shoot straight out of them.
Toy versions of these Spider-Bots will be sold in the gift shop that interact with each other and people. For a show flying overhead, you might see a Spider-Man swing around the building doing aerial acrobatics. It will be robotic since having a real-life human swing like an insect still isn't technically possible, though a person Spidey will come down to greet fans once the show is over.
Pym Test Kitchen
Every new thematic park area needs a place to eat and recharge and that's where Hank Pym comes in. The original Ant Man and shrinking extraordinaire has brought his talents to the world of cuisine. The bar features a giant beer can and a pretzel conveyor belt will be moving above guests heads.
The Sanctum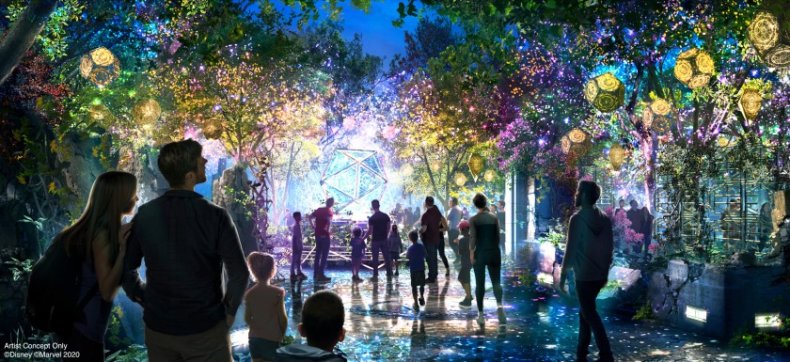 We know the least about the Sanctum, but there's still enough to get you outside. Sorcerer Supreme Doctor Strange will put on a show for guests who want to learn more about the magic arts. Expect hand signs and crazy lights while you meet your favorite heroes.
Throughout the park, you'll be able to run into Ant Man & The Wasp, Thor, Loki, Captain America, Black Panther, Groot, Doctor Strange, Black Widow, Captain Marvel Star-Lord and Gamora. These costumed vigilantes will take on villains like the Taskmaster from the new Black Widow movie.