Everything We Know about Betsy DeVos' Microgrants For Students and Teachers Hit by Coronavirus Crisis
The Department of Education is looking to issue microgrants to individual students and teachers to aid remote learning as schools across the country have been closed due to the coronavirus outbreak.
Speaking at a White House press briefing on the pandemic last Friday, Education Secretary Betsy DeVos said the grants would help "the most disadvantaged students in states or communities where their school system has simply shut down."
But details of the plan are scarce. The agency has provided no information on exactly how much money will be allocated, who will be eligible to receive the benefits or when the program will start.
"We know this crisis is putting added burden on families and the microgrants are meant to help overcome that challenge," an Education Department spokesperson told Newsweek.
The proposal for microgrants comes after Congress allocated $30 billion in emergency education funds in it's $2 trillion coronavirus stimulus package. The package included money for online learning, cleaning schools and summer courses, but was criticized for leaving college students out of the relief checks.
DeVos' microgrants can be used for materials needed for at-home learning such as computer hardware, internet access and to cover fees for online courses. They can also be used to cover educational services for students with disabilities and other kinds of tutoring, the spokesperson said.
The Education Trust, a national nonprofit that advocates for low-income students and students of color, said the microgrants seem to be a "good start" but that more is going to be needed in order to successfully transition to remote learning.
"It's a good start but those pieces alone will not necessarily result in effective online learning, especially for low-income students, if none of these other issues are addressed around other stressors students and families are facing at the moment," said Tiffany Jones, the director of higher education policy at The Education Trust.
The National Education Association, the largest labor union in the country, condemned the microgrants as a plot to use funds for vouchers. Devos has long been a supporter of vouchers, which are essentially certificates of government funding for a student to attend a school chosen by the student or their parents.
"Where is her plan to push for the tens of billions of dollars that educators, governors, superintendents, and stakeholders know is needed to close budget gaps that will quickly emerge?" NEA President Lily Eskelsen García said in a statement.
Here's what we know about the microgrants so far:
According to an Education Department spokesperson, the "Continue to Learn" microgrants will focus on those who are eligible for the Supplemental Nutrition Assistance Program (SNAP) or an Individualized Education Program (IEP) and whose school has been closed for at least 30 days.
The money awarded from the grants can go toward tools needed for at-home learning, such as computers, internet access, textbooks, and other curriculum materials.
The grants can also be used for services and therapies for students with disabilities; fees for a public or private online learning program, including at eligible higher education institutions; contracted educational services provided by private or public schools; and tutoring.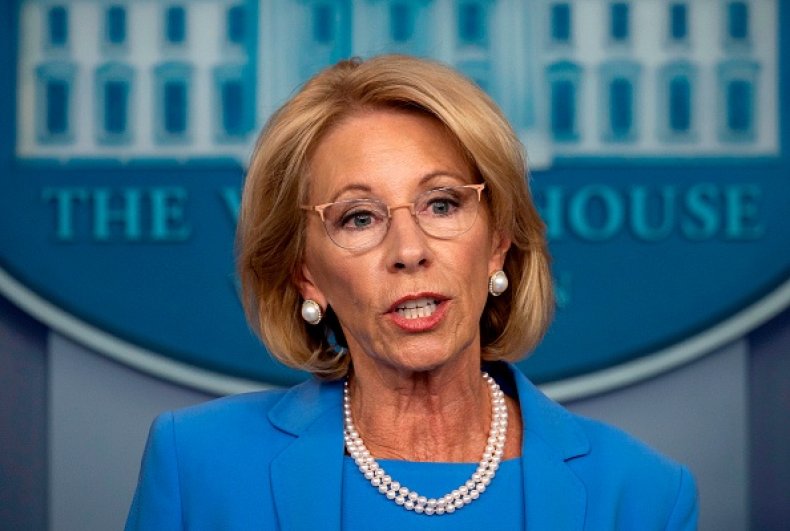 What we don't know:
How much money will be allocated in the microgrants program or the size of the grants that will be awarded to individual students.
What exactly makes students or teachers eligible to qualify for benefits.
When the microgrants program will be put into place.
This is a developing story and will be updated with new information as it becomes available.