Everything We Know About Blumhouse's 'Upgrade' TV Series
Known for low-budget horror flicks, such as Happy Death Day and Sinister, Blumhouse Productions is venturing into television by spinning off its 2018 sci-fi thriller, Upgrade. For the upcoming TV show, writer-director Leigh Whannell will now direct the cyberpunk world-building he created for the cult favorite movie.
After adapting the Bourne movie franchise for USA Network's Treadstone TV series, Tim Walsh will serve as showrunner for the Upgrade series. Not only has Whannell been named as co-creator, he will also return as director, according to Deadline. The writers on the show have already started breaking down the first season and crafting scripts for the episodes.
The all-new story will take place a few years after Upgrade's ending. The artificial intelligence known as STEM has evolved and migrated to a new host. The government has teamed up with the AI in order to reduce criminal activity. As for casting, there is no word yet if Simon Maiden will return as the voice of STEM for the TV show.
For those who need a refresher course, in the original film, Grey Trace (Logan Marshall-Green) investigates the murder of his wife, Asha (Melanie Vallejo). After implanting STEM in himself, Grey gains superhuman-like abilities to seek revenge on his wife's killers. Spoilers—the sci-fi movie ends with STEM revealing itself as the true mastermind behind Asha's murder. After Grey gets rid of his wife's killers, STEM wipes his mind clean and takes over his body.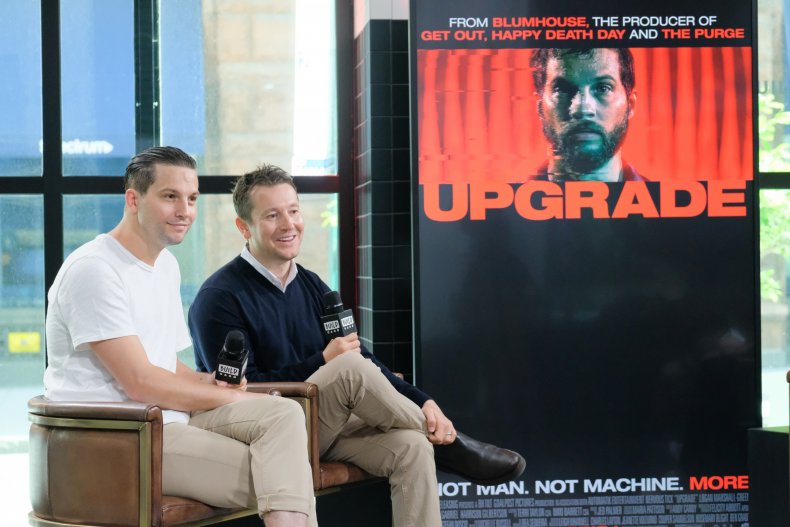 Upgrade made $17 million at the box office, and Whannell was eager to work on a sequel, but only if it "had a bit more money." The original was made on a modest budget of $3 million. Four months ago, Whannell expressed his doubts and told Fandom,"Hollywood economics dictates whether there's going to be a sequel. And Upgrade, I wouldn't exactly call it a monster hit. I'd call it a cult hit, and cult hits, when they look at the books of cult hits, they're like, 'Nyah, sequel.'"
With the TV show, Whannell got his wish, and now he will have the chance to explore some more of the film's sci-fi threads. Perhaps he can make use of Fisk Brantner's arm, which, because of cybernetic implants, is a shotgun in disguise. And there is a drug den, where addicts have become hooked on virtual reality.
A representative for Jason Blum, owner of Blumhouse Productions and executive producer on the Upgrade TV show, has not responded to Newsweek's request for comment.