New York City's fire commissioner said a malfunctioning space heater caused the Sunday morning fire at a duplex apartment in the city's Bronx borough that killed at least 17 people and injured dozens.
Twin Parks North West is the name of the building where the fire took place. It is located at 333 East 181st Street in the Bronx, which is near Webster Avenue, one of the borough's main thoroughfares.
The five-alarm fire began shortly before 11 a.m. and tore through the second and third floors of the 19-story building, FDNY Fire Commissioner Daniel Nigro said Sunday during a news conference outside the apartment building.
The mayor's office announced Monday it had revised the death toll in the fire to 17, two fewer people than originally announced.Nigro said that 63 people suffered "severe smoke inhalation" and 32 were sent to hospitals in life-threatening condition.
"The numbers are horrific," New York City Mayor Eric Adams said during the Sunday news conference outside. "This is going to be one of the worst fires that we have witnessed during modern times."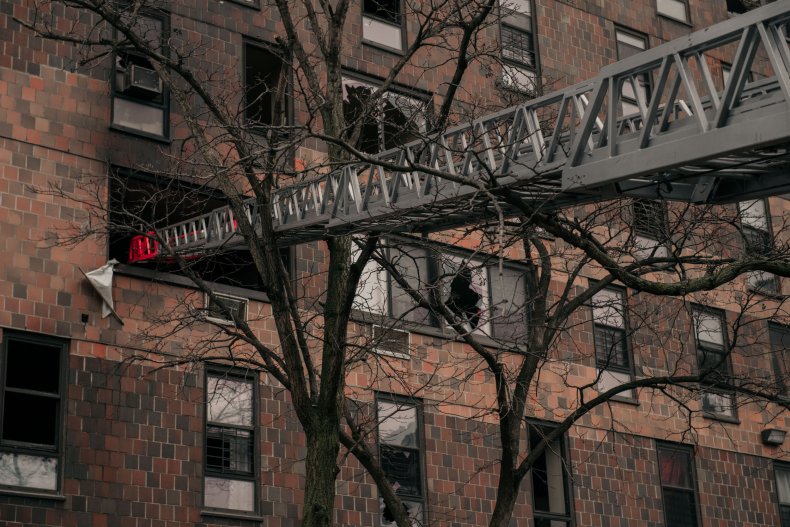 Twin Parks North West, built in 1972, has no external fire escapes. Instead, internal stairwells are used in the event of an emergency. Before the blaze, the building contained 120 units, including studios and four-bedroom apartments.
The 125,685-square-foot building was last bought for $10.57 million in January 2020, a deal that was part of a $170 million sale of multiple affordable housing buildings in the Bronx, according to city records.
Cammeby's International Group sold the properties for $166 million (in addition to about $4 million of existing debt) to a joint venture named Bronx Park Phase III Preservation LLC. The venture is made up of the real estate companies LIHC Investment Group, Belveron Partners and Camber Property Group.
Rick Gropper, the co-founder of Camber Property Group, is part of Mayor Adams' transition team for housing issues.
"We are devastated by the unimaginable loss of life caused by this profound tragedy," a statement from Bronx Park Phase III Preservation LLC said. "We are cooperating fully with the Fire Department and other city agencies as they investigate its cause, and we are doing all we can to assist our residents. Our thoughts are with the families and friends of those who lost their lives or were injured, and we are here to support them as we recover from this horrific fire."
A spokesperson for the property owners told Newsweek in a written statement, "There is a large clean-up underway, with door and window replacement currently ongoing. Residents have been provided both breakfast and lunch and we are working with the relevant city agencies to get people back to their homes as soon as possible."
In addressing media reports about residents saying smoke alarms went off so frequently in the building that people would ignore them, the spokesperson said, "There are no known issues with the smoke alarms and it appears that the fire alarm system worked as designed. Incidents of residents smoking in the stairwells of the property have been known to trip the alarms. Our property management team has been working with residents to address this issue."
Update 01/10/22 12:15 p.m. ET: This story has been updated to include comments from a spokesperson for the property owners of Twin Parks North West.
Update 01/10/22 1:05 p.m. ET: This story and headline have been updated to include the most current death toll for the fire. The city previously said 19 had died; the number was amended to 17 on Monday.