BTS is officially making a comeback. On Tuesday, the K-pop group announced a new album slated for February 7 through their parent company, Big Hit Entertainment.
The album marks the first project for the group, who have been on a hiatus since August 2019.
"BTS MAP OF THE SOUL: 7 will be released on Friday, February 21. Pre-orders will begin on Thursday, January 9," the post on app Weverse read. "Additional details about the new release will be available on BTS Weverse and the Fan Cafe. We look forward to continued interest and support from all of our ARMY."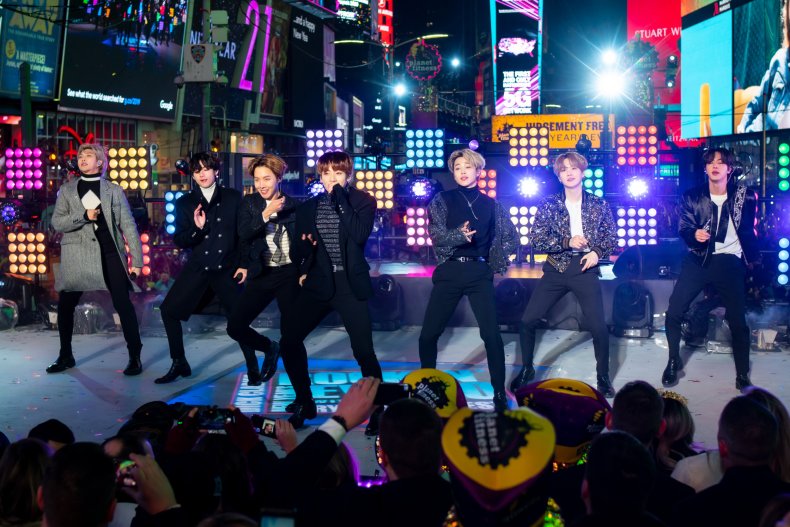 BTS fans, or the "Army," are thrilled at the return of the group. Within an hour of the announcement, the global fanbase generated a handful of trending hashtags on Twitter, including #7isComing and #BTSisComing. For some, the excitement expanded past the album, and celebrated the ended hiatus.
The group's hiatus, according to a statement released by Big Hit Entertainment at the time, was to allow the band to "recharge and prepare to present themselves anew as musicians and creators."
"This will also provide them with a chance to enjoy ordinary lives of young people in their 20's, albeit briefly," the statement continued.
Theories around the importance of the number 7 also surfaced online. Fans pointed out there are 7 members of BTS, a group which has been together for 7 years. They also announced the album, which will be released on February 7, on January 7.
MAP OF THE SOUL: 7 will seemingly follow up the group's 2019 release, MAP OF THE SOUL: PERSONA. This isn't the first time BTS has presented a series of albums. Throughout 2018, the performers released three albums, two of which were under the title "Love Yourself." Love Yourself 'Answer,' 'Love Yourself 'Tear' and FACE YOURSELF followed the 2017 release of Love Yourself 'Her.'
The Love Yourself message went as far as the United Nations where BTS shared a message about the importance of self-love and speaking up. RM, whose real name is Kim Nam-joon, gave the speech in September 2018.
"Yesterday's me is still me," he explained, as reported by Forbes. "Today I am who I am with all of my faults and my mistakes. Tomorrow I might be a tiny bit wiser and that would be me too. These faults and mistakes are what I am, making up the brightest stars in the constellation of my life. I have come to love myself for who I am, for who I was, and for who I hope to become."
"I want to hear your voice," RM continued. "I want to hear your conviction. No matter where you're from, skin color, gender identity, just speak yourself. Find your name [and] find your voice."