Everything We Know About Chad Daybell, Lori Vallow and Her Missing Children, Tylee and JJ
Chad Daybell was taken into police custody Tuesday after law enforcement served a search warrant at his home in Salem, Idaho.
A prolific author of doomsday-focused novels, Daybell has been tied to the two missing children of his wife, Lori Vallow. Assistant Rexburg Police Chief Gary Hagen said in a press conference the search warrant was related to the children's disappearance and confirmed human remains were found on Daybell's property during Tuesday's search.
Daybell has not been charged with any crime, Hagen said.
Seventeen-year-old Tylee Ryan and her brother J.J. Vallow, who would have turned 8 years old last month, have not been seen since September of last year. Daybell and Vallow recently wed in Hawaii less than two months after her children went missing following initial questions from local authorities.
After failing to meet court deadlines and hand her children over to authorities, Vallow was arrested in Kauai, Hawaii before being extradited back to Idaho. She is currently being held in an Idaho jail since her arrest on February 20 on charges of child desertion and contempt in connection with the children's disappearance.
Both Daybell and Vallow have been under suspicion for lying about the children's whereabouts to investigators and refusing to cooperate with the ongoing investigation.
In a recent interview with EastIdahoNews.com, Melanie Gibb, a friend of the couple, admitted she was asked by Daybell and Vallow to lie to authorities and say the children were with her.
Authorities began the search for the two children in November after concerned relatives ordered a welfare check when they hadn't spoken to J.J. in months. Vallow told investigators he was away visiting relatives in Arizona.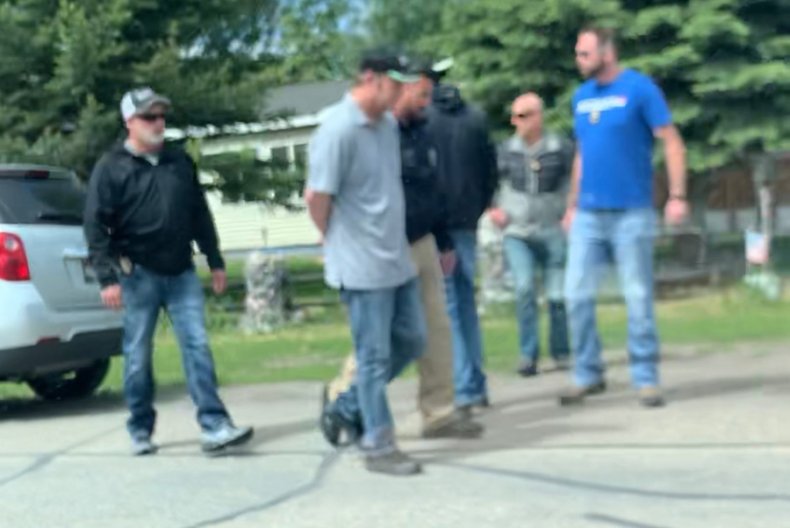 This is not the first time the eastern Idaho property has been searched by law enforcement. In January, 43 items of evidence were removed from Daybell's home.
This is also the home where Daybell's first wife, Tammy Daybell, mysteriously died in October. Daybell claimed his first wife died in her sleep on October 19. No autopsy was performed, but her body has since been exhumed and an investigation has been opened into her death. The Idaho Attorney General is currently investigating possible murder and conspiracy.
The deaths of both Daybell's and Vallow's ex-spouses have raised suspicions. Vallow's first husband, Charles Vallow, recently died after being shot to death by her brother on July 11 in what was described as an act of self-defense. Vallow's brother, Alex Cox, has since died of natural causes.
The remains found on Daybell's property have not yet been identified and no arrests or charges have been made against Daybell.
Newsweek reached out to the Rexburg Police Department for comment but did not hear back before publication.