Followers of The Crown, prepare yourselves. Netflix announced on Thursday that the Emmy-winning series has a premiere date set for its highly anticipated fourth season. The return date debuted alongside a brief teaser trailer, which gives viewers a glimpse of what to expect come November 15.
In the trailer, Olivia Colman returns as Queen Elizabeth II. "Something as important as the monarchy simply cannot be allowed to fail," she says via voiceover. Helena Bonham Carter (who plays Princess Margaret), Josh O'Connor (a.k.a. young Prince Charles) and Tobias Menzies (who portrays Prince Phillip) are also reprising their respective roles.
Gillian Anderson will join the cast as well, as British Prime Minister Margaret Thatcher, and Emma Corrin will enter the fray as Princess Diana.
Season four focuses on the 1980s, which means that the Queen's relationship with Thatcher will be a major focal point, along with the doomed relationship between Prince Charles and Diana.
The official synopsis reads, per Collider: "As the 1970s are drawing to a close, Queen Elizabeth (Olivia Colman) and her family find themselves preoccupied with safeguarding the line of succession by securing an appropriate bride for Prince Charles (Josh O'Connor), who is still unmarried at 30. As the nation begins to feel the impact of divisive policies introduced by Britain's first female Prime Minister Margaret Thatcher (Gillian Anderson), tensions arise between her and the Queen which only grow worse as Thatcher leads the country into the Falklands War, generating conflict within the Commonwealth. While Charles' romance with a young Lady Diana Spencer (Emma Corrin) provides a much-needed fairytale to unite the British people, behind closed doors, the Royal family is becoming increasingly divided."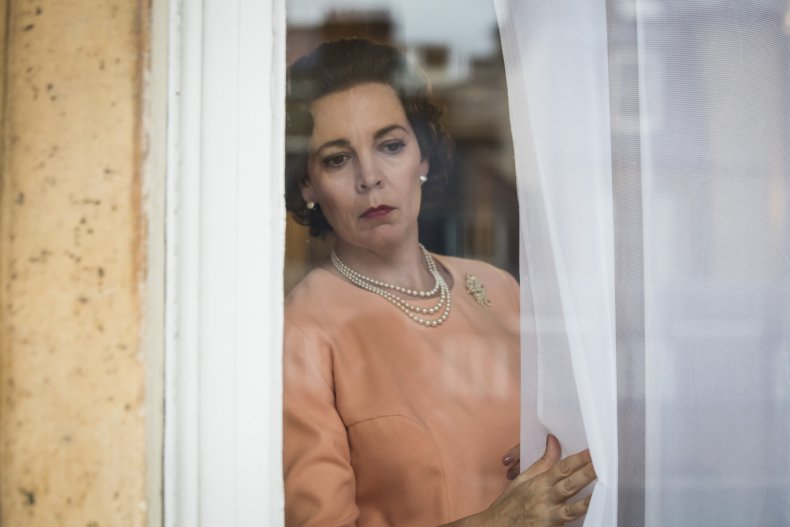 The 30-second trailer offers brief shots of Colman's Queen riding on horseback and Anderson's Iron Lady at work. We also see a young Princess Di hounded by the press, and isolated as she adjusts to life among the royal family.
Perhaps the most exciting moment from the teaser, though, is the final shot—the train of Princess Diana's iconic wedding dress. In the upcoming season, viewers will get to see a dramatization of her 1981 fairytale wedding to Prince Charles.
Colman has called taking on the role of Queen Elizabeth II daunting. "There is much more pressure when you're playing someone who is still living, and you have this fear that they're watching it and won't like it," she told The Daily Mirror in a new interview.
"You're thinking, 'Oh my God, what if Queen Elizabeth II ­watches the series and sees me? Perhaps she will think that my interpretation is completely wrong. She's going to change channels.'"
Corrin, a newcomer to The Crown, previously gushed about winning the role of Princess Diana back in April 2019. "I have been glued to the show since the first episode and to think I'm now joining this incredibly talented acting family is just surreal," she said at the time.
O'Connor, meanwhile, has spoken about what it's been like to engage with the dynamic between Prince Charles and the late Princess Diana. "We all have a set position on the dynamic between Charles and Diana," he told Screen Daily in July. "It's been great to have the ability to either fight against that or, at times, acknowledge it and also to challenge any question of, 'Did he ever love her?'"
"There's a wealth of layers and richness to Charles and Diana, and I loved seeking that out," O'Connor added.
He also told Town and Country that this upcoming season will be an eye-opener for many who think they have their minds made up about the Prince of Wales. "All across four, there's definitely a different side to Charles that we're going to see," he confessed in November 2019. O'Connor added that hopefully people will "feel sorry" for his character this upcoming season.
The Crown was one of the final shows fortunate enough to wrap up filming prior to the coronavirus pandemic, Collider noted. However, as per Deadline, the show will take a break from filming next year, so the fifth season likely won't come until 2022.
That probably won't stop longtime fans from binging the fourth season of The Crown immediately after it premieres on Netflix on November 15.