Harris County Sheriff Fentanyl Flyer Incident: Everything We Know About Opioid-Laced Flyer That Hospitalized Sergeant
A Harris County, Texas, sheriff's sergeant was briefly hospitalized Tuesday after removing a flyer from her vehicle that was laced with the potentially deadly opioid fentanyl.
Flyers were placed on the windshields of approximately 15 to 20 cars parked outside a sheriff's office facility in Houston. It remains under investigation if more than the one flyer was laced, according to the Houston Chronicle.
The officer found the flyer on her car after work Tuesday and went to remove it, according to authorities. She didn't think anything was out of the ordinary until she began to feel light-headed and experienced other symptoms, according to Sheriff Ed Gonzalez in a press conference.
She was rushed to the hospital, but was released a few hours later and is now recovering, according to KTRK-TV.
"We do know from our experience with fentanyl is that it can be very deadly. It's 100 times more potent than morphine," said Gonzalez.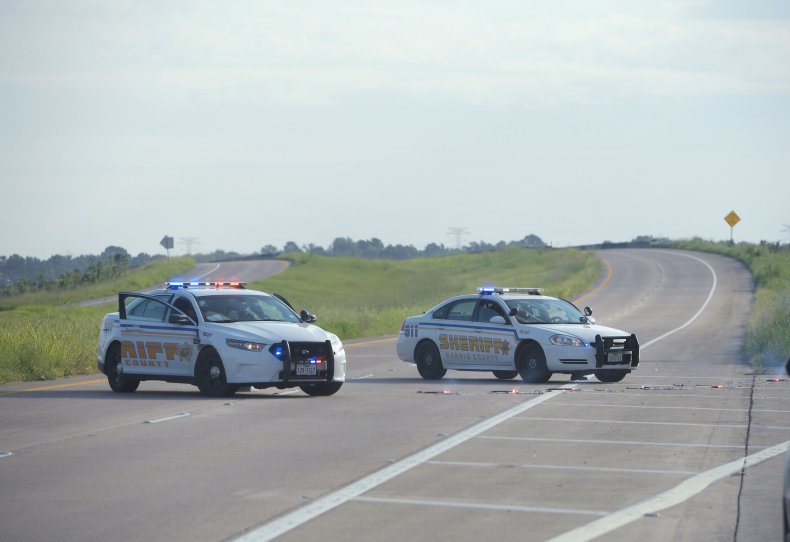 Investigators are monitoring other law enforcement officers and testing to see whether the other flyers had the drug on them.
"Someone could have died. The fact it is now being used against officers is a game-changer," a Harris County constable, Alan Rosen, told KTRK-TV.
Gonzalez said that they are not sure if the incident was isolated and it remains under investigation.
The flyers' contents appeared to have been made by a group called Targeted Justice, an organization that traffics in conspiracy theories about the federal government. The flyers are available on the group's website and can be downloaded and printed by anyone.
The flyers discovered in Houston delved into a conspiracy theory that posited that the FBI, police officers and firemen were being targeted by the CIA and U.S. Air Force and "tracked with microwave 'bullets' from cell towers."
The group also believes that a government deep state is trying to control the world's population by inflicting "psychological, physical, and emotional stress."
As an opioid epidemic roils the United States, police officers and other first responders on the frontlines of the issue face the risk of accidental drug exposure.
"If they actually touch it or inhale it, they could die," said James Shroba, a former special agent with the Drug Enforcement Agency, to the Associated Press earlier this year.
Fentanyl is a synthetic opioid that's up to 50 times more powerful than heroin. The drug, in a medical setting, is used to combat extreme pain. Unregulated, the drug on the street has the potential to easily cause an overdose.
The Harris County Sheriff's Office did not immediately respond to Newsweek's request for comment.