Everything We Know About Joy Reid, Trump Critic and MSNBC'S Newest Host
This Thursday morning, MSNBC has announced political commentator Joy Reid, a critic of President Trump, as the host of their latest nightly news program, The ReidOut. Reid becomes one of few Black female hosts to anchor a 7pm news show.
Reid's new weekday show is taking the slot once filled by Hardball and its former host, Chris Matthews. Reid will have one-on-one interviews with political leaders and newsmakers. Not only will she be covering daily political issues, she will also be "covering the intersection of race, justice and culture," according to NBC News.
In a recent interview with The New York Times, Reid discussed what the announcement meant to her. She said, "Evening and prime-time news has been a universe of white men really since I was growing up. For somebody who grew up as a nerdy kid obsessed with news, watching Nightline and Meet the Press, the idea of being a part of that family has always just been kind of overwhelming."
"I am a Black mom, a Black woman, a Black daughter. I am also a journalist who can conceptualize that pain from a unique point of view," added Reid. "Every day I'm in this job, I'm very conscious of that responsibility to make that collective voice heard. It's unique to do that as a Black woman."
Before her July 20 premiere date, here's everything you should know about The ReidOut host: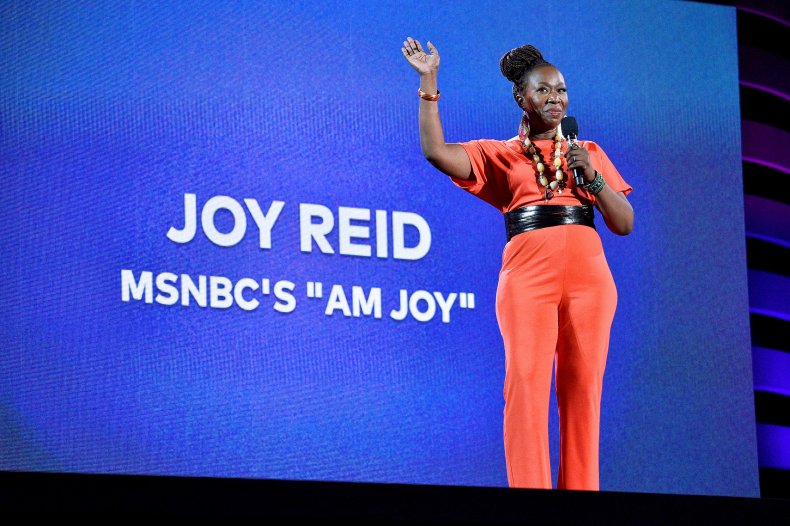 The Reiders
Over on Twitter, check out the the hashtag #reiders and you will discover Reid's online fanbase.
While she may be a new face to some, it doesn't take much Twitter scrolling to recognize that she's got an established audience.
The Man Who Sold America
Last year, the political analyst tackled the Trump administration in her latest book, The Man Who Sold America: Trump and the Unraveling of the American Story. In a video interview with The Root, Reid revealed she named the book because "Donald Trump's entire life, in reading about it, reading biographies of him, and interviewing people who have known him for a long time, has been a scam."
The Tulsa Trump Rally
Last month, Trump campaign manager Brad Parscale expected fill up 19,000 seats inside the BOK Center in Tulsa, Oklahoma. Not only was the outdoor address canceled, the attendance inside also failed to meet Parscale's projections.
Reporting to MSNBC, Reid explained what went wrong. In the short clip, she said, "They couldn't even get 19,000 people there and they had bragged that there was going to be a million. Parscale was played by young people and K-pop fans who ordered tickets with no intention of going."
The Twitter Feud
Last year, Reid criticized the president while serving as guest host of All in with Chris Hayes. In response to her criticisms, Trump tweeted that she "had a bad reputation, and now works for the Comcast/NBC losers making up phony stories about me. Low Ratings. Fake News!"
The Fracture
5 years ago, MSNBC's national correspondent wrote Fracture: Barack Obama, the Clintons, and the Racial Divide. During an interview with Daily Commune about the book, she said, "I wrote Fracture for non-political junkies and infused the book with a lot of references to the culture."
The Reid Report
Back in 2014, she previously hosted The Reid Report for MSNBC. The show was canceled a year later due to low ratings, according to The Wrap.