Everything We Know About the Logan Paul v. Floyd Mayweather Fight
Floyd Mayweather may finally be answering Logan Paul's prayers.
Almost a year after YouTube star Paul challenged the boxing champion to "bring it" to the ring, Mayweather has reportedly agreed to the match. According to YouTuber Keemstar—otherwise known as Daniel Keem—the pair have signed up for a boxing match set to take place before the year ends.
"Mayweather vs Logan Paul this year! No joke... that's boxing insider just told me," Keem wrote on Twitter on Wednesday.
For further proof, Keem shared a video from sports fighting YouTube channel The Fighting News, in which Mike Feinberg claims to have seen the signed documents confirming Mayweather's agreement to box Paul on Saturday.
"I've got some breaking news for you. Floyd Mayweather Jr. is coming out of retirement and has just officially signed a contract to fight in an exhibition match against Logan Paul—YouTube sensation Logan Paul," Feinberg said. "I don't understand the fight. Logan Paul has tried his hand at professional boxing—couldn't the other nobody [that] nobody's ever heard of before. [Paul's] now zero and one. He's going to be fighting one of the best in Floyd Mayweather. It's going to be a joke of a fight, but it's signed. It's official. I heard it from a reputable source today and even saw the signed picture of the signed contract where Floyd signed on the dotted line for this exhibition match."
Feinberg added: "It's going to be a walk in the park for Floyd. It's going to be very simple. But apparently there's some kind of money in it because it's going to be on YouTube and Logan Paul's got a lot of followers."
Newsweek has reached out to both Paul and Mayweather's representatives for confirmation.
Paul kicked off his boxing career when he spared with British YouTuber Olajide Olatunji—also known as KSI—in a fighting event streamed on YouTube in August 2018. Paul lost that match and went on to lose against Olatunji again during a rematch in November 2019.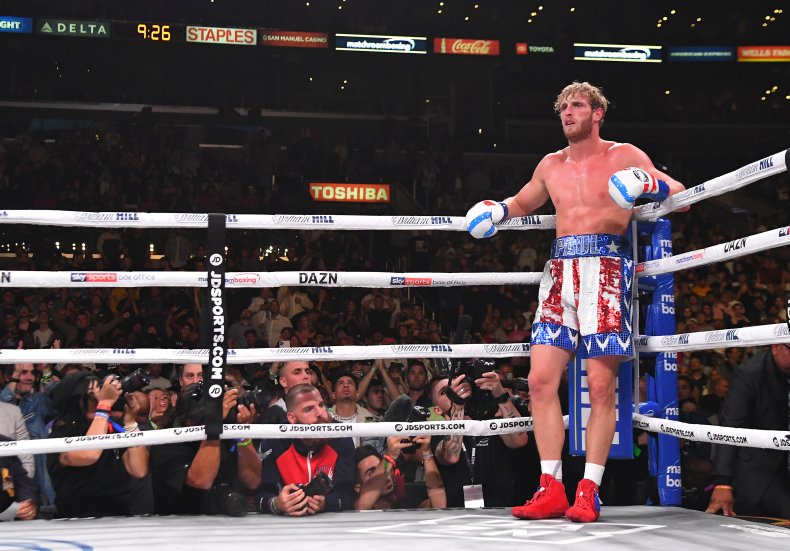 Despite his subpar fighting record, the 25-year-old called out Mayweather—an undefeated, 50-time-winning, boxing champion—within days of his second loss to Olatunji, sharing a screenshot of a headline that read: "KSI and Logan Paul have both been named as potential opponents for Floyd Mayweather's return fight in 2020."
"Bring it @floydmayweather," Paul wrote alongside the image.
Mayweather, who officially retired in 2015, claimed he would make a comeback to the ring sometime in 2020. In November, the 43-year-old wrote in an Instagram post that he was working with UFC boss Dana White and would soon "bring the world another spectacular event." Mayweather hasn't revealed any more details regarding that specific spectacle as of yet.
Since hanging up his gloves five years ago, Floyd came out of retirement to contend with UFC fighter Conor McGregor in 2017. He also boxed with Japanese fighter Tenshin Nasukawa in October 2018 in an exhibition match that lasted 140 seconds.