Everything We Know About Netflix's 'Selena: The Series' So Far
Selena fans, rejoice! The Netflix show Selena: The Series finally has a release date. On Tuesday, the streaming giant announced that the show will premiere on December 4. A new trailer also dropped Tuesday morning with the message "every legend begins with a dream."
In the black-and-white trailer, Selena's father, Abraham (portrayed by Ricardo Chavira), gives the pop star advice via voice over. "If you keep practicing, pretty soon it's all gonna pay off. Just watch," Abraham insists. "And when I see you on that stage, I still see the 6-year-old girl singing in our backyard."
Christian Serratos (The Walking Dead) stars as Selena. She is joined by Chavira (Desperate Housewives), Gabriel Chavarria (East Los High), Noemi Gonzalez (The Young and the Restless), Julio Macias (On My Block) and Seidy Lopez (Training Day), plus newcomer Madison Taylor Baez as Young Selena.
The series will be split into two parts, with the first half consisting of six one-hour episodes. The show follows the singer as she comes of age, making choices that will affect her career, her family and her relationships. The official synopsis per Netflix reads: "Before she became the Queen of Tejano Music, Selena Quintanilla was a young girl from Texas with big dreams and an even bigger voice."
Adding: "The two-part coming-of-age drama Selena: The Series explores the once-in-a-generation performer's journey as a young artist, from singing small gigs in Corpus Christi with her family to becoming one of the most successful Latin artists of all time—and the years of grit and sacrifice the Quintanilla family navigated together before Selena's meteoric rise to fame."
She won a Grammy in 1994 for best Mexican/American album, and was one of the best-selling Latin artists of the decade. However, her rise to fame was tragically cut short. At age 23, Selena was fatally shot in 1995 by her friend and former employee Yolanda Saldívar.
The late pop star's family has been involved in the making of the Netflix series. Selena's sister Suzette Quintanilla and her father have signed on as executive producers, Entertainment Weekly reported in 2018.
"Selena will always have a lasting place in music history and we feel great responsibility to do justice to her memory," Suzette said in a statement at the time. "With this series, viewers will finally get the full history of Selena, our family, and the impact she has had on all of our lives. We are excited to partner with [Los Angeles–based production company] Campanario and Netflix to give fans a never-before-seen glimpse at our story and highlight why Selena will remain a legend for generations to come."
However, her widower, Chris Perez, is not involved in the series. He posted on Instagram in April an image of the actor playing him on the show. "Here is a pic I just saw of the actor playing me in the Netflix series," he wrote. "For the record, never met him, haven't seen the script, and I have NO idea what is going on.....but, I'd love to find out."
The team being the Netflix series is excited to bring Selena's story to the streaming service. "Selena is an inspirational figure who's transcended generations. We've always known it was crucial for this series to find actors with the right mix of talent, charisma, and passion to honor Selena's legacy and the story of her family," the show's executive producer, Jaime Davila, said in a statement via O, the Oprah Magazine. "Our casting director Carla Hool and her team have found an amazing cast to depict the Quintanilla family, and we're sure fans everywhere will be captivated yet again by Selena's incredible life."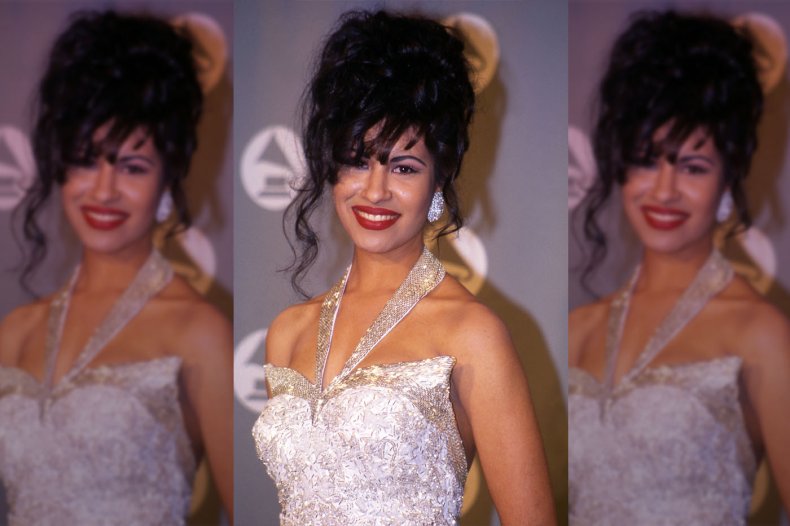 Selena: The Series will be available to stream on Netflix starting Friday, December 4.